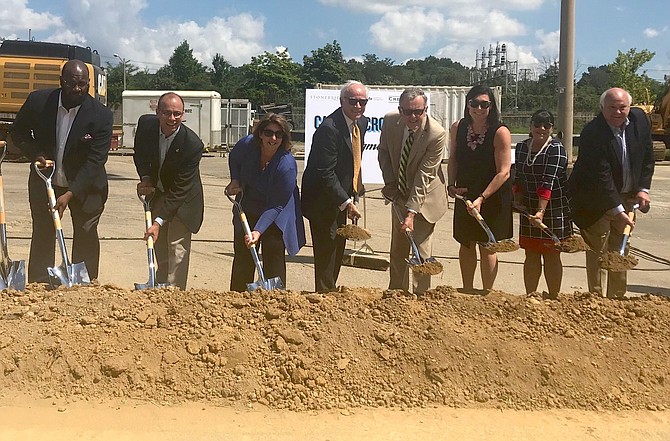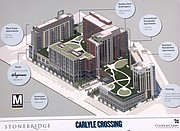 Carlyle Crossing, a 1-million square foot mixed use development that will include the city's first Wegmans grocery store, broke ground July 24 at Hoffman Town Center in Alexandria's Eisenhower Valley.
The $400-million project is a joint venture between Bethesda-based Stonebridge Associates and Chicago-based Creek Lane Capital. Located on Mandeville Lane, plans include 210,000 square feet of retail and 775,000 square feet of residential units
"It takes a lot of hard work and a very big team to get a project of a million square feet out of the ground," said Stonebridge Principal Douglas Firstenberg.
Approximately 720 residential units are planned for the development, which will range from 11 to 18 stories with the tallest tower rising to 220 feet. Wegmans Food Market will occupy 85,000-square-feet of retail space and the project's initial phase is expected to open in 2021.
"I'm excited to see this development get started," said Mayor Justin Wilson. "I'll be even more excited to be back here in two years to see the project open."
Wilson, a Virginia native, joked that he never realized the Rochester, N.Y.-based Wegman's isn't just operating a grocery store.
"They are operating a cult," said Wilson, referring to the many loyal fans of the retailer, which has expanded from its New York State roots to operate 99 stores in the Mid-Atlantic and New England.
Designed by Cooper Carry, project construction is being undertaken by a joint venture of Walsh Construction and Balfour Beatty.
"I am excited to have Wegmans coming to our city and being a part of the future of the Eisenhower Valley and Carlyle area," Wilson said. "It's taken a lot of work for many years as our vision for the future of this area has evolved. This project will provide critical retail and services to boost the quality of life for everyone who works and lives here and deliver some of the best amenities anywhere in Alexandria."