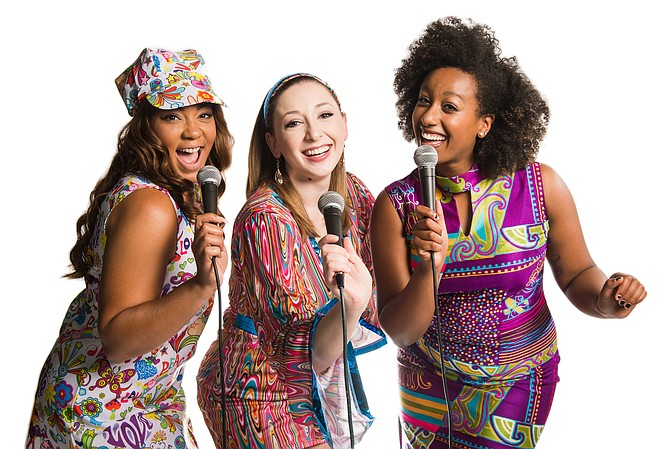 "'Beehive' is going to be electric! We have six out-of-this-world female vocalists, with a smoking hot six-piece rock band live on stage," said director Monique Midgette. The nearly 30 musical numbers in "Beehive" will both rock and soulfully open the new season at Herndon's NextStop Theatre.
Midgette has appeared in Broadway national touring productions and has multiple Helen Hayes nominations. She described "Beehive" as "the journey of a young woman from adolescence to womanhood. Through classic songs of the 1960s we experience her growth from a young girl whose only worries are boyfriends and school, to taking responsibility for the change she wants to see in the world.
"Our NextStop set is full of levels and dazzling color. Add in the lighting and we are going to make the audience feel like they are really at a Tina or an Aretha concert at the height of their glory," said Midgette.

Created by the late Larry Gallagher, "Beehive" ran Off-Broadway for more than 600 performances. The production includes musical numbers from belting solos to warmer ballads and group numbers ranging from "Respect," "Natural Woman," "One Fine Day," "You Don't Know Me," "Me and Bobby McGee" and more.
"Beehive" also includes original numbers as well as a narrator providing context and commentary. The cast includes Rebecca Balinger, Allison Bradbury, Bethel Elias, Kayla Gross, Shayla Lowe and Hilary Morrow. The band is led by Marika Countouris and Matthew Brown. Shalyce Hemby choreographs with era defining costumes by Sandra Spence.
As for the title "Beehive," the production starts in the time when the beehive hair-do was a classic in the early '60s and then moves from that point in time.
"Our audiences can expect joy, nostalgia, energy, and plain old fashioned fun. What they might not expect is how relevant a musical revue of the 1960s can feel today," said Even Hoffmann, artistic director at NextStop. "While there is no denying that the show is a celebration of great music, it is also quite powerful to realize how well these classic songs articulate both the emotions and social movements that are prevalent for us right now."
"I want the audience to leave dancing and singing these awesome songs," said Midgette. "Through the powerful performances, I hope our more 'mature' audiences get to re-experience some of their all-time favorite songs and our younger audiences are introduced to some of the very best music ever written."
Where and When

NextStop Theatre presents "Beehive" at 269 Sunset Park Drive, Herndon. Performances Aug. 22 to Sept. 22, 2019. Thursdays 8/22, 9/12, 9/19 at 8 p.m.., Fridays at 8 p.m.., Saturday 8/24, 8/31, 9/7 and 9/14 at 8 p.m.. with Saturday 8/31 and 9/21 at 2 & 8 p.m.. Sunday 8/25, 9/1, 9/15 & 9/22 at 2 p.m.. and 9/8 at 2 & 7 p.m. Tickets: $40-55 (NextStop strongly encourages booking in advance. Ticket prices increase as performances get nearer and seats fill up). Call 866-811-4111 or visit: www.NextStopTheatre.org