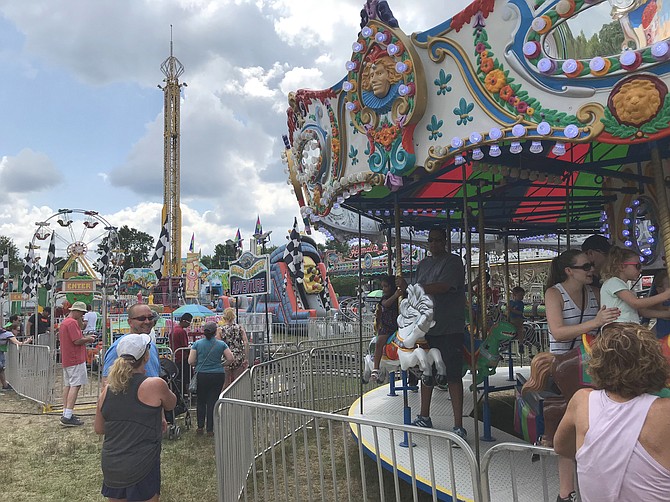 "Today's Fairfax County 4-H Fair reflects the vibrant urban and suburban communities Fairfax County has grown into," said Yvonne Johnson, park manager at Frying Pan Farm Park early Saturday morning. It was the third day of the 71st 4-H Fair and Carnival, held at Frying Pan Farm Park in Herndon August 1-4.
While the fair offered old-fashioned country fun through its exhibits and demonstrations, it revealed a community powered by young people with diverse interests, from animal showmanship to horticulture, to science, technology, engineering and the arts.
In the 4-H Building, Hap O'Brien of Annandale displayed a frame from one of his beehives heavy with honey. He explained bees were needed for pollination but "are in desperation" given the Varroa mite infestation that weakens them. "Mite infestation weakens most bee colonies and is the cause of the loss of most wild honeybees," he said.
OVER AT THE EXHIBITION tables, Ann Marlow, vice president of the board for Friends of Frying Pan Park looked over entries in the Foods and Nutrition Department she helped judge. Alexandra Blake of Great Falls won Grand Champion with her cupcake entry. Becca Berglie of Centreville won Reserve Grand Champion for her fruit pie.
During the Rabbit and Cavy Show, John Ameen rated the Standard Rex rabbits. Although the rabbits owned and raised by Hannah Rosenbusch, 10, of Falls Church and her sister Ava did not place, Hannah explained the importance of bonding with rabbits. "You have to give rabbits lots of attention and bond with them, or they will become aggressive towards you. Then it's not fun to have them," she said. Ava told she won a Grand Champion Ribbon in the Quick Bread Class for the 4-H Foods and Nutrition Department.
"The fair is always forward-looking, as seen by incorporating STEAM entries into the exhibits," said Kristy Carter of Herndon, board member, Friends of Frying Pan Park. A summary of the Science & Technology Department of the 4-H catalog revealed computer-generated graphics, games and web pages and a Visual Arts Department with graphic design-commercial, digital painting and photo manipulation.
Outside one of the barns, the Strenglein sisters of Centreville, Summer, 11, Hannah, 8, and Brooke, 10, held ribbons and entries. "I entered the 4-H Fair for the fun of it. I chose this image because it was my most memorable photo. I used a Kodak camera," said Hannah.
FAIR-GOERS enjoyed horse and dog demonstrations and rabbit, cavy and livestock shows, as well as an antique tractor pull and old fashion games.
Cow and goat milking became a first-hand experience for many fair-goers. In one of the barns, two young children from Herndon, Sean, 3, and his sister Emma, 10 months, touched a horse for the first time, compliments of Alina Ampeh of Oakton and member of Virginia Trotters 4H Horse Club.
Leaving the barn, the whirl and twirl of rides by Cole Shows Amusement Company could be seen in the distance, set up in one of the pastures. If patrons could handle the Zipper, they could handle any other ride on the carnival midway. For the more faint of heart, the Tubs of Fun ride was a great choice for all ages.
Eric Kulczycky of Visit Fairfax attended the event. "Visit Fairfax is celebrating the 50th anniversary of the iconic Virginia is for Lovers slogan with a summer tour of the LOVE letters. Frying Pan Farm Park is one of our fabulous partners on tour and is a wonderful tourism destination within the county," he said.
Yvonne Johnson wanted the public to know all adults and youth are welcome to enter the fair competition. "You do not have to be members of 4-H to enter. If you have a hobby or interest, come. Next year, the Fair and Carnival is July 30 through Aug. 2," she said.