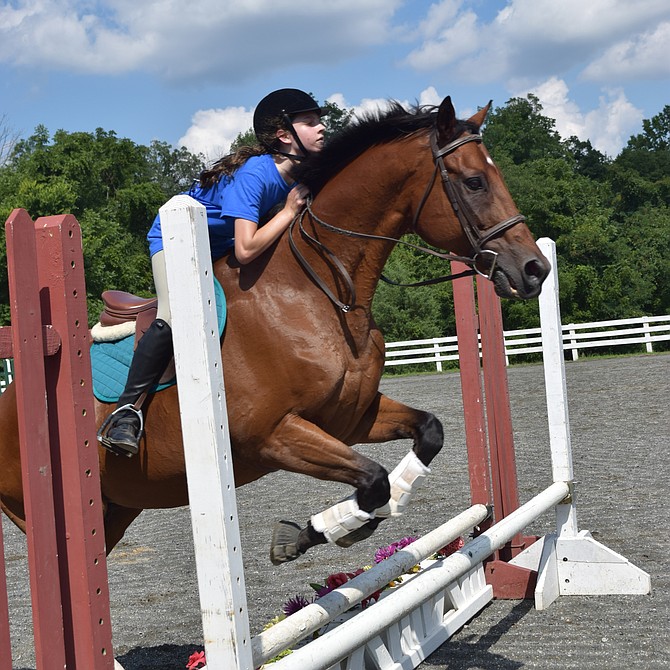 Within the shadow of our nation's capital and in the middle of one of the largest growing urban communities in the United States, 4-H Clubs thrive as is evident as thousands of visitors descended upon Herndon for the 70th Annual Fairfax County 4-H Fair and Carnival held at Frying Pan Farm Park Thursday, Aug. 2- Sunday, Aug. 5.
The event was the culmination of countless hours by the Virginia Cooperative Extension-Fairfax County 4-H Office and Frying Pan Farm Park.
While the four-day fair and carnival offered patrons old-fashion country fun and offered 4-H members the opportunity for ribbons and awards, perhaps, more importantly, the event showcased what 4-H is really about.
4-H is a youth development program for participants ages 5-19.
In the 4-H Building at Frying Pan Park, fairgoers wowed over the 4-H entries that competed for ribbons in divisions such as craft, woodworking, floriculture, sewing, science and technology and more. Fairgoers held baby chicks at the Falls Church 4-H Club Embryology Booth and watched educational demonstrations such as the one about honeybees by members of 2BA Bee 4-H.
Pies, vegetables, scrapbooks, literary works and displays held blue, red and green ribbons and a select group held the coveted Grand Champion ribbons. Silent Auction Baskets heaped high with goodies by Fairfax County 4-H were offered for public bidding; funds raised would support 4-H scholarships, camps, Embryology Curriculum, next year's 4-H Fair and more.
If it was animals fairgoers were looking for, there was no lack. In the Indoor Arena, 4-H members competed in Goat, Sheep and Beef/Dairy Cattle Showmanship and Confirmation competitions. Judges rated participants on their ability to safely handle the livestock and knowledge of the animals. In the Confirmation Classes, judges scored the animals on overall condition, musculature, structure and performance. In the Lower Ring, horses and riders performed dressage demonstrations, show jumping and mounted games.
In Barns 1 and 2, groomed livestock stood in clean stalls. Through demonstrations, fairgoers learned how to hold a rabbit properly — don't squeeze — and tried their hand at milking a cow or goat. For some children like Jayden Han, 3 of Fairfax, this was the first time he had ever seen a real cow. Jayden got up close and personal, crunching down nearly crawling under Sasha the Jersey cow during a milking demonstration by Chelsea Sucherman 12, a member of Hoofers and Heifers 4-H Club.
If rides, games and food were what a fairgoer wanted, the 70th Annual Fairfax County Fair and Carnival delivered. The park's expansive pastures turned to the Carnival Site and Midway. The Food Court, located beside the Country Store, presented endless possibilities.
A line-up of nine stage performances for Saturday and Sunday rounded out the fair beginning with Fairfax native and singer-guitarist Caroline Weinroth of the band "Cinema Hearts" who delivered her heartfelt songs. She was followed later by the 50s-60s band "Hot Rod Rockers."
Big Truck Night on Friday was a hit as was the Frying Pan Farm Park Tractor Pull on Saturday when Belgian draft horses Jeff and Charlie showed off their strengths.
Late Saturday afternoon, Falls Church 4-H Club Member Kate Shank, 10, stood in the 4-H Building. She held two baby chicks at the Embryology Booth. Shank summed up why she preferred 4-H over other clubs and organizations. "It's calmer. We are allowed to make our own decisions, and I thought it would help me with my college entrance papers ... my resume."
For more information about the fair or to learn about the many 4-H clubs across Fairfax County, visit http://fairfax4h.weebly.com or follow them at www.facebook.com/Fairfax4H.