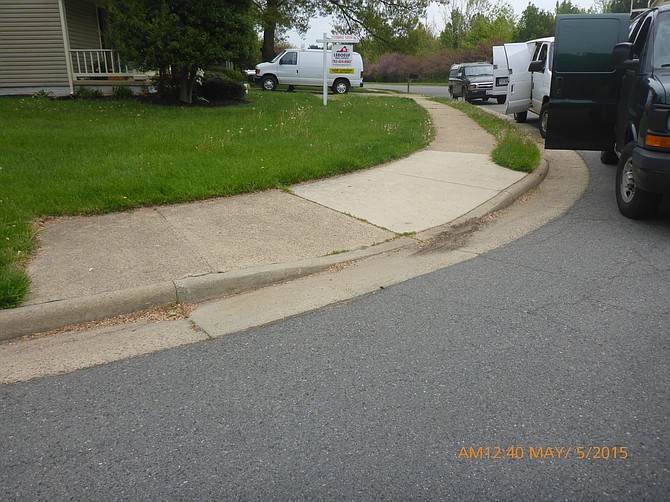 The skidding and horn honking outside George Quiroz house in Burke is a reminder that the intersection of Shiplett Boulevard and Burke Lake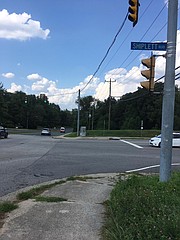 Road needs some TLC, and VDOT has scheduled "intersection improvements," there as well as several other intersections in Fairfax County.
"There's always accidents," said Quiroz, "got to do something," he said.
The traffic going by on Burke Lake Road is constant and there is a turn lane as well, but no traffic light and no pedestrian signals. Maybe years ago when the traffic wasn't at the level it is now this may have worked but for nearby residents like the Quiroz family, anything to calm the traffic is good here.
Even though there is a bike crossing marked here, "I wouldn't ride my bike through that intersection," Quiroz said.
VDOT's general description of the project: retrofit, repair, replace or install sidewalk ramps within VDOT right of way throughout the Northern Virginia District in order to comply with the federal Americans with Disabilities Act (ADA). Across the state, VDOT has reviewed many of the existing sidewalk ramps that do not meet current ADA standards. These ramps have been categorized and prioritized based on their existing condition, noting their specific deficiencies. At Shiplett, improvements will include new flashing yellow arrows in both directions of Burke Lake Road, four new pedestrian crosswalks and ramp upgrades
The benefits of these improvements are described as increased connectivity and access for all, plus compliance with ADA. Other intersections where these improvements are planned for Backlick Road and Leesville Road in Springfield and Rose Hill Drive and Franconia Road in Lee District. Both are areas that have a high pedestrian traffic because of nearby schools or a shopping center.
At Leesville Road, the improvements will include much of the same — flashing yellow arrows for both directions of Backlick Road, three additional signalized crosswalks: across Backlick Road on the southern side of the intersection, across Leesville Boulevard, and across the entrance to the office park
At the intersection, Backlick Road averages 32,000 vehicles a day and Leesville Boulevard averages 5,200, VDOT's numbers show. This $790,000 project is financed with federal Highway Safety Improvement Program and state funds. Construction will begin in summer 2023. The Rose Hill project is priced at $475,000.
Intersection Intricacies
VDOT will address pedestrian safety because of fatalities, some at intersections. According to Fairfax County Police, in 2018, they investigated 174 pedestrian crashes, which led to 16 fatalities and 196 injuries.
Preliminarily in 2019, the police have investigated 82 pedestrian crashes, resulting in 10 fatalities and 91 injuries.
Steps underway to reduce these fatality numbers:
• All eight district police stations participate in regular pedestrian/driver education and enforcement outreach efforts to highlight the importance of pedestrian safety.
• Fairfax County has invested more than $300 million in bicycle and bus stop infrastructure projects since 2002.
• There are thousands of crosswalks on 4,500 miles of sidewalks and trails in Fairfax County - created and located by engineers. They are
designed to be the best place for pedestrians to cross in that location as safely as possible.
• There are 3,928 miles of roads in Fairfax County, developed for car transportation – they are being re-engineered to be more pedestrian friendly.
• Tysons, Embark Richmond Highway and the Mosaic District are helping change the mindset in Fairfax County. Planners and developers are leaving behind suburban, car-centric ideas and opting for activity centers that feature other modes of transportation: transit, bicycling and walking.