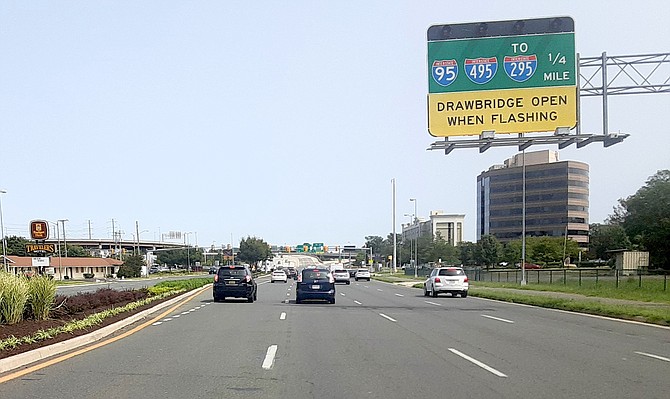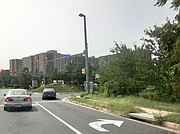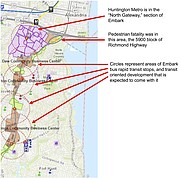 A pedestrian was killed last week in a part of Richmond Highway just south of Hunting Creek in an area that has traffic coming in from the Capital Beltway, and several secondary roads intersecting, and is short on pedestrian-friendly crossings.
According to Fairfax County police, a 78-year-old man died as a result of injuries from being struck by a car on Wednesday, Sept. 9 around 10 p.m. Detectives from the Fairfax County Police Department Crash Reconstruction Unit have preliminarily determined that James Spack, of Alexandria, was crossing the road in the area of the 5900 block of Richmond Highway. The driver of a 2012 Hyundai Veloster was traveling northbound on Richmond Highway when he struck Spack. The driver remained on the scene and is cooperating with detectives. Spack was taken to a local hospital where he died from his injuries. Preliminarily, speed and alcohol do not appear to be factors for the driver, according to police. The investigation is ongoing.
This is the 12th pedestrian fatality in the county to date in 2020.
There are several parts of Richmond Highway that have been improved for pedestrian safety, but this part of the corridor, which has several turn lanes, merging areas and traffic signals, not much has been done for pedestrian safety. The roadway here can be a daunting eight lanes to cross, plus the median.
The Richmond Highway corridor will be impacted in the future by the "Embark," project, but this particular strand of roadway is just outside of the project limits.
Embark Richmond Highway is a plan that is slowly coming together to provide multimodal transportation solutions and create opportunities for economic development in the Richmond Highway Corridor. Multimodal means a transportation system that is inviting for pedestrians, bicyclists, transit users, and drivers by including separate bicycle and pedestrian accommodations on both sides of the roadway, project information stated.
The Embark plan includes six business areas, and while the area where James Spack was killed is near the "North Gateway," business area, identified as part of Embark, it is just outside the project scope.
VDOT Study Says
Pedestrian fatalities in Virginia have increased, according to the Virginia Department of Transportation 2017 Pedestrian Crash Assessment. In response to the continuing increase in pedestrian fatality rates, the VDOT Traffic Engineering Division completed an inaugural statewide Pedestrian Safety Action Plan (PSAP) in early 2018. Of the three troubled areas in Northern Virginia that VDOT listed as "hot spots" on the action plan, the one spot listed in Fairfax County was Richmond Highway. This plan considers ways to improve pedestrian safety, and ultimately reduce pedestrian fatalities throughout the Commonwealth. VDOT reported that crossings at "mid block," where there is no light or intersection is a greater risk than crossings at intersections without a marked crosswalk, followed by intersections without a traffic signal.
VDOT uses the PSAP to prioritize corridors for select safety enhancements, based on available funding, like intersection improvements, in collaboration with localities, said VDOT spokesperson Jenni McCord.
In 2020, there have been dozens of pedestrian crashes including 12 fatalities in Fairfax County.
Fairfax County reports that there are nearly 4,000 miles of roads in the county, and that many are now being re-engineered to be more pedestrian friendly.
Pedestrians are one of the most at-risk groups of roadway users, according to the National Highway Traffic Safety Administration. While pedestrians account for only 3 percent of all Americans involved in traffic crashes, they represent 14 percent of all traffic fatalities. Pedestrian collisions often occur at intersections and crosswalks, where foot traffic and roadway traffic meet and interact, and vehicle speed is another primary risk factor, according to the NHTSA. The faster a vehicle is travelling, the more likely a pedestrian will be seriously injured or killed in a collision. Nationally, pedestrian deaths in the U.S. hit their highest levels in the past 30 years in 2019, at 6,590 deaths.
Anyone with information about this fatal crash is asked to contact the police Crash Reconstruction Unit at 703-280-0543.