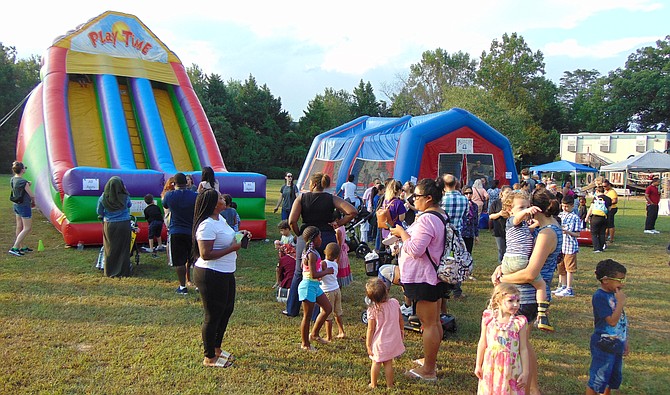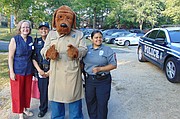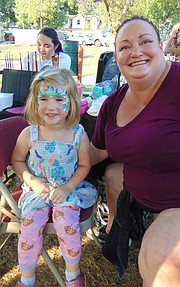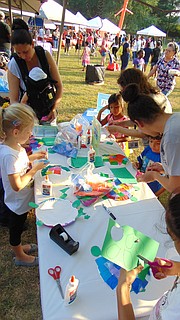 Call it a community celebration. Between 200-300 people attended the eighth-annual National Night Out behind the Lorton Library in Lorton on Tuesday, Aug. 6, 2019 – one of the largest in the county. Coordinated by the Lorton Community Action Center (LCAC) along with the South County Church and the Lorton Library, the event brings the community together to get to know one another and to mingle with members of the local police and fire departments.
According to Linda Patterson, Executive Director of the Lorton Community Action Center: "Here at National Night Out, we seek to make sure that all of our neighbors from the surrounding community can get together to get to know one another. One of the best ways to do crime prevention and to make sure that our community knows what's going on is to meet each other face to face and learn who our neighbors are."
Added School Board Chairman Karen Corbett Sanders of the Mount Vernon District: "I'm so excited to be here in Lorton for the National Night Out because it brings the whole community out to celebrate friendships/relationships and the partnership between all of our community associations and our police and our first responders. So, it's just exciting to see everybody here tonight, and I'm honored to have been invited to come."
Some of the participants included: South County Church, Shiloh Baptist Church, Grace Bible Church; and the Fairfax County Police from the Franconia Station as well as the local fire department. In addition, there were inflatable rides for the kiddies; Mission Barbecue food; ice cream and snow cones. The Lorton Library offered books, crafts and face painting and the Junior League of Northern Virginia sponsored a kids' parachute game and activities.