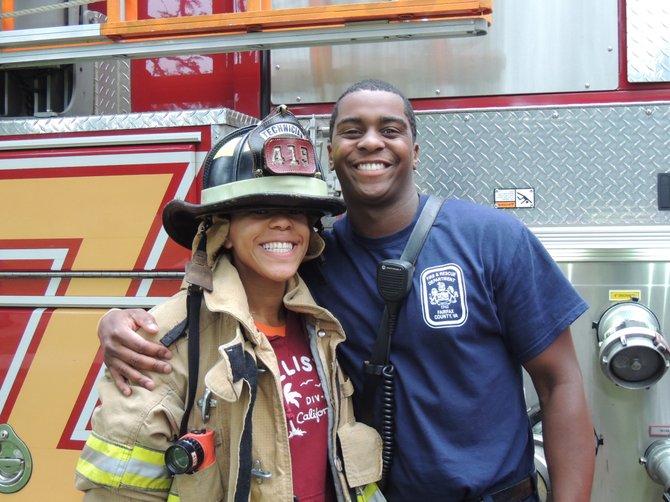 Hundreds of families gathered in Lorton Park last week for a night of music, games, picnics and more in recognition of the 30th annual National Night Out celebration.
"The overcast skies did not deter the enthusiasm of children and adults who created pipe cleaner critters, played games, enjoyed free hot dogs and snow cones, shared their artistic talent through sidewalk chalk, and enjoyed a live music performance by the Amazing Gospel Souls," said Linda Patterson, executive director of the Lorton Community Action Center (LCAC), which co-hosted the 2nd NNO celebration at Lorton Park along with the Lorton Library, Friends of the Lorton Library and South County Cares.
At least 300 people came out to enjoy the festivities. Many folks brought chairs or blankets and settled in on the grass to relax and enjoy the festivities.
Police officers from the Franconia District Station and firefighters from the Lorton Fire Station chatted with the public and gave children the chance to sit in a police cruiser and ride in a fire truck.
McGruff, the crime-fighting canine, even made a visit to greet the crowd and pose for pictures with children.
The goals of National Night Out are to strengthen community connections within neighborhoods and to heighten awareness of crime prevention issues. According to local police, the best defense against crime in a community is a good neighbor, and noticing and reporting suspicious activity immediately helps keep criminal activity low.
The NNO celebration is just one of LCAC's programs. The award winning nonprofit has been serving families in need in southern Fairfax County for more than 35 years. The Lorton Community Action Center provides a range of social services that include a food pantry, a thrift store, financial assistance and referral programs. For more information about LCAC, go to LortonAction.org.