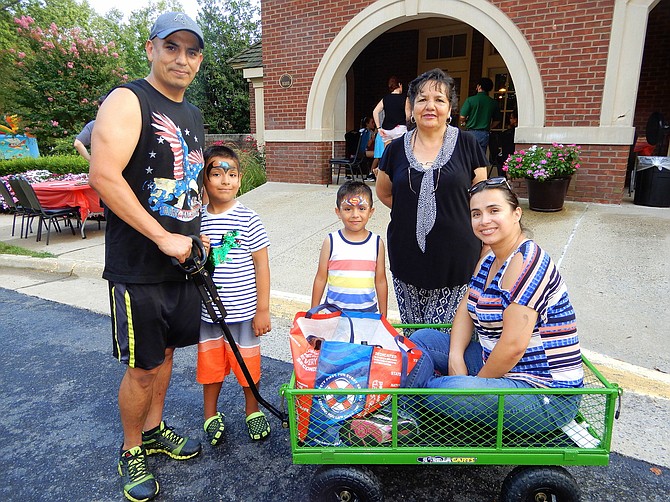 Each year, on the first Tuesday evening in August, people throughout the U.S. gather with first responders in recognition of National Night Out. This community-building and crime-prevention event enables residents to meet and mingle with their local police officers and firefighters, as well as their own neighbors.
This year's event was Aug. 6, and communities here celebrated with a variety of activities, including pool parties, ice-cream socials, children's games, face-painting, music and food galore. Below are details of two Centreville gatherings at both Sully Station II and Sully Station.
Sully Station II
At the Sully Station II event, attendees enjoyed pizza and cookies from Wegmans and sandwiches from Jimmy John's, plus hot dogs, ice cream, cotton candy, a moonbounce and a deejay. Residents Leslie and Dan Jenuleson organized it, and even a sudden downpour didn't last long enough to dampen people's enthusiasm.
"It's a family event, and it's very nice," said Huei Shin. "It's our second year doing it, and we enjoy taking the kids out, getting something to eat and letting them play in the bounce house."
Calling it a wonderful, community gathering, Sully District Police PFC Bart Rogers said, "It's great for kids to see us in a calm way where we play football and build relationships with them. That way, when they see us in the schools or at football games, they'll come up and talk to us, again and again. And we enjoy that interaction."
Suzanne Lambert, a 17-year resident of Sully Station II, said this event "gets the community out together. These days, police get a bad rap, and it's nice to give them some positive visibility in the community so people can see that they care about the public."
Inside the Sully II community center on Sully Park Drive, the Tolson siblings, Zach, 6; Virginia, 10 and Charlotte, 8, chowed down on pizza and ice cream. Watching them enjoy themselves, mom Christine Tolson said, "This is a great way to end the summer and for neighbors and friends to get together before the beginning of school. And it's a wonderful time for us to mingle with our local police officers and firefighters and show how much they mean to us and that we appreciate their service."
Dishing up the ice cream was Westfield High freshman Kayla Gadley, who's been doing that at Sully II's National Night Out celebration since she was in second grade. Her mom, Jamie Gadley, helped.
"We've lived here 12 years, and this community feels like an extension of our family," explained Jamie Gadley. "Whether it's National Night Out or I'm walking my dog, I always see a friendly face, we make eye contact and it feels like home. And this event is an opportunity to celebrate the officers as public servants and to connect the community with those people who serve us."
Sully Station
A separate neighborhood from Sully II, residents of Sully Station gathered at their community center on Sequoia Farms Drive. Activities included face-painting, a moonbounce, chatting with neighbors and eating grilled hot dogs and hamburgers, plus chips and salsa from Trader Joe's. And Sheriff's Office personnel fingerprinted children for I.D. kits for their parents.
Among those attending were Alex and Veronica Calancha, sons Christopher, 6, and Anthony, 4, and Alex's mother, Lourdes Calancha. "We always come to this event and have a good time with the family and friends," said Veronica. "The boys enjoyed the bouncy house and face painting and got to talk to the police officers, who were very kind and answered all their questions."
Alex liked meeting other people in their community. They came to National Night Out after work for some fun and relaxation. "It's important to make time for the family because parents are always busy, so these times are golden," he said. "And when the police officers come to these kinds of events, the kids get to know them."
Brielle Washington, 8, got an elaborate, green dragon painted on her cheek. "We've lived here three years, but it's our first time coming to National Night Out," said her mom. "It's very family-oriented, the people are all friendly and there's good food, too. The kids were able to play together tonight, and it was a nice time to hang out in the summer."
Sheriff's Office PFC Mary Williams fingerprinted 20 children "so parents have a record, in the unfortunate case their child is lost." She said it's important for law-enforcement to participate in National Night Out "so we're out there in the community. That way, people know they can trust us, and we can all have a good night together. It also lets people see us in a positive setting so we can build a stronger relationship in the community."
Auxiliary Police Officers Tony Gul and Nelson Fernandez agreed. "This is a great opportunity to mix with the neighborhoods and let them know we're here to support them, serve their needs and be part of the community," said Gul.
Fernandez said they'd attended five events that night. "It's good to strengthen the bond between the community and police department," he explained. "People can see and talk to us, get to know us better and know we're here to help when they need us." He said they laughed and joked with children, played basketball with them in Centreville's Barros Circle community and even danced.
"We also gave out police badges, hats, soap bubbles and wrist bands, plus gift cards from Chick-fil-A and 7-Eleven," said Gul. "And we enjoyed all the delicious food offered."
"Every place we've been, we were welcomed by everybody," said Fernandez. Gul said that made them feel they're doing a good job representing the police department. And, added Fernandez, "A strong relationship with the community makes our county safer."