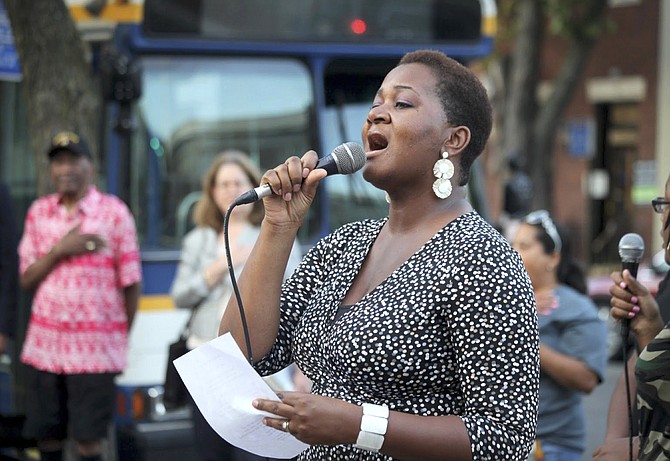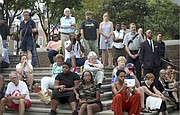 The Richmond Planet reported the lynching of a black man named Benjamin Thomas "within sight of the capitol at Washington" on Aug. 8, 1899. On Aug. 8, 2019, Alexandria resident Adrienne Fikes hosted a small gathering on the corner of King Street and Fairfax Street, the site where Thomas died, to commemorate his life, mourn the cause of his death, and, in her words, "acknowledge and heal this city's legacy of racial terror lynching."
"Even though 120 years seems like a long time ago, we are still living with the impact of this," said Fikes. "If we're ever going to be what we say we are in Alexandria, we've got to confront the good and the bad of who we are."
The event consisted of readings from reports by The Richmond Planet and The Alexandria Gazette, singing, silent reflection, and information on upcoming community events concerning racial injustice in the area.
Thomas, who was accused of assaulting an 8-year-old white girl, was dragged through the streets from his jail cell by some of Alexandria's "best citizens," according to The Richmond Planet. He was then hung from a lamppost in front of "hundreds of spectators." In an attempt to stop them, the mayor of Alexandria at the time told the mob that if Thomas was not tried, convicted and hung in 30 days he would let them hang him, an act which the report called a "parody of justice."
"Lynching was not just about the person who was being murdered," said Fikes. "It was a public message, and that message was very clear: you are in danger for being treated like a human. In this case, that meant having the right to a trial."
The commemoration also honored 12 black men who were arrested and punished for attempting to save Thomas from the assassins.
Fikes, who is involved with the Equal Justice Initiative, an organization that helps communities confront past injustices, said that the impact of lynching in a community scars both the descendants of those lynched and the assassins.
"The damage done by the hatred and violence of these events isn't solely found in the African American community," said Fikes. "It's doing very real things to the families of the white men who did this. It's one thing to say you descend from a family who owned slaves, but it's a whole other thing to have a great grandfather who participated in an atrocity like this in recent history. The people who are discovering that their families were somehow involved in this — whether they are related to the one lynched or the murderer — are beginning to reconcile this in some very powerful and courageous ways."
An informational meeting hosted by the City of Alexandria and the Alexandria Black History Museum will be held at 1 p.m. on Sept. 21 in Charles Houston Recreation Center to discuss further steps in healing Alexandria's history of racial terror and to memorialize the two victims of lynching in Alexandria — Joseph McCoy, lynched on April 23, 1897, and Thomas.
"There's no sense in drudging all this up just to talk about something horrible that happened and be sad about it," said Fikes. "We have to look at the structural inequalities that still exist today and use this as an opportunity for us as a community to heal."
For more information on the informational meeting in September, visit: https://www.alexandriava.gov/Historic.