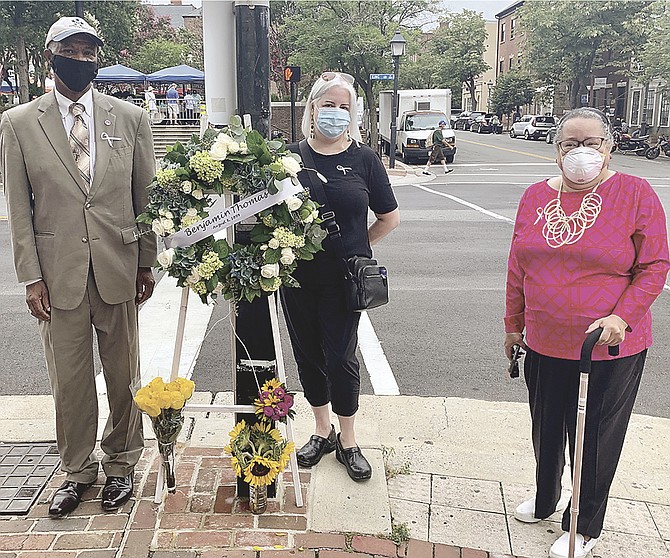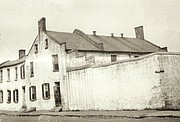 It happened just after midnight. On Aug. 8, 1899, 16-year-old Benjamin Thomas was attacked at the city jail on Saint Asaph Street and dragged half a mile by an angry mob of white citizens in what would become the second lynching of an African American man in two years.
On Aug. 8, Mayor Justin Wilson and Sheriff Dana Lawhorne were among those commemorating the 121st anniversary of the event by placing a wreath at the site of the lynching at the corner of King and Fairfax street, known at the time as Leadbeater Corner.
In the Benjamin Thomas Remembrance Ceremony, Wilson recounted the details of the event and led Lawhorne and attendees in reciting the names of 15 African American men who "risked their own safety and freedom" to try to defend Thomas.
"My predecessor had an unfortunate role in this event and it's important that we are here today," Wilson said. "This lynching is a testament to what our society is capable in its worst moments."
The wreath for the ceremony was sponsored by Del Ray Citizens Association and created by Helen Olivia.
Thomas was born around 1883 in Alexandria. His parents were George Thomas, a laborer, and Elizabeth Washington, a laundress. It is likely that all of the Thomas and Washington family members living prior to the Civil War were enslaved, as none appeared as free people of color on either the 1850 or 1860 Federal Census.
"The blood of Ben Thomas will be forever upon this city and upon the hands of those who participated in the crime."
—Shiloh Baptist Church Rev. Henry H. Warring, Aug. 28, 1899
Prior to his death, Thomas resided with his mother, Elizabeth, at 700 North Patrick Street. Next door at 702 lived a white family, whose 8-year-old daughter Lillian Kloch accused Thomas of accosting her although there were no witnesses and she was not harmed.
Mayor George L. Simpson ordered Thomas held at the city jail but according to newspaper reports at the time, he refused to provide adequate protection for the teen or to allow members of the black community to help protect the jail from the mob.
Thomas was dragged from the jail with a rope around his neck, pelted with iron sticks and rocks, shot multiple times and hung from a street post at the prominent corner across from Market Square. No one was ever held accountable or prosecuted for the crime.
The day after the lynching, the Thomas family left the house on Patrick Street and moved to a home on Pendleton Street.
On Aug. 28, 1899, hundreds turned out for a memorial service for Thomas at Shiloh Baptist Church.
"The blood of Ben Thomas will be forever upon this city and upon the hands of those who participated in the crime," said Shiloh's pastor Rev. Henry Waring.
Two years before, on April 23, 1897, another African American teenager, Joseph McCoy, was lynched in Alexandria. A white mob attacked the city's police station and pulled McCoy from his cell, dragged him with a rope around his neck, and then hanged him on the corner of Cameron and Lee Streets, only three blocks from where Thomas would be murdered.
Complete details of the lynching have been researched by the 13-member Research Committee of the Alexandria Community Remembrance Project. More information can be found at www.alexandriava.gov/historic/blackhistory/