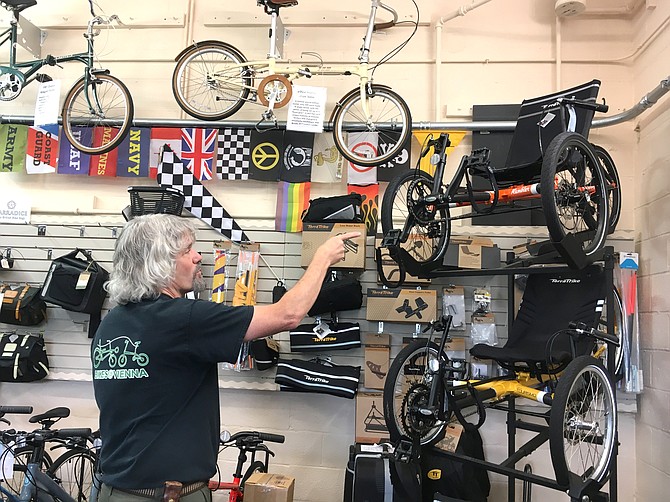 Vienna is steeped in history and tradition, but when it comes to the bicycle, two-wheels is now sharing the space with the three-wheeled variety catering to the diversity of riders. In recent times, Bikes@Vienna has experienced a demand for the three-wheeler as physically challenged riders, seniors and veterans are opting for another way to ride.
"We're seeing a lot of needs for people with disabilities," said store manager Tim Fricker.
The "Rover," by TerraTrike is one of the lines that Bikes@Vienna carries, and the company works with veterans as well. They are based in Grand Rapids, Mich. and "see a lot of vets who are fans of TerraTrike, and we are always happy to hear how much a trike can mean to their recovery and general health," according to their website. They offer 10 percent off for veterans.
As far as the seniors that come in the shop at Vienna, balance becomes an issue. "I've had a number of customers that moved to three wheels because of that," said Fricker.
A TerraTrike Rover has a weight capacity of 400 pounds and is $1,199 at Bikes@Vienna. Another manufacturer they have is Catrike from Orlando, Fla., and their trikes range from $2,150 for the Pocket model, to $4,150 for the Dumont. The mechanics, bigger frame and the additional wheel are reasons these three-wheeled trikes can be more expensive than regular bikes.
Ice is another brand from the United Kingdom, who say "the best thing about our trikes is the enjoyment they bring to all kinds of people, from able bodied to riders with disabilities," their brochure stated.
Greg Billings, executive director at the Washington Area Bicyclist Association, noted that the trikes and recumbents are a "growing but niche market," he said. "A more diverse ridership is increasing."
In early August, they offered a class for service providers to train on adaptive bikes, for adults with balance issues. Sometimes adult training wheels are a quick, inexpensive solution, but other times a trike is needed. "There are individuals that don't have the balance," he said. One of the local bike rental agencies may start renting three-wheeled trikes soon, according to Billings.
Another option that could come to "shared mobility" is an e-trike. Gotcha, a South Carolina company, announced in March it will add a new three-wheeled electric trike. "The three wheels, state-of-the-art stability reinforcement technology, and a robust kickstand mean it's more accessible and stable," the company said. This "allows riders to traverse significantly longer distances as compared to a scooter or bike."
Out front at Bikes@Vienna, the bikes on display include many traditional two-wheelers as recumbent bikes.
They are located between Maple Avenue and Church Street, which is a short distance to the WO&D bike trail, so getting anywhere is easy. "We see a large number of commuters," Fricker said. They also offer folding bikes, upright bikes and recumbent two-wheelers.
They still have the classic three-wheeled bike with a basket on the front – aka the "granny bike" – once popular with seniors. "When I tell people on the phone that we sell trikes, that's what they picture," Fricker said.