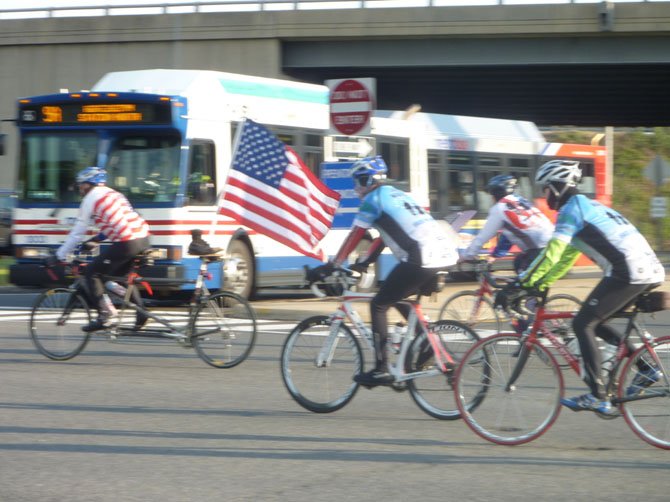 Alexandria — They came from across the country, gathering before dawn in the shadow of the Pentagon to begin a two-day journey to honor the sacrifices of America's wounded warriors and gain a better understanding of people with disabilities.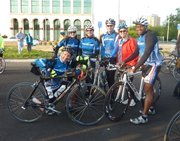 "This is our second year participating in Face of America," said Timra Stump, a member of the "Who Says I Can't?" team that was making the 110-mile trek to Gettysburg in honor of Jothy Rosenberg, an amputee rider and cancer survivor. "Jothy couldn't be with us this year due to an infection from a recent surgery but he is still an inspiration to all of us riding today."
Stump's 58-member team joined more than 500 other riders April 28 to participate in the 10th annual Face of America bike ride that included disabled and able bodied veterans, servicemen and civilians on bicycles, hand cycles and recumbents.
"What our service members have done for us is outstanding," said World T.E.A.M. Sports CEO Paul Tyler. "We do this to show our thanks to our veterans for putting their lives on the line for us."
The annual Face of America ride is managed by World T.E.A.M. [The Exceptional Athlete Matters] Sports, a 20-year-old not-for-profit that organizes inclusive events for disabled citizens and wounded warriors.
"All of our events are designed to combine able bodied individuals with people with disabilities," said Alexandria resident and retired Marine Major Van Brinson, chief operations officer of World T.E.A.M. Sports and director of the ride. "When able bodied individuals ride alongside someone with a disability, it really changes their perception of what that person can accomplish."
Another Alexandria resident among this year's riders was Gen. Robert Magnus (ret.), the former Assistant Commandant of the Marine Corps who was participating in his fifth Face of America weekend.
"I started as a speaker five years ago and have been a rider ever since," said Magnus, who celebrated his 65th birthday the morning of the ride. "I never take for granted how fortunate I am to live and enjoy the liberties of the greatest nation on earth."
Presented by Capital One, Face of America sponsors included American Portfolios, General Electric, Revolution Cycles, Subway of the Bethesda Naval Hospital, Veterans Corps, Penske Truck Rentals and Booz Allen Hamilton.
"This is just an amazing event for us to be a part of," said Booz Allen team member Eli Hertz. "We have 51 riders and 55 volunteers. From registration to the finish line and every mile along the way, there will be a Booz Allen volunteer doing this as a tribute to our wounded warriors."
Beginning with a kick-off dinner and silent auction April 27 at the DoubleTree Hotel in Crystal City, this year's ride raised more than $400,000 to support the participation of wounded warriors and for upcoming events like this summer's Sea to Shining Sea ride from San Francisco to Virginia Beach.
"I've seen first-hand how this ride can transform people," said Brinson, who tackled his first Face of America ride in 2006 before joining the organization in 2011 after 24 years of active duty military service. "It gives disabled riders more confidence and shows what they can do rather than focusing on their limitations. It truly is an inspiring journey for everyone who participates."
For more information on World T.E.A.M. Sports including upcoming events, visit www.worldteamsports.org.