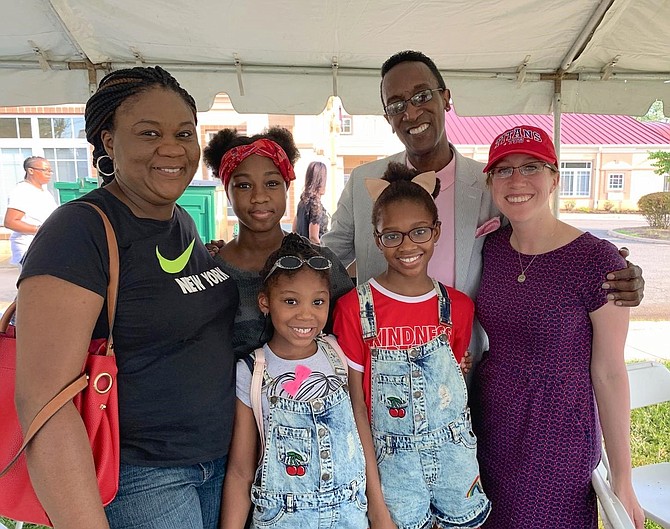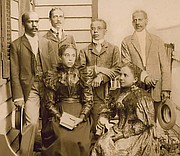 Hopkins House celebrated 80 years of service to the community with its first annual Founding Day celebration Aug. 10 at its campus on Richmond Highway.
"We are here celebrating the 80th year of Hopkins House doing great things for kids," said Hopkins House President and CEO J. Glenn Hopkins. "Rather than a formal dinner for sponsors, we wanted to reach out and make this an annual event for the community."
Hopkins said the celebration commemorating Founding Day will be an annual event marking the formal incorporation of Hopkins House on Aug. 9, 1939.
"And I was there," joked Hopkins.
The celebration featured games and crafts for youngsters along with free movies and popcorn. Hopkins said the event will rotate between the nonprofit's three Northern Virginia Centers, which includes the City of Alexandria, Herndon and the Richmond Highway location in Fairfax County.
"Founding Day is a greeting to the community, a chance to introduce the community to who we are and what we do," Hopkins added.
Founded in 1939, Hopkins House was formed in the wake of the Depression, when President Franklin D. Roosevelt began cutting federal funding for social programs for the poor. One program on the chopping block was the Works Progress Administration-sponsored Social Services Day Nursery that provided care for the children of African American working parents in then racially segregated Alexandria.
A group of teachers decided to continue the nursery by volunteering their time and homes. Soon they persuaded the Social Services League to allow the use of their building at 517 Gibbon St. after 6 p.m.
The teachers named the new community center in honor of Dr. J. Milton Hopkins, an African American physician who for years had provided medical care to anyone in need, regardless of ability to pay. Hopkins died on July 15, 1927, 12 years before the organization that bears his name was incorporated.
During the early years, Hopkins House had little or no money to pay for the services people needed. But what the organization lacked in funds, it made up for in community involvement. Edith Allen and Helen Day helped to originate "Negro History Week" in Alexandria's public schools — a first in segregated Alexandria. After securing a grant of $95.67 from City Council to support Hopkins House programs, Allen organized Girl Scout Troop #16 and Day formed Brownie Troop #8.
Through the next half century, Hopkins House programs expanded to include preschools, HIV/AIDS prevention, a crisis and family counseling center, after-school tutoring, a summer children's camp, a credit union, an employment and housing referral program, elder care centers, Headstart, Thanksgiving Meals for the Homeless, and a Lunch Bag Program for the hungry.
In 1994, at the prompting of its new CEO, the trustees adopted a strategic plan that, over the next five years, returned the organization to its roots providing education programs for low-income and low-resourced working families with children.
"I was worried about our funding for the future," said Hopkins, who took over as the seventh Hopkins House president in 1991. "This was in the wake of the United Way controversy and I thought it was time to reexamine what programs we do best and what needs other organizations could fill."
Hopkins cited the HIV/AIDS program as an example: "We turned that over to the Whitman-Walker clinic. And our elderly care centers were turned over to the city's senior services programs. My goal since then has been to improve the quality of what was remaining."
Looking ahead to the next 80 years, Hopkins noted a bucket list of three things on his agenda.
"We need to continue preschools targeting low-resourced working and military families," Hopkins said. "Low-resourced is not the same as low income. These are families that are earning too little to afford safe, quality care for their children but too much to qualify for other programs."
Hopkins next listed the early childhood institute in partnership with Northern Virginia Community College to help train qualified teachers and caregivers. His final focus is on educating the public on early education and its funding needs.
"That's been on the back burner but current policies have reintroduced a need for reeducation in this area," Hopkins said. "It's not that sexy kind of public policy issue that rises to the top but the cost of childcare is exceeding the cost of college tuition and parents are being forced to use unsafe child care providers. It's tragic and there needs to be a push for the public to be aware of funding needs."
After 28 years on the job, Hopkins remains passionate about the programs of Hopkins House.
"Those three things are a handful," Hopkins said. "But I am determined that we will remain doing these things for a very long time."
See www.hopkinshouse.org.