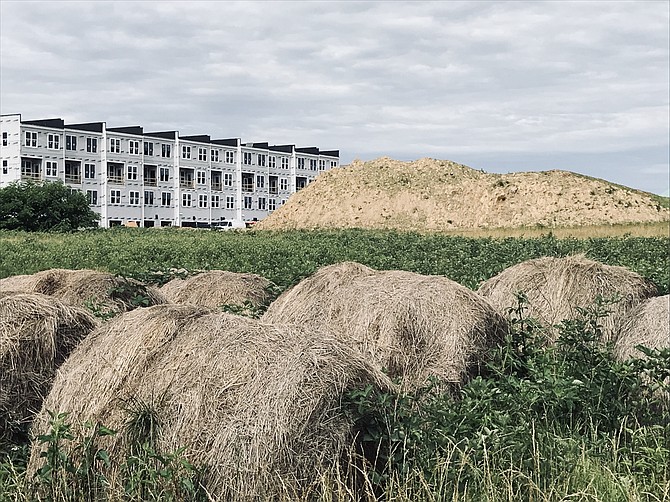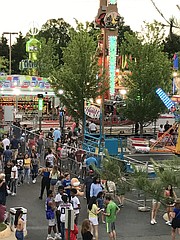 The Town of Herndon, just two miles east of Washington Dulles International Airport and 22 miles west of downtown Washington, D.C., is at the hub of the region's high-tech corridor. Billed as the "Next Generation Small Town," its Mayor, Lisa C. Merkel, is committed to retaining the town's community spirit even as current significant projects including the Herndon Downtown Redevelopment Project, Metro Silver Line, sidewalk widening, and others move forward.
"Herndon is certainly growing, and there will be new developments in the downtown and at the Metro station in the coming years, but it won't change who we are as a town. The people who live here are the heart of the community, and Herndonians love where they live! We know our neighbors. We take care of each other, and I am excited to welcome new neighbors to Town as we grow."
John Boylan, President and CEO of the Dulles Regional Chamber of Commerce, concurred with Merkel on many points. "Over the next 5-10 years, Herndon will experience change through the Downtown Revitalization, South Elden Street Development and the Herndon Transit-Oriented Core (HTOC) around the new Metro station. The opening of the Silver Line Phase 2 will find two new stations within the Town of Herndon's reach by bus, bicycle, scooter or a short walk. The mobility of the Town will adjust to these options and attract more business and residents."
The Town Council recently approved its first Bicycle Master Plan, which highlights mixed-use trails, cycle tracks, bicycle lanes, and sharrows and future connections.
Boylan discussed the continuing growth in Herndon on the economic level. "Record-setting commercial real estate deals in Arlington and Falls Church will find more federal government agencies and associated contractors moving west with a welcoming environment to live, work and play in the Town of Herndon and surrounding area."
Herndon will continue to add value to the community through its current annual events, Parks & Recreation activities, Entertainment and Arts as well as introduce new ones. "We continue to offer value to the community whether the 25th anniversary of Friday Night Live or new events like WinterMarkt to celebrate December. There are many opportunities to explore the Arts, Entertainment and Exercise," said Boylan.
In Greater Herndon and Oak Hill, not part of the Town of Herndon, significant numbers of townhomes are under construction including MetroPark at Arrowbrook, and a new upper elementary school is being built.
Current Development Projects
Herndon Metrorail Station, Town of Herndon
Developer: Metropolitan Washington Airports Authority, Use: Metro Station and access facilities, Silver Line Phase 2, Amenities: Pedestrian walkway to Herndon Parkway, Bicycle Racks at North Entrance Pavilion
Status: Under Construction
Town of Herndon Downtown Properties
Developer: Public/Private partnership between Comstock and Town of Herndon, Use: Mixed Use to include multi-family residential, retail/restaurant, an art center, and structured parking, Design: 3-4 story buildings with architecture compatible with the Heritage Preservation District, Amenities: Off-street private and public garage parking, Streetscape improvements, Art Center, Outdoor public spaces
Status: Site Plan Approved. HPRB Application submitted.
1 of 2 – Metro area – 555 Herndon Parkway, Town of Herndon
Case Name: 555 Herndon Parkway, Description: Retail, Office, and Residential, mixed-use project with a 4.3 FAR, to include one mid-rise building and two high-rise buildings atop podium parking garages lined with ground floor retail and amenity spaces. The plan comprises Private Street with urban streetscapes and public open spaces. Developer: Penzance Properties, LLC.
Status: HTOC Development Plan Approved by Town Council April 9, 2019
2 of 2 – Metro area – 555 Herndon Parkway, Town of Herndon
Description: Retail, Office and Residential, mixed-use project with a 4.3 FAR, to include one mid-rise building and two high-rise buildings atop podium parking garages lined with ground floor retail and amenity spaces. The plan comprises of private street with urban streetscapes and public open spaces, Developer: Penzance Properties, LLC,
Status: HTOC Development Plan Approved by Town Council April 9, 2019
Residences at the Station, Town of Herndon
Developer: Doll Homes, Use: 8 single-family homes, Design: Historic styling with front porches and detached garages, Amenities: Improved streetscape, off-street parking, paver driveways
Status: Under Construction
Innovation Center Metrorail Station, Herndon
Developer: Metropolitan Washington Airports Authority, Use: Metro Station and access facilities, Silver Line Phase 2, Location: In the median Dulles Toll Road/Airport Access Highway near intersection of Route 28, Amenities: Seven bike racks, five lockers-north side, 45 racks in garage on south side and five lockers
Status: Under Construction
Floris Conservatory of Fine Arts, Herndon
Applicant: Scimores Academy, LLC, 48,000 square foot conservatory; classes in music, dance, creative and visual arts to students 4-18, 300-seat auditorium, 120-seat conference room
Status: Project anticipated to break ground September, 2019