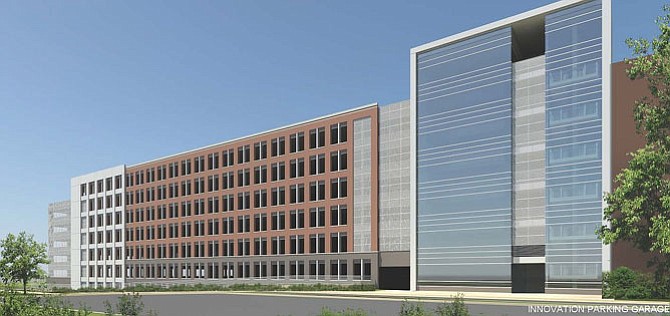 On Monday, June 15, members of the Fairfax County Board of Supervisors and representatives from Nugget Joint Venture LC (Rocks Engineering) and guests will hold a ceremony to break ground for Innovation Center South, a new 1.6-million-square-foot, mixed-use development in Herndon. The ceremony will mark the start of construction on infrastructure, roads, and landscaping, that will serve the transit-oriented development and a new Metro station garage.
The 15-acre Innovation Center South calls for 501,000 square feet of office space in two buildings, more than 1,000 residential units in four buildings, 104,000 square feet of retail, a 190-room, 90,000-square-foot hotel adjacent to the Metro station. Also planned are roughly 2.5 acres of parks, 3,000 development-serving garage parking spaces and 2,108 more parking spaces in the Metro garage. The Wiehle-Reston East station in Reston has 2,300 parking spaces with a bike room and has the only onsite parking garage at the five Silver Line Metro stations in Phase 1.
INNOVATION CENTER SOUTH is adjacent to the coming Innovation Center Metro Station, which will be built by the Metropolitan Washington Airports Authority as part of the second phase of the Silver Line. When complete, Innovation Center South will include a hotel and retail, residential and office space. Phase 1 of the Silver Line has five stops from Tysons Corner to Reston. Phase 2 will run 11.5 miles from Reston to Ashburn, and is projected to cost $2.7 billion. Phase 2 will expand the line from Wiehle-Reston East to Reston Town Center, Herndon, Route 28, Dulles International Airport and Ashburn.
Projects such as Innovation Center are examples of the county's goal to create transit-oriented development places as outlined in the Strategic Plan to Facilitate the Economic Success of Fairfax County. High-density, mixed-use developments can be built around multimodal transit hubs such as the Silver Line metro station. Fairfax County aims to improve transportation system leading to better connectivity between Loudoun County and Washington, D.C.
In coordination with the shared infrastructure work, Fairfax County's Department of Public Works and Environmental Services is designing and building a 2,100-space parking garage that will serve bus and rail commuters, a "pocket park" and a plaza to support the Metro station. The garage will include bus bays, kiss-and-ride spaces, a taxi stand, motorcycle spaces, and a secure room to house up to 100 bicycles. As part of an agreement reached four years ago to pay for the Silver Line's second phase, Fairfax County agreed to build garages for the Innovation Center Metro Station and the Herndon Metro Station.
County Garage Project Timeline
June 15, 2015 – Site Infrastructure groundbreaking ceremony at 2 p.m.
Summer 2015 – Site infrastructure construction start
Spring 2017– Garage construction start
Spring 2019 – Garage construction complete
At a July 29, 2014, meeting, the Board of Supervisors approved a land deal giving the county a 5.5-acre footprint for the Innovation Center Station garage, kiss-and-ride spaces and Metro plaza, leaving 9.1 acres for the developer, Nugget Joint Venture to build Innovation Center South. Nugget Joint Venture and Fairfax County are jointly developing the site's common infrastructure at a cost of $17 million. The county's share of infrastructure costs is $7.5 million.
In April of this year, the Metropolitan Washington Airports Authority announced that the second phase of the Silver Line project is 13 months behind schedule, which means it may not open until 2020. Phase 2 had been projected to open in 2018. Also, more than 150 design changes have already been made, including a total redesign of the 11.4-mile Phase 2 to accommodate storm water management issues. For many, the delay announcement is not a surprise as the rail line's Phase 1, which opened in July 2014, had frequent delays.
SITE INFRASTRUCTURE WORK is scheduled to begin this summer, and construction on the parking garage is scheduled to start in spring 2017. For more project details, visit www.fairfaxcounty.gov/dpwes/innovationcenterstationgarage/.
The June 15 ceremony will take place at the end of Rock Hill Road in Herndon. Parking will be available on the ninth floor of the garage at 2300 Dulles Station Blvd.