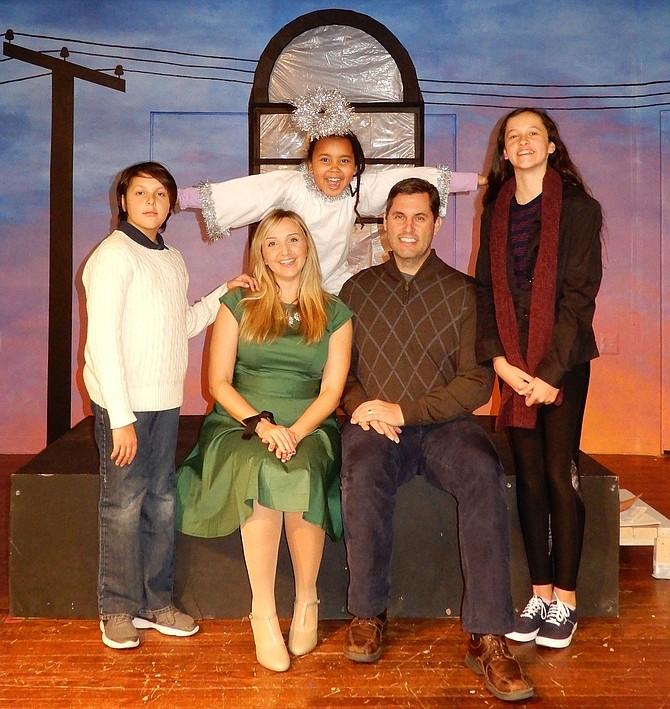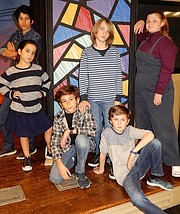 Putting on a church Christmas pageant should be a fun and joyful experience – after all, 'tis the season. But when some rowdy, rambunctious siblings get involved, both chaos and hilarity ensue. That's the premise of City of Fairfax Theatre Co.'s (CFTC) upcoming play, "The Best Christmas Pageant Ever," to be held at Truro Anglican Church, 10520 Main St. in Fairfax.
Show times are Thursday-Friday, Dec. 5-6, at 7:30 p.m.; and Saturday, Dec. 7, at 2 and 7 p.m. Tickets are $15, adults, and $10, children 13 and under, at https://fairfaxcitytheatre.ticketleap.com/best-christmas-pageant/. Prices are $5 more at the door. For group rates, contact fairfaxcitytheatre@gmail.com.
The 16 children and eight adults in the cast, plus the crew of 15, have been rehearsing since September. The story follows the Bradley and Herdman families, and scenes take place in a church and inside the Bradleys' home.
"It was originally a children's book published in 1971, so our general look and setting is 1970s Ohio," said Director Isabelle Baucum. "People will enjoy watching a comedy about the stress of Christmas. These children are animated and interesting to watch; we have a great group of talented performers."
Gregory Kennedy is the real-life father of twins; and as Bob Bradley, he also portrays their dad in the show. "My character is the comic relief," said Kennedy. "He doesn't even want to see the pageant, but he wants to support his lovely wife, Grace, who's gotten dragged into this production."
The church's women's club plans all the church's events, and one particular woman controls the pageant every year, so it never changes. And that's part of why the children don't want to be in it. But when she breaks her leg, Grace takes over as director.
Meanwhile, said Kennedy, "The ragamuffin Herdman siblings come to the church for the desserts on the day they're choosing parts for the pageant. No one will cross them because they're so tough, so they get the main roles. And who would have thought that the hardened, rough-and-tumble Herdmans would learn humility and find the true meaning of Christmas? That's the emotional center of the production."
BY THE PLAY'S END, he said, "The church ladies realize this has been their best pageant ever, the dad is glad he was in it, and everyone comes away learning about the gifts of love, understanding and forgiveness from an unexpected source. And Mindy Thomas, who plays Grace Bradley, brings a lot of personality to her role and brings the best out of the kids."
"I love playing Bob," said Kennedy. "I brought my own kids to audition for this show and was asked to audition, too, and got the role. It's just great to share the stage with my real-life children and see how prepared and professional they are."
His son, Thomas Kennedy, 11, portrays Charlie Bradley. "He's sometimes sarcastic and says funny stuff to be noticed, and he criticizes everything," said Thomas. "Sometimes he's a good angel; but when the Herdmans come in, he goes back into his shell."
He likes his role because he has a lot of lines and also because "I like how he's sarcastic," said Thomas. "But when the Herdmans become involved in the show, Charlie changes from strong and powerful to a scaredy cat. He goes from a big, red fire to a little, blue flame."
Thomas said the show's funny and the audience will enjoy "how every scene teeters on the edge of explosion. They'll also like the Herdmans because they're humorous, but in their own way. This play teaches people about Jesus's birth, but in a funny way and with some songs, too."
HIS TWIN SISTER, Mary Kennedy, plays Charlie's sister, Beth Bradley. "She's the narrator of the story and also talks to her friend in the show," said Mary. "She's kind of shy and is afraid of the Herdmans, but she's also interested in finding out what they're going to do next."
Mary, too, is glad to have such a big part and enjoys describing the action. Looking forward to the show's opening, she said, "The audience will like its humor and all the good actors we have."
Lilith Nees, 8, portrays Juanita, who plays a baby angel in the church pageant. "She's one of the smaller and younger kids, so the Herdmans try to intimidate her," said Lilith. "She's very shy and terrified of them, but she wants to know what they do in their spare time. She also makes up excuses when she's not prepared for her part in the pageant."
Lilith likes her role because "Juanita is a meek person, so I don't have to remember a lot of lines. That way, I can focus on my entrances and the four songs I sing. My favorite is 'Angels We Have Heard on High' because we sing as a group and, when we all sing 'Gloria,' we do it in a really loud tone." Overall, she said, "People will like the feeling the actors show when they're speaking. And when they're leaving, the audience will feel like, 'Wow, that was deep.' It's a very touching production."