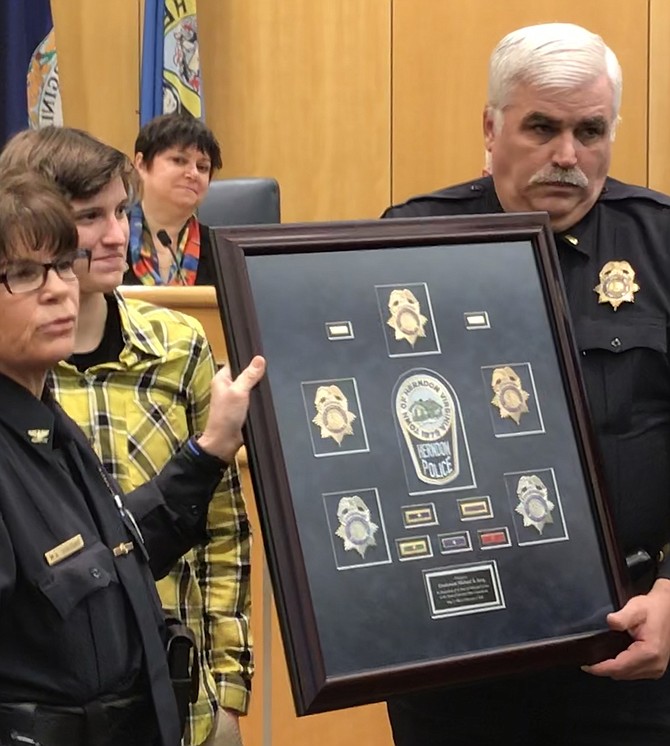 In May 1986, Michael "Mike" B. Berg joined the Herndon Police Department after serving his country in the United States Air Force for four years as a law enforcement patrolman and canine handler. On Jan. 15, 2019, the Herndon Town Council presented Berg with a Certificate of Appreciation upon the occasion of his retirement.
Herndon Police Chief Maggie DeBoard and others shared remarks about Berg and his service to the town. "He's had a long, storied career here... 13 years working with dogs…Mike's been an incredibly trusted employee…well-respected by his peers. There is no lack of commitment in anything he does," said Chief DeBoard.

Town Councilmember Signe Friedrichs said, "The last time I saw him, I begged him not to leave town, and he told me the fish wouldn't wait… You have some unexpected sides, and given that you have an appreciation of art, I wanted to write you a poem… Best wishes for your time with the fish."

"You definitely have a serving heart, and that shows your character… Thank you for your service, and we are always grateful for whatever you have done to our little town," said Town Councilmember Pradip Dhakal.
Berg responded that one of the great things about the Town of Herndon is the way that the council, the citizens of the town and the police officers always find a way to work together. "Difficult times, easy times, we always found common ground and found a way to move forward. And, unfortunately, I don't think it's quite that way all over the country, but it certainly is that way in Herndon."
Berg thanked all who supported him over the years and gave special thanks to his wife and daughter. "It's not always easy. I can't count the number of times I walked away from a dinner table… They both never complained. They handled it like law enforcement families handle it all over the country. And I will be forever grateful to them."