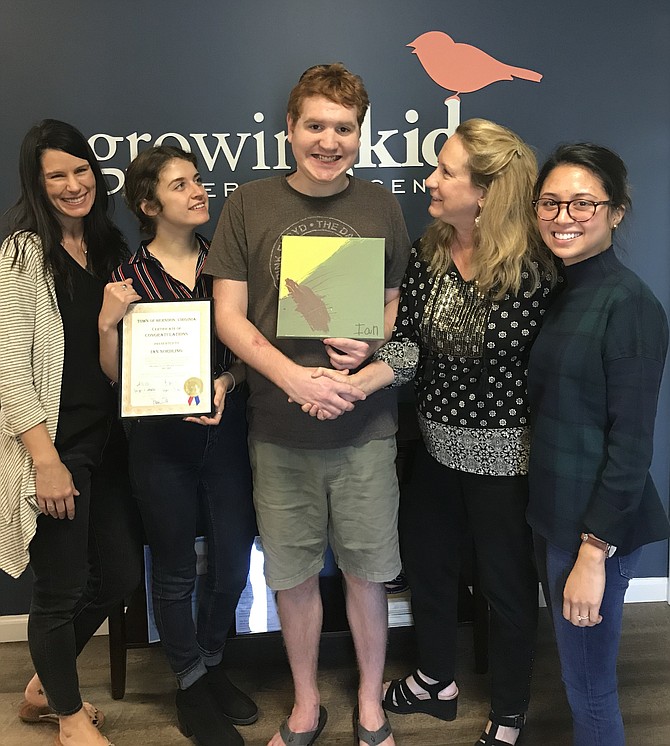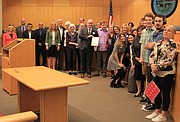 Ian Nordling knows inequality. Before his two-year appointment in 2017 by the Town of Herndon to its then newly formed Youth Advisory Committee, Nordling never experienced an opportunity to serve in a leadership position alongside his typical peers.
For Nordling, sharing his thoughts and opinions is something he has not always been able to do. Due to autism, Nordling is not able and does not use speech as his primary means of his communication. Instead, he uses Spelling to Communicate, which teaches individuals with motor challenges purposeful motor skills necessary to point to letters to spell as an alternative means of communication.
AT THE TUESDAY, SEPT. 24 Town of Herndon, Town Council Public Session, Council presented a Certificate of Congratulations to Ian Nordling in recognition of his hard work and excellence as a Member of the Herndon Youth Advisory Council 2017-2019.
Councilmember Bill McKenna, who chairs the Youth Committee recalled multiple instances of how Nordling's views seen through his lens, drove positive change on issues in the community.
McKenna said that following a presentation by Herndon Police Chief Maggie DeBoard to the Youth Council, Nordling created a pamphlet to help police understand how to react to people who have autism. Nordling did so because he had a bad experience with police when living on the west coast. "That experience he brought forth to the town, and they changed protocols and learned how to do things to be more understanding of different kinds of people."
McKenna commented on Nordling's continued contributions during Youth Council proceedings. "Every time we've had conversations, Ian has always jumped in." McKenna cited how during the Council's discussion on the Five-Year Review of Town Comprehensive Plan, Nordling's understanding and remarks on traffic flow modeling and multi-modality traffic led to a greater understanding of inclusiveness. "We have to incorporate everyone in the town," said McKenna.
In a narrative composed by Nordling and read on his behalf after the presentation, Nordling said, "Thank you all for allowing me the opportunity to share with you this evening. I feel so blessed to be a part of such an inclusive, welcoming community. What a special place the Town of Herndon is. When I moved back here a few years ago, I was anxious about calling this town home. I quickly learned that Herndon is so much more than a town. It is a community that fosters relationships, growth, education, involvement and fun. I have been able to take part in so many things this community offers. …But my most valued experience has been my time with the Herndon Youth Advisory Council. I have been able to serve in a leadership position, alongside my typical peers, something I never had the opportunity to do before. Even more, I am able to share my thoughts and opinions, which is also something I have not always been able to do. I would like to thank each member of the Herndon Youth Advisory Council both past and present for treating me as an equal, as well as Mr. Bill McKenna for enabling and cultivating that experience."
In addition to Nordling leveraging his voice at the table to promote positive change in the local community, McKenna recognized Nordling as a young man of great character. Tearing up and speaking from the dais, McKenna said, "I can't thank you enough for what you've done; your bravery, just being a decent person and always, always being the cheerful person in the room. You have changed a lot of lives, and you need to know that, so thank you – from me. Thank you, from the Council."
IN AN INTERVIEW after the presentation, Nordling and Elizabeth Vosseller, Director Growing Kids Therapy Center in Herndon & Executive Director at I-ASC, (International Association for Spelling as Communication) discussed what's next in his life.
"I will be joining the I-ASC Nonspeaking Leadership Council, and working to ensure that more nonspeakers have access to an effective mode of communication," Nordling said.

Vosseller described Nordling's new service and how it would support and drive change globally for nonspeaking individuals. In the spirit of the slogan, "nothing about us, without us," Vosseller said Nordling along with four other nonspeaking individuals were named as founding members of the Leadership Council. They would nominate and elect additional nonspeaking Councilmembers. Their experience and wisdom would guide the work of I-ASC created to increase communication access for nonspeaking individuals globally through training, education, advocacy and research. "We are tremendously thrilled to have such an accomplished leader guiding us," said Vosseller.