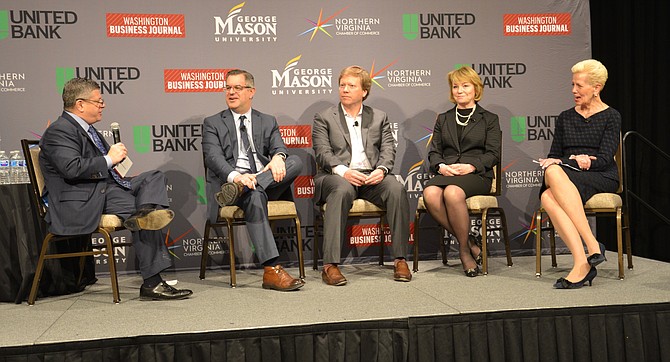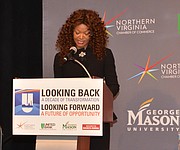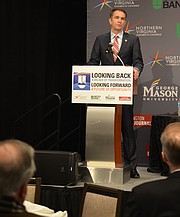 Amazon. The government shutdown. Workforce recruitment, education and retention. All hot topics of the day and all included in the 27th Annual Regional Economic Conference.
The Northern Virginia Chamber of Commerce, with long-time partners United Bank, George Mason University and the Washington Business Journal and Bronze Sponsor Basis Independent School McLean, filled the ballroom of the Hilton McLean Tysons Corner on Jan. 31 with a crowd ready to hear a who's who of local business leaders, influencers and students of the region's growth and economy reflect on a "Decade of Transformation" and offer their thoughts on a "Future of Opportunity."
Gov. Ralph Northam was also on hand to add his comments on where we have been and where we are heading in the region.
WELCOMING REMARKS were offered by the Chamber's president and CEO, Julie Coons, event mc Kevin Reynolds, regional president with United Bank, and George Mason University President Dr. Angel Cabrera.
Cabrera informed the attendees that in December GMU had not only just graduated the largest class ever, but that the university, ranked as one of the 300 best in the world, had just completed a record-setting fundraising campaign.
"We were told that our $500 million goal might be a bit ambitious," said Cabrera, "but we surprised us all by hitting $690 million."
Some of those monies will aid in the expansion of GMU's campus in Arlington, and fund other programs in the school's extensive academic catalog that have helped GMU achieve Research 1 status – a category that the Carnegie Classification of Institutions of Higher Education uses to describe universities engaged in comprehensive research activities. "And we are the youngest school to have ever done so," Cabrera said.
Keynote speaker Tamika Tremaglio, Greater Washington managing principal at Deloitte, praised the Chamber, its partners and its members for "harnessing the power of Northern Virginia."
Tremaglio says Northern Virginia is already doing a lot right, as witnessed by the region's selection as a second headquarters for Amazon.
"We checked a lot of the boxes," she added, with a stable and welcoming atmosphere, an urban or suburban location with access and activities, a highly-educated workforce, strong partnerships with top-tier educational institutions and with local government, and a diverse population.
Tremaglio focused much of her remarks on what companies should be doing, and how to meet the challenges of the "Fourth Industrial Revolution" – the term coined by Klaus Schwab, executive chairmen of the World Economic Forum, and highlighted at the 2016 World Economic Forum Meeting. This "new age" is less about the actual advances in technology and more about communication, connectivity, and the embedding of technology in human life, and even in the human body.
To even stay afloat in the coming years, Tremaglio says business needs to address the skills gap, to "step up and invest" by deeper engagement with "new breeds of schools." That requires monetary investment, assisting in the design of curriculums that will educate for the jobs of the immediate and further-distant future, and a personal investment, via mentoring, internships and sponsorships.
"And we need to start making that connection at a younger age," she added. Deloitte now has a middle school STEM outreach program to do just that.
Kindness and inclusion should also be top priorities for today's companies, though that "may sound simple," and that means more than training and traditional company team-building programs.
"Prosperity with purpose, not merely profits" is the key to success in Tremaglio's experience. She urges business leaders to really "think about the people in your company or office." To achieve true inclusion, narrow the success gap and retain great employees, leaders need to consider assisting their workers with "the right exposure and their image," as well as their performance.
According to Tremaglio, society – and today's workforce – also expect more from businesses on a social scale.
"They are demanding that we give back … that we lean in and help solve the community's problems." Companies like that attract and retain the best, "so it's good for all."
The task of explaining the "Decade of Transformation" fell chiefly to Dr. Stephen Fuller, director of the Stephen S. Fuller Institute for Research on the Washington Region's Economic Future.
"Transformation takes a really long time," Fuller said he learned. Referring to numerous statistical graphs in his presentation, Fuller showed that in this decade "we only found our footing again in 2017."
From 2010 until 2017, the Washington region lagged behind the nation in growth and recovery from the recession.
"We ranked dead last among the top 15 economic centers in the country … even behind Detroit."
Sequestration, says Fuller, was a key contributor to that economic malaise. "It basically cut us off at the knees in 2013 and we are only just coming back." Being a "company town" has its good and bad aspects, he continued, with the region being less negatively impacted by the initial recession, but then more affected than the rest of the country when sequestration hit.
2018 was the "best year in a decade," he stated, adding that 2019 looks to be "good, but not as good."
Fuller presented numerous statistical graphs that outlined the region's growth in wages and effect on GDP and highlighted in what categories jobs have increased or decreased. Professional
and Business Services, Education and Health Services and Leisure and Hospitality are the sectors where the region has seen the most growth, and Fuller predicts that trend to continue between 2018 and 2030.
In the previous 10 years, the fact that the region replaced lost government jobs with lower paying positions contributed heavily to the decrease in GRP Value of private sector jobs since the recession, despite a change from -180.5k jobs during the recession to an addition of 344.8k jobs from 2010 – 2018. Fuller sees rising wages in the growing sectors as possibly offsetting that trend in the future.
Fuller's advice on "how to stay ahead of the curve" going forward echoed Tamika Tremaglio's recommendations – "Develop talent. That requires continuing education."
After the speakers' presentations, the Washington Business Journal's Peter Abrahams moderated a discussion with panelists Jordan Goldstein, regional managing principal, Gensler; Kim Horn, president, Kaiser Permanente of the Mid-Atlantic States; Catherine Meloy, president and CEO, Goodwill of Greater Washington; and Marc Wilson, co-founder of Appian, the cloud computing software developers who are in the process of a $28.4M expansion to new headquarters in Valo Park in McLean.
ALL FOUR PANELISTS expressed "excitement for the future" of the region, and reiterated the need for people development and community engagement that had been cited by previous speakers. All four also look forward to the arrival of Amazon to the region, even Appian.
Although Amazon could be viewed as competition for Appian, Wilson thinks having Amazon as a neighbor will actually help recruit people to the area.
Meloy says she, too, welcomes Amazon, as it will increase opportunities for their job-seeking clients in the business that will support Amazon.
The speakers and the panelists all denounced the recent government shutdown, and acknowledged that the true and complete impact is yet to be known. Horn said that Kaiser locations had seen more stress-related usage at their medical facilities.
Meloy was answered by a round of applause when she noted that Goodwill, a contractor that will not see any payback of lost funds with the government's re-opening, still paid their workers who were furloughed.
She waved off the accolades. "It was something we had to do. Most of these employees are developmentally or physically challenged, working as custodians or other support personnel. They can't make it without that paycheck."
The panelists also agreed that the region – the entire DMV — was stronger when it spoke with one voice and came together to accomplish an objective or to solve problems.
Viewing the region as a whole, beyond the borders of Northern Virginia, "helps all of us compete nationally and internationally," said Gensler's Goldstein.
"It helps build the 'smart cities' that will be the way of the future," added Kaiser Permanente's Horn.
The Northern Virginia Chamber of Commerce represents about 700 companies and 500,000 employees around the region. Find out more at www.novachamber.org, and visit www.sfullerinstitute.gmu.edu for continuously updated information and analysis about the region's economy.