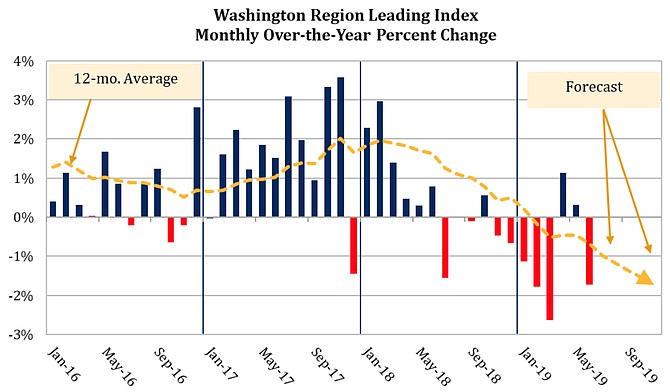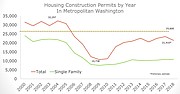 Don't look now, but your economy may be tanking.
A new report from the Stephen Fuller Institute at George Mason paints a grim picture for the Washington region, including a forecast for the near future that's significantly in the red. The folks at the institute make a habit of looking at something they call the "Washington Region Leading Index," a cocktail of data on construction permits, retail sales, unemployment claims and consumer expectations. Alarmingly, the numbers are worsening in all those categories.
"We've run out of the easy growth, and people are starting to get nervous," said Jeanette Chapman, deputy director of the Fuller Institute. "Part of that is a federal story, and around here we feel that pretty acutely."
The Washington Leading Index has been heading into the red since last spring, a slowdown in the region's economy that mirrors the downturn in the national economy. In ordinary times, the Fuller Institute might brush that aside and remain bullish about the resilience of the region. But the latest issue of the institute's usually staid Washington Economy Watch raised some red flags about the current state of affairs.
"These are not ordinary times," declares the September issue of Washington Economy Watch, "when national and global economic policy is being formulated on the fly, communicated on Twitter, and can be reversed on a whim."
Alexandria City Manager Mark Jinks acknowledges the city is not recession proof. But, he adds, the current situation in Alexandria is stronger than the region. Part of that is Northern Virginia's relationship with the military industrial complex, which is likely to continue going strong even if the economy tanks. Plus, he says, the construction business is booming and the region doesn't have enough housing units for all the jobs that are being added.
"The future of the economy always concerns us," said Jinks when asked about the Fuller Institute report. "Where interest rates are, we're in uncharted territory. So we're all going to have to watch it carefully."