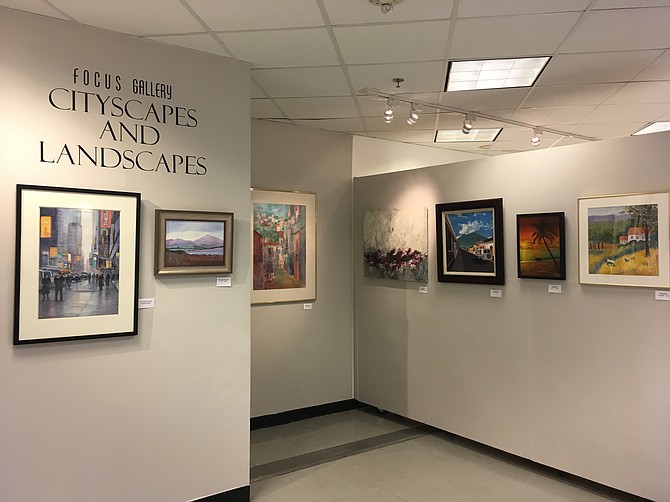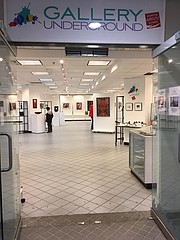 Tucked amidst Crystal City's maze of corridors and shops is a thriving artistic community. The 200-member Arlington Artists Alliance, together with the Crystal City Business Improvement District (BID) and JBG Smith, established Gallery Underground in 2012. Since then, Gallery Underground has hosted exhibits and special community events. Every first Friday of the month, they hold a free reception open to the public from 5-8 p.m. Exhibits showcase the talents of local and regional artists.
Last month, the exhibit "Cityscapes and Landscapes" presented various interpretations of urban and country scenes. This February, fitting in with the month's Valentine theme, the exhibit is "Shades of Red." A national juried exhibit is planned for May. Submissions are welcome from all artists in different mediums depicting or interpreting "Risk." As an additional incentive, $500 worth of cash prizes will be awarded to the winning entries.
Aside from Gallery Underground, there are also three studios nearby. Red, Blue and Cyan Studios are working spaces for 2-D artists made possible by the Arlington Artists Alliance, the Crystal City BID and Vornado. Studios are available on a six-month renewable basis. The studios reveal a range of art from paintings to jewelry. Studio Blue for example is used by these artists: William Adams is a painter and art conservationist, Linda Donaldson paints in oil and acrylic, Johnny Dukovich is a painter who incorporates hardware and software technology into his work, Justyne Fischer is an award-winning printmaker, Anya Getter is a mixed media artist, and Sandi Parker is a painter and jewelry maker.
As part of the Arlington Artists Alliance's goal to "make local art more accessible to the community," visitors still see the works in progress as well as the finished pieces even when the studios are closed.
Passersby walking along the corridors of the Crystal Shops may also chance upon Fotowalk Underground. This consists of 150 images decorating 1,000 feet of walkways. Exposed DC together with the Crystal BID have staged five exhibitions since 2016 as the photographs are rotated every six months. Last year, they showcased the travel photography of 59 photographers. Previous themes include a 10-year retrospective of previous Exposed DC winners and "Arts in the Everyday."
Crystal City residents, workers and visitors will find an eclectic mix of shops and restaurants at the Crystal City Shops. They also enjoy the convenience of a pop-up library and a post office.