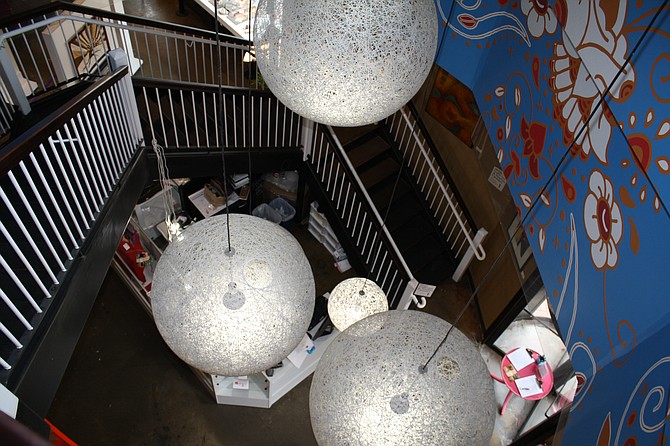 Grand Opening
GALLERY CLARENDON
An Arlington Artists Alliance Gallery
"Opening Reception and Meet the Artists"
Friday, Aug. 10, 5-8 p.m.
2800 Clarendon Boulevard, Arlington
571-312-7813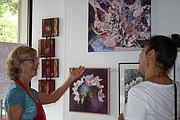 When the Arlington Artists Alliance was looking for a venue to showcase their art and catch the window shoppers on Clarendon and Wilson Boulevards, they found a vacant spot formerly occupied by the Fuego restaurant, and bargained with the landlord. The artists and their significant others did the cleaning, repairs and light construction to turn the space into their new popup artspace.
The bar doubles as an art showcase, and the kitchen and waiter station upstairs are now covered with paintings and sculptures from local artists.
Angelina Lopez popped in one afternoon as she walked down Clarendon Boulevard. "It's nice to have something like this in such a heavy shopping or eating area," she said. A few minutes later, a dog walker stopped by with Tillie, a Labrador Retriever mix, to see what was happening with the artists, which was all part of the highlights of this high foot-traffic area.
It wouldn't be possible if it wasn't for the artists enthusiasm, scrubbing down the former restaurant floors, building shelves and exhibits, and having a vision for what they wanted in a studio. On the first floor, there are paintings and sculptures everywhere, and large art-deco ball lights hanging near the staircase. On the second floor, there are individual artist galleries, classroom areas for art lessons and a wine cellar area turned into a studio.
"There was a lot of cleaning to do," said Gerda Lane, a member of the alliance for five years. Lane has her art on the other side of a half-wall, looking out on the studio. "This was a waiter station," she said. Nearby, Jean Moore's paintings hang on a wine rack. "This was the wine cellar," said Lane.
Early in the renovation, fellow artist Carol Waite brought in her significant other Jerry Seinwill to help out. He is a civil engineer with carpentry skills, and has renovated several houses over the years, including a 1898 Victorian row house on Capitol Hill. The challenge was to make the space work for the art gallery without damaging any existing kitchen and bar equipment, with no new holes in tile walls, wood paneling, granite bar-top, mirrored walls, or concrete floors. The owners of the building eventually want to find another restaurant to rent for its intended use. While they were all hauling lumber and taking measurements, Seinwill had this advice: "measure twice, cut once," he told the artists.
Artist Jane McElvany Coonce, who is an instructor as well, brought her husband who owns a full set of tools and carpentry skills. "He had a huge array of tools," said Lane, "he built all these walls," she added.
"It was great camaraderie, many spouses were involved," Lane said, admitting that when it came time for sawing and drilling, "I was more of an assistant," she said. Even though husbands and boyfriends helped out, the term "manpower" didn't quite capture the essence of the project. "The man and woman power equally put out there," said artist Sharon Malley.
According its website, The Arlington Artists Alliance is supported in part by Arlington County through the Arlington Cultural Affairs Division of Arlington Economic Development and the Arlington Commission for the Arts, and in part by the Virginia Commission for the Arts and the National Endowment for the Arts. Additionally, Gallery Clarendon and Studios Clarendon are supported by Regency Centers/Market Clarendon. They have another space in Crystal City that has been there for years.
Clarendon Gallery had a soft opening in June, and has an upcoming "Opening Reception and Meet the Artists," on Friday, Aug. 10, 5-8 p.m. Then a grand opening event on Sept. 15 — all day event with a wine reception from 5-7 p.m.