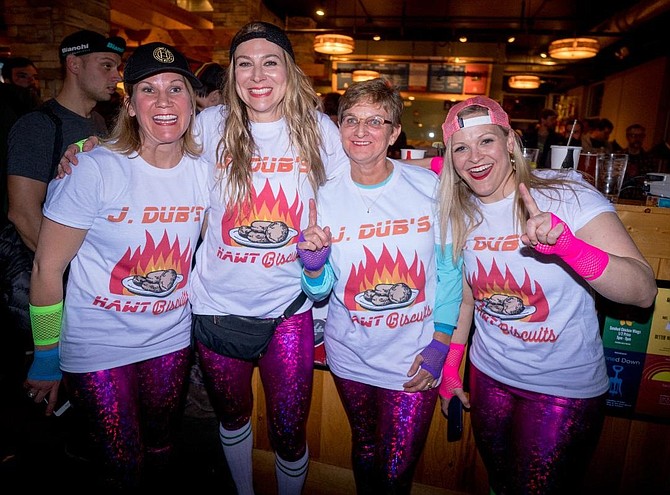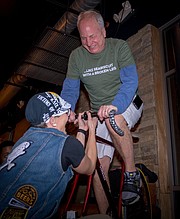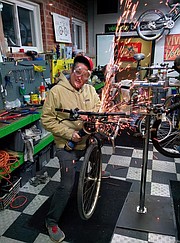 "We raised funds to help our friend Christian Myers fight cancer and to make sure he knows we have his back." —Del Ray resident Gayle Reuter
For nearly nine years, Christian Myers has been a familiar face in Alexandria, first in Old Town and now Del Ray. So when the VeloCity Bicycle Cooperative co-founder was diagnosed with cancer last October, his vast network of friends sprinted into action.
Longtime VeloCity customer Lindsay Nelson immediately rallied Pat Miller and the Del Ray Business Association to raise funds to help support Myers and his family as he battles Hodgkin's Lymphoma. A GoFundMe page was created but Nelson and Miller wanted to do more and on Feb. 4, the "Support Your Local Bike Guy" event was held at Pork Barrel BBQ, raising more than $20,000 for the man known as Alexandria's bike guru.
"What an amazing night," said Del Ray resident Gayle Reuter. "We raised funds to help our friend Christian Myers fight cancer and to make sure he knows we have his back."
Hundreds turned out to support Myers through raffles, drink specials and a silent auction. But the highlight of the evening was the indoor sprint bike races, which saw both serious and recreational cyclists go head to head on a stationary fixed gear bike. Participants pedaled as fast as possible for 500 meters, culminating with the crowning of individual and team champions.
"What a great evening," said Sheriff Dana Lawhorne, who participated in the sprint races, albeit at a more leisurely pace than the VeloCity Bicycle Cooperative team, who won the team event.
Myers, a former bike messenger, is undergoing chemotherapy and was unable to attend the event but expressed his gratitude through social media.
"I have so many people to thank for last night," Myers posted on Facebook. "Lindsay Nelson, Bill Blackburn, Pat Miller, thank you all so much. To the countless folks who donated gifts/time and their generosity, thank you. Without your support my family would be in a real bad way."
Myers and John Patterson co-founded Vélocity Bicycle Cooperative in 2010, seeing the need for a community-based and volunteer-run bicycle co-op in Alexandria to grow and empower a more inclusive biking community through affordability, education and embracing the fun of riding. The shop originally opened in a warehouse on South Union Street but moved to Del Ray in 2012 when that building was sold.
Myers manages the Vélocity Bicycle Cooperative bike shop operations and the youth education program. In addition to traditional bike repairs, Vélocity collects hundreds of unwanted bikes each year and refurbishes and distributes them — along with helmets — to children from low-income families.
Located at 2111 Mount Vernon Ave., VeloCity also has a Bike Scholarship Program to help residents from low-income families, local shelters and transitional housing to obtain a bicycle which can be used for free transportation, and they host free bike repair workshops with nonprofits such as the Alexandria Boys & Girls Club.
"I wish I could get out this house and thank each one of you personally," Myers said. "That'll have to wait a bit. But I will though. And last but not least, to the DRBA and Del Ray community, thank you. You give me hope."
Added Reuter: "I couldn't have been prouder to be part of such a generous and caring neighborhood."