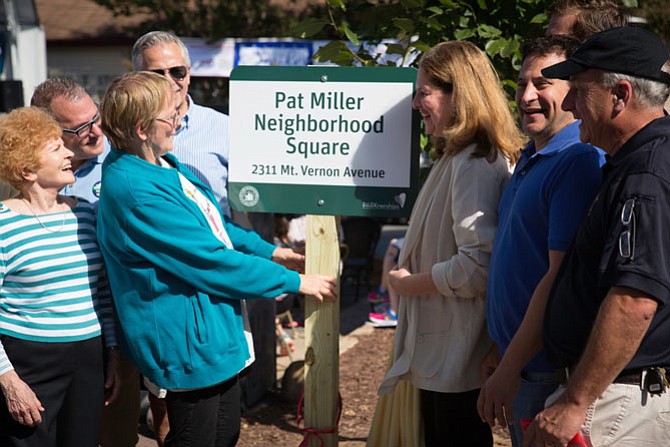 "This is an amazing honor and I am so very, very thankful." — Pat Miller on the dedication of The Pat Miller Neighborhood Square
If there is a name synonymous with Del Ray, it is Pat Miller. For more than 30 years the local resident has worked to transform what was once a forgotten community into one of Northern Virginia's trendiest and most sought-after neighborhoods. On Oct. 7, City Council recognized those efforts with the dedication of the Pat Miller Neighborhood Square.
"I am overwhelmed," Miller said of the dedication. "This is an amazing honor and I am so very, very thankful."
As more than 60,000 visitors strolled Mount Vernon Avenue during the 22nd Annual Art on the Avenue — an event Miller transformed from a block party into one of the region's top arts festivals — the City Council dedicated the Del Ray Farmers' Market site, located at the intersection of Mount Vernon and Oxford Avenues, in her honor.
Alexandria Councilwoman Del Pepper, who chairs the city's Facilities Naming Committee, acknowledged during Saturday's dedication that it is rare to name a public space after someone who is still alive. But she added that few people have dedicated themselves to improving their community like Miller.
"We didn't want to wait, for heaven's sake," said Pepper. "We wanted to honor her now. Pat is somebody who has really been a game-changer. She has been the cheerleader for Del Ray."
Miller is a past president of the Del Ray Business Association and has served on the board for over 20 years, currently as treasurer and co-chair of the Special Events Committee. Miller also serves as market manager of the Del Ray Farmers Market; chair of Art on the Avenue; serves on the Alexandria Police Foundation Board; served on the Kelly Cares Foundation board, which was responsible for several major projects for special needs children, including the Miracle Field; was a board member of Community Partners for Children; and is a former chair of the Alexandria Commission for the Arts; among other volunteer roles. She was named an Alexandria "Living Legend" in 2012.
"She is the definition of selfless," said Gayle Reuter, who co-chairs the community's events committee with Miller. "She loves the community, she loves the arts, she loves our businesses. And we love you, Pat. You have made Del Ray what it is."
The naming of the public space, approved by the City Council, was endorsed by both the Del Ray Citizens' Association and the Del Ray Business Association. A temporary sign was installed Saturday; a permanent sign will be installed after the block's bus stop area is reconfigured.
"I really am speechless," Miller said. "There are so many others who have had the creative vision for Del Ray. I'm more of a doer and just figure out how to implement the ideas of others. I enjoy doing it and in the process get to meet so many wonderful people."