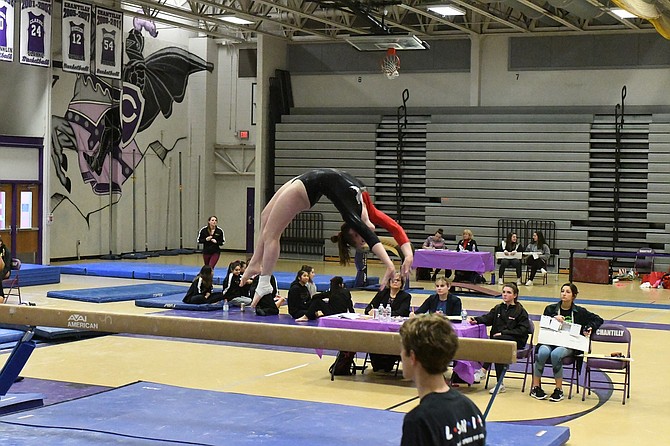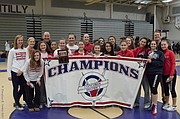 James Madison High School Warhawks in Vienna defended their Concorde District gymnastics championship title at Chantilly High School in Chantilly, earning first place. Madison High School's back-to-back district gymnastics championship titles are the first since 1987.
The Warhawks earned runner up as well in the Regional Gymnastic Championships at Washington-Lee High School in Arlington, for the second year in a row. Washington-Lee High School won first place in the Regional Championships
In the District Championships, James Madison High School won with a season-best team score of 139.20, far higher than the runner-up Oakton High School, at 134.90 points. Chantilly High School of Chantilly came in a close third with 134.225 points followed by Westfield High School in Chantilly, in fourth with 133.90 points.
The Warhawks started strong on vault with two of the top eight finishers, Eliza Loftus, an 11th grader, in second place (9.225) and Chloe Breedlove, (10th grader) in eighth place (8.650).
"The team score on vault tied our season high which set the tone for the rest of the meet," said James Madison High School gymnastics coach, Morgan Perpall. "That excitement and confidence just continually grew through the rest of the meet," said Perpall.
Leading James Madison High School were fourth, sixth, and eleventh-place all arounders, Loftus (36.20), Breedlove (34.60), and Christie Noble, a 12th grader, earned (32.775) respectively.
Loftus earned fourth place on the uneven bars (8.925), seventh on beam (8.75) and fourth on floor (9.325). Breedlove was fifth on the uneven bars (8.825), twelfth on beam (8.050) and sixth on floor (9.075). Noble was tenth on vault (8.60), 21st on bars (6.80), third on beam (9.025) and 17th on floor (8.350).
Also for James Madison High School, Cammie Kolat (11th grader), Carina Yano (10th grader) and Sara Ngu (grade 9) provided the needed depth to win the meet. Kolat was sixth on the uneven bars (8.775 points), sixth on the beam (8.775) and 18th on the floor (8.30). Yano placed tenth on the uneven bars (8.050) and Ngu placed twelfth on the vault (8.50). Also competing for the Warhawks were Sofia Ebersole, 12th grader; Lana McWhorter, 9th grader; Casey Wilkinson, 11th grader; and Anna Verevinka, 12th grader.
For more information on the James Madison High School Gymnastics team, go to https://madisonhs.fcps.edu/.