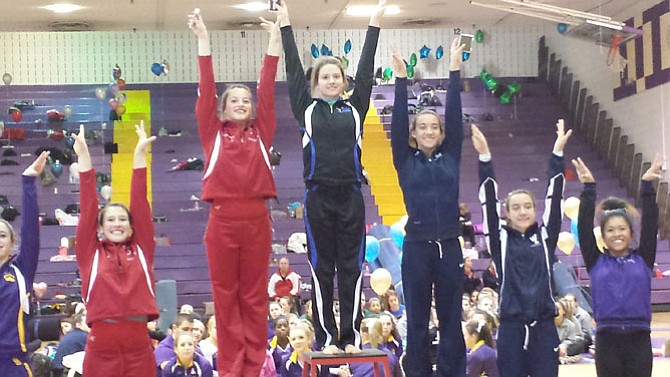 Rachel Barborek started her regional gymnastics performance by falling off the beam and winding up with a sub-par (by her standards) score of 8.475.
Rather than being consumed by disappointment, the Fairfax senior responded with a championship effort in her next event.
Barborek's floor routine entertained fans and judges alike, earning her a score of 9.75 and a region title.
In all, Barborek qualified for states on floor, vault and bars during the 6A North region championship meet on Feb. 11 at Lake Braddock Secondary School.
"On beam, I only fell once and I thought the rest of my routine was good, so I was pretty mad when my score turned out to be just an 8.45," Barborek wrote in an email, "so I channeled that emotion on floor and just did the best that I could."
BARBOREK DESCRIBED her performance during the meet as "one of my worst," but she put on a show during her floor routine.
"While I was waiting to salute before floor, I heard people saying 'Go Rachel!' from seemingly all sides of the gym and I thought that was pretty cool," she wrote. "In the beginning of my floor routine I felt a little shaky, but when the beat dropped in my music I just had fun for the rest of the routine."
Barborek also had a strong showing on vault, placing fourth with a score of 9.5. She tied for eighth on bars with a score of 8.775 despite struggling with her dismount. She tied for 18th on beam.
After an equipment malfunction in the main gym during the third rotation, the uneven bars were moved into a snug gymnastics room. Barborek and the rest of the competing Conference 6 gymnasts were on vault at the time and would compete on bars during the evening's final rotation.
"On bars, I've just been having a mental block with my dismount recently, almost like I've just forgotten how to let go of the bar," Barborek wrote. "The room wasn't a problem; my whole routine was really good just up until the dismount. I just couldn't let go."
Barborek finished fifth in the all-around with a score of 36.5. The top four all-around finishers qualify for states.
"For states, I'm just going to do my best on the three events I made it on: floor, vault, and bars," she wrote. "I'm hoping to place well on floor and bars (once I figure out how to let go of the bar). I was really hoping to move on [with] all-around, but now I just have to work with what I have and do my best routines and have fun for my last gymnastics meet."
Washington-Lee's Sophie Hatcher won the all-around with a score of 37.65, followed by Yorktown's Bella Kane (37), Hayfield's Molly Overstreet (36.975) and McLean's Lizzy Brown-Kaiser (36.95).
SOUTH COUNTY sophomore Collea Burgess, last year's all-around champion, attended this year's region meet but did not compete. Burgess said her club coaches (Apollo Gymnastics) did not want her to compete.
McLean won the team title with a score of 144.425. Battlefield earned the other state berth with a score of 141.025.
Three-time defending region champion Washington-Lee placed third with a score of 139.525.
Lake Braddock's Jordan Clark earned a state berth on beam (second, 9.225), vault (seventh, 9.325) and bars (tied eighth, 8.775. Teammate Carsyn Quackenbush qualified on beam (sixth, 9), and Jordan Tautges earned a trip on floor (tied eighth, 9.45).
Robinson's Caroline Burda is headed to states on vault (sixth, 9.4).
The state meet is scheduled for Feb. 20-21 at Patriot High School.