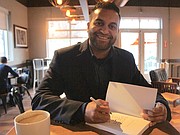 There are probably countless books written by Georgetown University alumni or professors or people who fall into both categories. The ranks narrow a bit when only considering authors who undertook their literary endeavors while still enrolled in educational programs at the prestigious institute of learning.
Matthew Henry of Vienna is one of those to achieve membership in the student-author ranks. A senior at Georgetown, Henry recently published "Working Together: Why We Need Bipartisanship in American Politics." Born in the United States from parents who immigrated from India, Henry and his family spent much of his formative years in Sydney, Australia, before the family returned to Virginia.
In a recent interview with The Connection, Henry confesses he never saw himself as a writer and had no ambitions to become an author. This project got its start during his "Launching the Venture" class taught by local "serial entrepreneur and creativity booster" Eric Koester.
"Eric Koester suggested the assignment to write a book and he offered three possible topics. Exploring polarization in American society, especially in politics, got my attention," said Henry. "I am a proud American, tired of the divide and what it is doing to all of us – or not letting us do. I really wanted to look more closely at this problem."

"I am a proud American, tired of the divide and what it is doing to all of us – or not letting us do. I really wanted to look more closely at this problem." —Matthew Henry of Vienna
THE PROJECT took from the Spring of 2018 until November and ignited something in student Henry that inspired him to devote hundreds of hours of research, cold-calling for comments and interviews, the actual interviews themselves, writing, editing, and soliciting feedback before his work hit shelves courtesy of New Degree Press.
"Yeah," laughed Henry, "it did sort of take hold of me, to the point where my social life definitely took a back seat while I was working on it."
Getting the interviews he felt would provide "voices from both sides and from all walks of life" took so much time that there wasn't much of that left over with other school work and classes to attend to.
To complement his in-depth research, Henry conducted interviews with some thirty persons. The "voices" that he incorporates into "Working Together" include Georgetown professors and students, politicos like former Secretary of State Madeleine Albright and former Governor of Massachusetts, Deval Patrick, the Rev. Jesse Jackson, a former FBI employee turned investment banker, even Dorothy McAuliffe, former First Lady of the Commonwealth of Virginia.
Henry also took his questions to "everyday people like you or me," asking for thoughts and comments from people like a nightclub bouncer in Falls Church, a nursing student, a Californian medical marijuana shop owner, and other students and acquaintances within his sphere. While he freely admits he writes from a "millennial's lens," and was informed by a number of millennial voters, Henry was careful to choose his "voice subjects" from different age groups, ethnic and racial backgrounds, Democrats and Republicans, liberals and conservatives and from the pro and anti-Trump Camps. "Although if you are looking for an anti-Trump book here, this is not it," he states, saying that his purpose is to find the ways we can work together, not what already divides us, or to simply "find the blame."
As for gathering all those diverse points of view and voices, Henry says that's exactly the point, since he sees much of today's political division caused by a failure to simply "listen to the other side, to try to relate and understand where they are coming from" before judging.
To make his case for bipartisanship, Henry's book takes a quick look at American political history, particularly the formation of the two main political parties, and the establishment and functions of the three branches of government. He summarizes some of the governmental systems of a few other major global players like the United Kingdom, Australia, and Germany to name a few.
"Readers shouldn't worry," he says. Those history lessons are brief – although he recommends time and again that educating oneself on government, the issues, the actors and the world around is really important to understanding what we should be doing as informed American and global citizens.
Instead of weighing down the topic with historical overload, Henry runs straight at the issues most dividing us and discusses them from every viewpoint. As he boils down what they are, how they are broadcast throughout society, and how they affect our policies, Henry keeps coming back to one particular belief:
"Our problems are not entirely race problems, nor political problems, but people problems," and the only way to solve people problems is for the people themselves to become better informed and to engage in open communication with "as little ego and preconception as possible."
Henry doesn't claim to have all the answers tucked into the 230-plus pages of "Working Together." He says his goal is to simply "make people more curious when they finish reading, maybe make them want to try and listen to a different point of view on even just one topic" as a means to combatting the political stagnation that he believes is "the common ground, a frustration for both sides."
TO SPUR THINKING, Henry's book is written somewhat conversationally and formatted "interactively" – a bit like a textbook - with questions and even a few challenges for the reader. In the end, he leaves them with 5 "simple" recommendations: 1) Do your part and vote, 2) continue to educate yourself, especially on what's happening internationally, 3) take time to listen to opposing views, 4) communicate with your local and state officials, and 5) help your community.
"Working Together: Why we Need Bipartisanship in American Politics" is available through booksellers and on Amazon. In addition to continuing his studies toward a December 2019 graduation, Henry is preparing production on a podcast series called "On the Rocks" and putting together his thoughts for a book on the modern meaning of masculinity and dating among millennials.