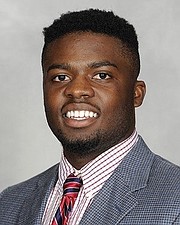 The Alexandria Sportsman's Club will hold its first annual Boys and Girls Lacrosse Night on Feb. 20 at the Old Dominion Boat Club. The evening will feature remarks from coaches representing all four Alexandria high schools, including Patrick Young, a professional lacrosse player newly named as head coach of the Bishop Ireton varsity men's lacrosse team.
"There are few times as an athletic director that you have the opportunity to hire a coach who plays professionally," said BI's Bryce Bevill. "His passion for developing young men will help not only our lacrosse program, but our school community as a whole."
Young was drafted 13th overall in the Major League Lacrosse draft in 2016 and currently plays professionally for Ohio Machine. He received his Bachelor of Arts in American Studies with a minor in Sociology from the University of Maryland, College Park.
Also confirmed to attend are T.C. Williams boys head coach Dennis LaGanza, St. Stephen's & St. Agnes coaches Kathy Jenkins (girls) and Tim Dodds (boys), Bishop Ireton coach Rick Sofield (girls), and Episcopal High School coaches Ashley Taylor (girls) and Scott Conklin (boys).
Alexandria high schools field lacrosse teams that are annually ranked among the top 10 in the nation with some of the best collegiate programs featuring local alumni. In 2017, three Alexandria high school girls' lacrosse teams — SSAS, Episcopal and Bishop Ireton — reached the Final Four of the Virginia Independent School Athletic Association state semifinals.
The inaugural ASC Boys and Girls Lacrosse Night is free and open to the public. It will be held Feb. 20 at the Old Dominion Boat Club in Old Town (200 Strand St.). Complimentary light dinner and refreshments begins at 6:30 p.m. The meeting starts at 7 p.m. with awards for the Athletes of the Month followed by a presentation and Q&A with the featured coaches. www.alexandriavasports.org.