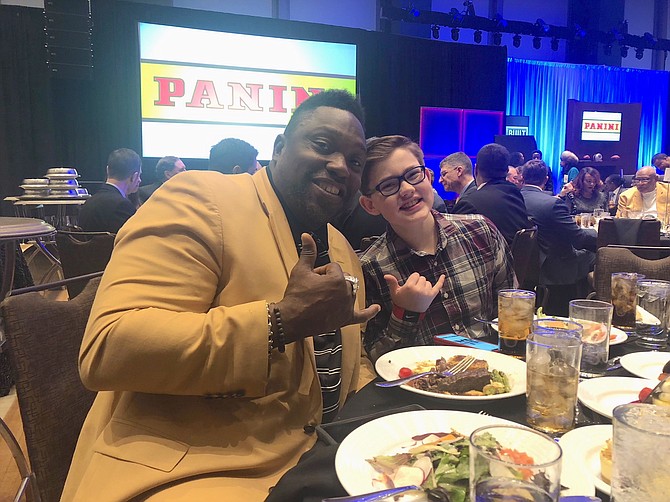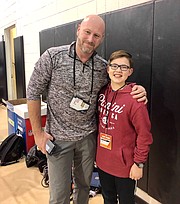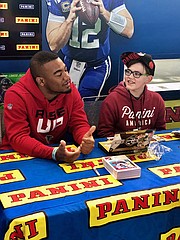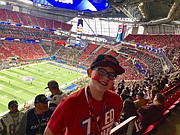 Corbin Boehm, 12, of Burke got the thrill of a lifetime when he was selected out of 63,000 entries, from kids ages 7-13, as the winner of the annual Panini America Super Bowl Kid Reporter contest for the company that makes trading cards for the NFL and NFLPA. Not only did he get a free trip to the Super Bowl to see the New England Patriots beat the Los Angeles Rams, 13-3, but he joined Trent Dilfer (former Baltimore Ravens quarterback) at Media Day in Atlanta as this year's Super Bowl Kid Reporter. He also spent the week of Jan. 28 thru Sunday, Feb. 3, interviewing football superstars and Hall-of-Famers alongside major media outlets.
"It was definitely an amazing blessing to be able to do this amazing experience… I never thought I would ever go to the Super Bowl. That's an experience that I could only dream of," said the son of James and Christina Boehm of Burke, who attends Terra Centre Elementary. "The halftime show was amazing to see live. The game was amazing to see live. It was amazing that I was able to do that."
He added: "Once we flew down (to Atlanta), we had a lunch with everyone at Panini and they gave me a pep talk about Media Night when I was able to interview Tom Brady, Jared Goff, Rob Gronkowski and Brandon Cooks. And there were plenty more players."
TV reporters from sports outlets around the world attended. What was it like to be in the same company as the big leagues? He said: "It was exciting but a little nerve-wracking at the same time. I saw ESPN cameras, and FOX News and wondered if they had better questions than me."
He got to ask Rob Gronkowski how big he was when he was the same age (12). "He told me he was 6-foot tall when he was 12. I was amazed by that, honestly. I asked Tom Brady how proud were you that two Bay area quarterbacks are competing up against each other in the Super Bowl. For Brandon Cooks, I asked him something around what do you think makes Jared Goff so mature for a young guy?" he said.
Other highlights were attending the NFL Hall-of-Famers Brunch and the Panini Skills Clinic where he had the opportunity to catch passes and interact with NFL players. He interviewed Nick Mullens, Nick Bosa, Bradley Chub, Phillip Lindsay and Ito Smith, among others.
"For each of the players, I would ask them the same questions; I asked Tyler Boyd if he had to switch to any position, which would he switch to, and he said 'cornerback' because of his speed and athleticism," he said.
Included in his itinerary were an 'NFL Experience' with booth activities where they Created Their Own Football Cards; and an amusement park with football-related activities called The Super Bowl Experience. He went to the NFL Shop with Ito Smith, a running back with the Atlanta Falcons, where Ito gave out autographs. "It was a really great experience for me," he said.
He also attended a Nickelodeon with other football players, including Bradley Chubb. "He was autographing stuff for kids and it was really cool," he said. Next, he attended a Pro Football Hall-of-Famers Brunch and a Panini Skills Clinic.
"I got to go to this brunch with NFL Hall-of-Fame legends. The people at Panini got me a table with Warren Sapp, with the Tampa Bay Buccaneers. He was a really cool guy. He knew everyone there so he got me to meet other players, including Derrick Brooks and other players such as Tony Gonzales," he said.
On Sunday, Feb. 3, Corbin attended the Super Bowl with his mom Christina; sister Brianna, 9, and Grandma Lyn Smith of Florida accompanied him to Atlanta; his father was deployed in Afghanistan with the U.S. Air Force and could not attend. They sat near the 35-yard line near the Rams' end zone (Section 317, Row 9).
"Originally, I was rooting for the Rams to win, but after I met Tom Brady, I realized how cool he was, so I ended up switching to the Patriots to win," he said.

Regarding the contest, Jason Howarth, VP of Marketing, said Panini America put codes inside Panini Trading Card packs, which could be purchased at Walmart. The kids then entered the codes in the Panini Kid Reporter website. With 63,000 entries, the sweepstakes randomly selected 10 finalists. The finalists were asked to submit a two-minute video on why they would make the next great kid reporter.
Corbin's video stood out for his dynamic personality and confidence.
"Corbin was the favorite of everyone who voted," said Howarth. "There were a couple of factors that stood out… how confident he looked on tape. You could tell he was comfortable with asking questions. You need a kid who is comfortable with themselves in their own skin, who can ask a question that a player can hear them amongst all the craziness that's going on that night because there's so many people there trying to ask the players questions," he said.
Needless to say, Corbin won the contest and was thrilled.
In his spare time, Corbin loves sports, including football and basketball, as well as playing in his school band and hanging out with his friends. As far as future aspirations, he said: "Definitely writing – after this experience, it's an option in my book. I love being able to write whatever's in my mind. I just love writing."
So which NFL team is Corbin's favorite: The Tampa Bay Buccaneers, and favorite college team is Notre Dame. His all-time favorite player is Mike Evans, a wide-receiver from Tampa Bay, he said.