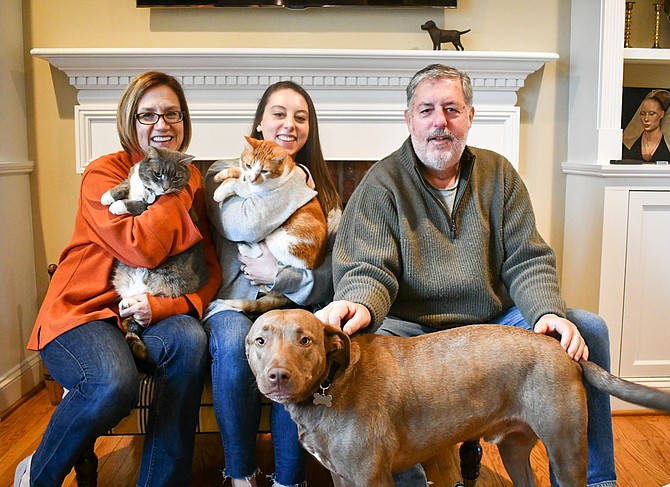 A surprise litter of kittens from a neighbor's formerly abandoned cat is how Tim Davis became a pet owner. "My cat's name is Harper and he was born the summer of 2012. Since 2012 was Bryce Harper's rookie year with the Washington Nationals, we named our cat after him. Our neighbor up the street took in a stray cat and they found out it was pregnant! Their cat had the litter underneath one of the kids beds! They asked all the neighbors if they wanted one of the kittens and we were the only family to say yes. Our family loves him because he always likes to be around everyone and is fun to play with," said Davis.
Rachel Richie adopted her hound mix Annie from Homeward Trails Adoption Center. It is a private center that takes in dogs from kill shelters or from places that are overflowing or cannot take anymore dogs from surrounding states. "Annie is such a special dog because she sees the good in everyone despite having a hard first few years," said Richie. "She is always extremely kind and lovable to people of all ages and other animals she meets. I hope to get her certified as a therapy dog so she can accompany me during my work in the mental health field so she can continue to spread oodles of joy to people who need her help. She is also the perfect companion for me since grad school isn't easy. She enjoys downtime but is always excited about fun adventures. I could not ask for a better furry friend," said Richie.
THE PEDERSEN FAMILY – Mike, Liz, and their three sons Sean, Mikey and Ian – are the proud owners of Chewbacca Latavius. Chewbacca being from Star Wars, one of their favorite movies, and Latavius Murray, a running back from the Minnesota Vikings who happened to make a great play during a game while the family was brainstorming names for their new dog. "He is a three year old labradoodle, we got him as a puppy. What I love about him is that he loves me more than my mom!," joked Sean. Mrs. Pedersen laughed but set the story straight. "We never had a dog while growing up. I was never a dog person, and the boys were allergic to dogs while growing up and we didn't feel like taking on that responsibility. One Christmas we just decided to get him, and it's so nice because I never thought we'd add more to our family. He became a family member and it made us as a family so much closer! These dogs are hypoallergenic which is great. I didn't expect to like him, but he's like the little brother to my sons," said Mrs. Pedersen. Mr. Pedersen chimed in saying that, "He is such a happy go lucky dog. Everyday, everything is great."
The Picardi family – Bob, Jane, Hannah, and Brock – are animal lovers. They own two cats and one dog, who have all been rescued. "I rescued Cooper, our lab pit mix, from Clemson, S. C. I named him Cooper because it's the name of the library where I attended school at Clemson University," said Hannah. "He is special to us because he gets us to go on family walks together. Our favorite thing to do is to walk into the town of Vienna to Caffe Amouri and get coffee while Cooper gets a human biscotti!" Hannah continued to say that Cooper is about four years old and was a stray in South Carolina and they rescued him for only $17 on St Patrick's Day, shots and neutering included. "He gets along with our cats well," said Hannah. "Nacho is our clumsy orange colored guy, you could do just about anything to him. He is three years old and loves our fireplace, belly rubs, and his food. Bernie is older, but is more skilled in outdoorsmanship and catching animals. He brings us back gifts!", said Hannah. The family adopted their cat Nacho from the Lost Dog and Cat Foundation and adopted both cats while they were kittens.

SUZANNE LAWTER is the director of operations for Worthy Dog Rescue, an all-volunteer 501(c)(3) nonprofit organization dedicated to helping dogs in distress, especially those living in chains, pens or in neglectful and abusive situations. "Cleo is how I got into rescue," said Lawter. "We adopted her back in late 2010 and she was my first dog as an adult. When we decided to get a dog we started researching different breeds and were drawn to the bully breed, both because they are gorgeous, awesome, active dogs that we felt would suit our lifestyle, but also because they seemed so misunderstood. We adopted Cleo through a Virginia based rescue who took her in after she was found at 9 weeks old - malnourished, abandoned, and left in a sealed box sitting in the middle of the road in Casanova, Va." Through her experience with Cleo, Lawter felt the pull to volunteer in the rescue world of dogs. Their second dog, Zoe, was what Lawter states as a "foster failure." "She was our foster dog who never left. She was actually adopted a few times and returned because she was a lot of energy to manage and needed a patient, active home," said Lawter. "She was rescued as part of a cruelty case in Richmond. Her owners were keeping her outside in a crate all day on their balcony in the direct sun," said Lawter. When the abusive family was reported to animal control, they decided to advertise their dog for free on Craigslist. "A good samaritan stepped up to take her in, and contacted the rescue I was volunteering with at the time for help." said Lawter. Lawter and her husband, Patrick Foster, had been fostering for about a year before Zoe came into their lives. "She was the sweetest dog we'd ever met, and excellent with other dogs," said Lawter. After volunteering at multiple different rescues, Lawter and Foster created Worthy Dog Rescue in August 2017. "I'm a founder, but it's really a team of people who came together to make it a reality. We rescue dogs of every breed, but are definitely partial to the pit pups," said Lawter. If you are interested in adopting or fostering a dog, contact Suzanne Lawter at suzanne@worthydogrescue.org.