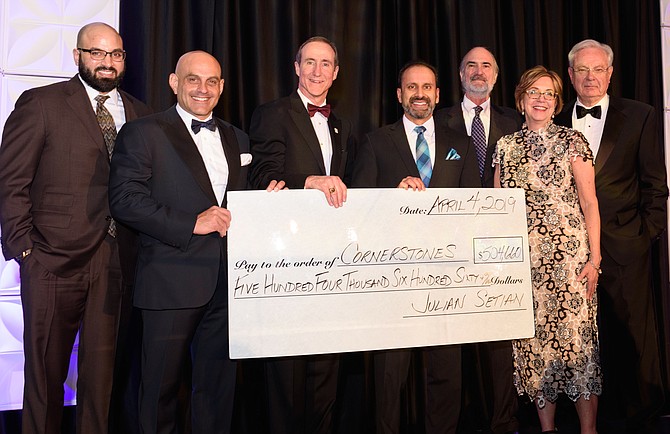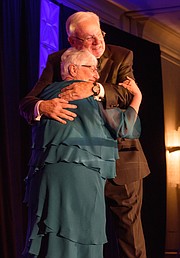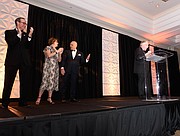 The 29th Annual "Cornerstones" of our Community, Best of Reston Awards for Community Service held Thursday, April 4 showcased the talents and commitment of businesses, nonprofits and outstanding individuals who dedicated their lives to serving others and to help make the Reston community a vibrant place to live, be connected and be inclusive.

Held at the Hyatt Hilton Reston on Thursday evening, April 4, a few days before National Volunteer Week, April 6 – 13, Kerri Wilson, CEO Cornerstones and Mark Ingrao, President and CEO Greater Reston Chamber of Commerce welcomed guests and honorees to the gala fundraising event. Wilson and Ingrao acknowledged and congratulated the 2019 Honorees.
"This is the best night out in Reston," said Ingrao.
Julian Setian, President and CEO SOSi, Best of Reston Chair said, "We share many of the values and principles of Cornerstones. "SOSi never shies away from a challenge, to be the best we can be. That's why I'm standing here tonight." SOSi was Gala Sponsor.
The Best of Reston Awards for Community Service presented two special awards.
Karen Cleveland, 2011 Simon Fellow, presented the first award, the Robert E. Simon Fellows Lifetime Achievement Award. The award recognized past Best of Reston honorees who continued to demonstrate selfless dedication and service in the community. "This year's honoree is a shining example," said Cleveland. Casey Veatch is a Reston original. His methods are sometimes offbeat, but perhaps better-said on beat."
The second special award for the evening, The Vade Bolton-Ann Rodriguez Legacy Award, went to Helen and Taylor Yi of Touching Heart, an all-volunteer effort that reaches hundreds of teens. Although the youth work with adult mentors to acquire leadership, planning and fundraising skills, the work is "kid-designed and executed."
U.S. Rep. Gerry E. Connolly (D-11) addressed the packed ballroom. Connolly said that as he drove to the event, he thought about NATO, how its members help and protect each other and realized a similarity. "What Cornerstones does, Reston does, is we take care of our own and invest in people. Every human being has value. We all have a part in this and have a shared value. It starts first in our community.
As the event neared the end for the night, Del. Kenneth R. Plum (D-36) urged the crowd to contribute a little more through the "Pay It Forward, Paddle Fundraiser" bringing in an additional $50,047 within minutes. Final total contributions for the gala and networking event reached a record high of $504,660 raised for Cornerstones.
2019 Best of Reston Honorees
• A Simple Gesture (Bob Schnapp) – Feeding Families – One Green Bag after Another
• BEI, Inc. (Mike and Ellen Jennings) – Expertise that Makes a Difference – IT's Their Thing
• Omicron Kappa Chapter of Omega Psi Phi Fraternity and the OKK Foundation, Inc. – The Colors of Their Service are Purple and Gold
• Maggie Parker – Passion that Leads to Lasting Success
• Roz Rakoff – An Essential Community Kindness Connector
• Kurt Rose – A Sparkling Gem of Community Spirit
• Synergy Design & Construction (Mina and Mark Fies) – Constructing Better Lives by Design
• Touching Heart (Helen and Taylor Yi) – Generations Inspiring Gifts of Love from Open Hearts
The Best of Reston Honorees list was corrected April 12, 2019.