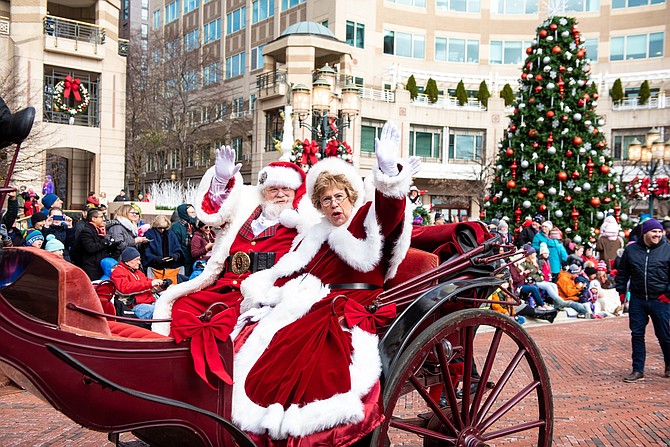 Reston Town Center has announced that Reston Holiday Parade has been voted as one of USA Today's "10 Best" for the third year in a row. After four weeks of Readers' Choice voting that ended on Dec. 10, USA Today has now revealed the top ten Best Holiday Parades with Reston Holiday Parade at #5 in the list of impressive parades around the nation. See the 2018 results at https://www.10best.com/awards/travel/best-holiday-parade/
The 28th annual Reston Holiday Parade was presented on Friday, Nov. 23 with a theme of "Winter Wonderland" as a highlight of a full day of cheer and charity to launch the season. Spectators came from near and far to see Macy's-style balloons, dancers, cars, characters, community groups, marching bands, dignitaries, Santa and Mrs. Claus in a horse-drawn carriage, and much more in a one-hour, half-mile, one-of-a-kind procession along Market Street. Before the 11 a.m. start of the parade, 10,000 commemorative jingle bells were handed out to children along the route. Angie Goff and Doug Kammerer of NBC News4 were Masters of Ceremony at two VIP grandstand locations, and 14-year-old nationally-known actress Sissy Sheridan of Reston served as the Grand Marshal.
The 2018 Reston Holiday Parade was recorded by Fairfax Public Access and can be viewed here on YouTube via Reston Channel 28 Comcast.
Reston Community Center provided major support for the Reston Holiday Parade as a Community Partner and additional support was provided by balloon sponsor, Reston Town Center Association. This community event is a success also thanks to the assistance of hundreds of volunteers who help with staging, serve as line marshals, handle the huge balloons and more, and all those who take part in the procession of 1,400 participants. This community tradition has grown since 1991 when Reston Town Center presented the first Reston Holiday Parade, which is held annually on the Friday after Thanksgiving.
Reston Town Center Ice Skating Pavilion: The glass-sheltered outdoor ice rink is open for public skating every day, including all holidays, from November until March. Ice Skating Pavilion rates, rentals, and more information: 703-709-6300; www.restontowncenter.com/skating.