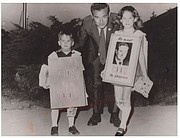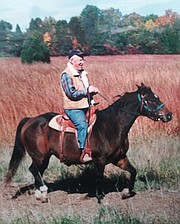 George Cook, a successful businessman and Alexandria City Councilman in the 1970s, died Dec. 16, 2018, at Goodwin House at the age of 85. The cause of death was acute kidney failure.
A member of Mayor Charles Beatley's "dream council," Cook, along with two partners, built Colonial Parking into the largest parking operation in the Washington region.
"Working for Colonial Parking was supposed to be a temporary job," said Cook's daughter Katie Cook. "But he always said he simply worked hard to take care of his family."
In 1956, Cook joined the then 5-year-old parking company founded by his Sigma Nu fraternity brothers, as an undergraduate at George Washington University painting stripes on parking lots. He continued working summers as a facilities manager while in law school. In 1993, Cook retired as president and chief executive officer of Colonial Parking, Inc.
Cook's civic career began in 1963 when he was part of a successful effort to end Alexandria's poll tax. He and several others sued the City of Alexandria to eliminate the electoral barrier to voting for residents of Alexandria.
Cook was elected to City Council in a 1969 special election. He was elected to a full term in 1970 and was appointed to fill a vacancy in 1975. During his tenure, Alexandria developed the three critically important blocks of King Street creating Market Square, Tavern Square and Banker's Square.
After managing Linwood Holton's successful gubernatorial campaign in 1970, Cook was appointed to George Mason University's inaugural Board of Visitors. On that team he oversaw the split from the University of Virginia, chose Mason's first president and marched in the university's first commencement in 1972 — held in a Fairfax High School gym.
Cook returned to Mason in 1994 as a distinguished fellow at the Institute of Public Policy teaching public policy to graduate students. He also chaired the Student Affairs committee and the Faculty Academic Standards Committee.
"Like a lot of people in the day, Dad did a lot of things for his community," said Katie Cook. "As he got older, he was able to enjoy his riding more, including retracing parts of the Lewis and Clark Trail. Along with my Mom and his grandchildren, he traveled around the world and felt strongly that travel educated and enlightened you."
Albert George Cook III was born in 1933 in Annapolis, Md., to Captain Albert George Cook Jr. and Harriet Graham Scales Cook. As a "navy junior" Cook lived in several parts of the country before his father retired in San Francisco in the early 1950s. A birth injury prevented him from following his father, grandfather and uncles to the Naval Academy.
While considering alternate careers, Cook studied at Menlo College and worked as a forest ranger, a job that led to a life-long love of the wilderness and horseback riding and his financial support of The Nature Conservancy and Rails to Trails. At the urging of his parents, he moved to Washington D.C. with the idea of Foreign Service or law school.
Cook stayed in the area for 63 years, built a successful business and presided on more than 10 boards that ran the gamut from the Girl Scouts of the National Council, Alexandria Hospital (where he oversaw the move to Inova), and several bank boards. He had appointments to state boards and commissions from five Virginia governors.
"My siblings and I learned early on to get involved in our community," said Katie Cook, who is a political fundraiser. "But there was another side of Dad that many might not have seen. My mother is super witty and was Dad extremely good about being the joke. We could tease him about anything and he was always a good sport about it."
Cook is survived by his wife of 61 years, former School Board chair Lou Cook, daughters Katherine Bennett Cook (of Alexandria) and Kelly Adair Cook (of West Hartford, Conn.), sons Albert George Cook IV and William Bernard Cook (both of Alexandria), and seven grandchildren now living in Denver, Brooklyn, Philadelphia and Alexandria.
Cook was a member and lay leader at Our Lady Queen of Peace in Arlington, where a funeral mass was held Dec. 21 followed by interment at Ivy Cemetery in Alexandria. In lieu of flowers, donations can be made to the Girls Scouts of America.
"Dad was very proud of his work on behalf of the Girl Scouts of the National Capital Area," said Katie Cook. "He loved strong women."