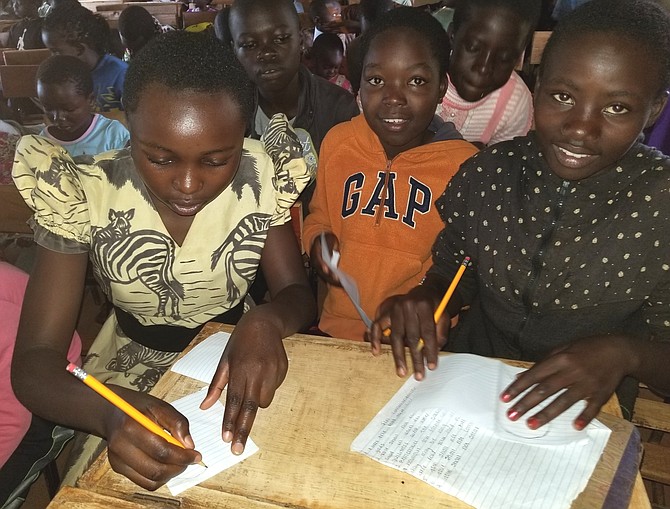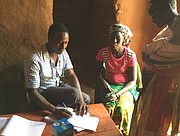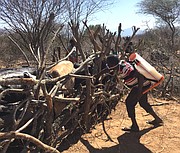 Mount Pleasant Baptist Church (MPBC), Herndon, continues to make missions one of its core ministry focuses to impact lives. On Nov. 28, 2018, the church sent a nine-member missionary team to West Pokot County, Kenya. Mission goals included training church leaders; teaching youths; conducting medical and veterinary clinics; and providing food and clothes to needful residents.

To begin its mission, the East African Mission Team held both Church Leadership and Children's Conferences in rural Mutua, Kenya. The purpose of the three-day Church Leadership Conference, held at the Agape Fellowship Church in Mutua, was to equip pastors and church leaders to impact the Kingdom of God. Children were inspired with biblical teachings, songs, and games at the Mutua Secondary School. Rev. Alfred Wanyama, who has planted several churches in West Pokot, hosted the event.
"We come from a part of the country, where we have different challenges (tribal clashes and cattle rustling), so we are raising leaders in the Word of God. We believe that when we serve God righteously, many things are going to change," stated Wanyama.
"We are in partnership with Pastor Alfred Wanyama, training leaders of those new churches. We teach leaders how to develop intimacy with the Lord; how to live according to the truths of the Word of God; and how to encourage their members to do the same so that they, in turn, can spread the Gospel to other regions beyond where they live," stated Rev. Denise Snyder, who leads the East African Mission Team with her husband, Ret. Police Capt. Samuel Snyder.
"We are keeping with our church's mission statement to build. Our hashtag, #WEBUILDHERE, speaks for itself. We are assisting Pastor Wanyama in building an indigenous people to spread the Gospel and to take it deeper into their interiors," stated Ret. Police Capt. Snyder.
THE TEAM Later conducted a Medical Clinic in Orlowo, Kenya. Clinician David Kiptanui, of Kacheba Sub County Hospital, Kapenguria, West Pokot County, and his staff teamed up with the mission team to provide healthcare to residents, many of whom have never seen a doctor or visited a healthcare facility.

"We've been tackling common ailments present in this region. Malaria is one of them, which is found rampant here. Other conditions we have found included upper-respiratory tract infections, tuberculosis, soft tissue injuries and skin infections. These are all most common in this region," stated Kiptanui.
Tiffany Owens, a Registered Nurse at Sentara Norfolk General Hospital, Norfolk, Va., of Diversified Ministry 4 Cultural Exchange (DM4CE), was also a part of the mission team.
"We also checked patients' blood pressures and diagnosed several cases of hypertension," stated Owens. For patients diagnosed with hypertension and other serious ailments, Kiptanui advised them to seek immediate follow-up treatment. Because he feels dispensaries are located too far from the people, Kiptanui stated that he would like to see more clinics come to the region and extended over several days for people who live in the region's interior. However, he acknowledged a challenge.
"The only thing that is making this project difficult is funding. If we had the funds, our prayer would be to do this medical camp every three months with more doctors and clinicians on the ground," remarked Kiptanui.
Rev. Dr. Kevin Donalson Sr., Senior Pastor of Mount Pleasant Baptist Church, was also a part of the mission team, assisted in the Medical Clinic, and thanked Kiptanui for the work that he and his staff rendered. Nurse Evans Kipchumba and Pharmaceutical Technologist Hillary Rutto were also part of the medical staff, which treated more than two hundred residents, including some Ugandan border residents.

"The Medical Clinic was definitely a success. We were able to help many people with illnesses that for too long have been death sentences in that part of the world but are treatable in other parts. A lack of resources should not be a death sentence. Our prayer is that more will understand the need to help people with the things that we take for granted. We are having an argument about health care here in America while they are just seeking for someone to care in West Pokot. It makes you realize the importance of missions," stated Donalson.
Also a part of a Haiti mission team in October 2017, Donalson continued, "We, at Mt. Pleasant Baptist Church, are just trying to do our part to help serve the Lord and the people of Kenya. We look forward to going back, and hopefully next time, we could do it even bigger and better."
THE MISSION team was also involved in several other mission activities, including providing food and clothing to some who were in need and overseeing the treatment of livestock at the Veterinary Clinic. Livestock are residents' primary sources of food and income. Whether it is supplying funds to treat livestock or meeting other needs, the church continues to impact lives through numerous outreach programs, including a Christian Academy for students 3 years old to the Second Grade. The church has also installed thirty-five water wells in countries such as Kenya, Nigeria, Liberia, Tanzania, Haiti, and Guatemala.

Reflecting on 2019 and beyond as Mount Pleasant Baptist Church is about to celebrate 153 years in September, Donalson stated that he hopes the church would have "an even larger and wider impact in 'building' the Kingdom around the world. Whether that means providing for more water wells or reaching people in new places like Uganda, I am expecting God to 'enlarge' our territory internationally."

Other missionaries who were a part of the team from Mount Pleasant Baptist Church included Sis. Flora Imbuye, Reston, and Rev. Shirley Spann, Ashburn. Missionaries of DM4CE were Rev. Lydia Harper, Rev. Lawrence Nichols, and Jackie Barrett, all of the Tidewater area of Virginia.
Shirley A. Spann is a writer, Associate Minister at MPBC.