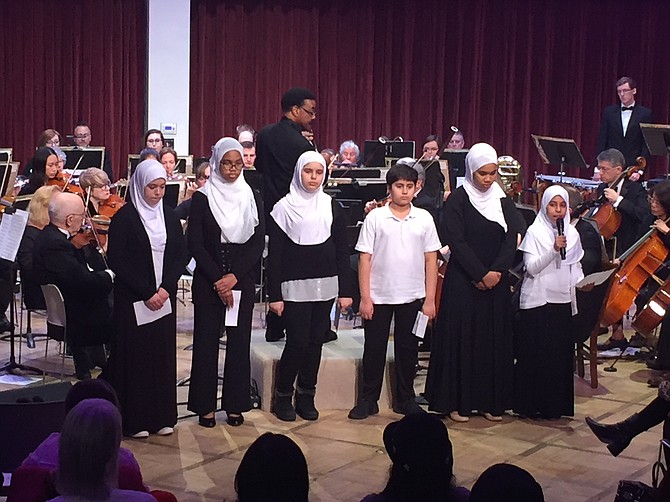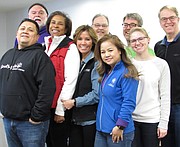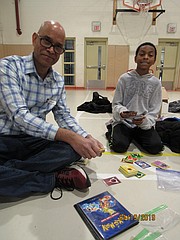 "Dr. King believed that a person's worth should not be measured by his or her color, culture, or class but rather by his or her commitment to making a better life for all people. There's no greater feeling than to be a part of an organization and a community that lives and breathes these values, not only on MLK Day but every day throughout the year," said BeBe Nguyen, Reston Community Center's Director of Communications.
The 34th annual Reston "Dr. Martin Luther King Jr. Birthday Celebration" produced by RCC with the help of many, offered a multitude of service opportunities and visual, performing and literary arts events for the community to celebrate and honor the man and his message. A whirlwind of activities ran from early morning Saturday, Jan. 19- Monday, Jan. 21, 2019.
RCC APPLAUDED the cooperation of its supporters – Martin Luther King Jr. Christian Church, the Office of Fairfax County Supervisor Catherine M. Hudgins, Reston Community Orchestra, Reston Association, Southgate Community Center and Cornerstones along with the support of other religious and civic organizations, business groups and schools.
Beginning Saturday, children, teens and adults gathered at Southgate Community Center, 12125 Pinecrest Road for the first service project. The center received a refresh complete with paint, window cleaning and nearby litter pickup. Volunteers made bag lunches for clients at the Embry Rucker Community Shelter, sorted and organized toys for The Closet in Herndon and completed other service activities.
After lunch, at North County Government Center, RCC partnered with Cornerstones and the office of the Hunter Mill District Supervisor Cathy Hudgins for a community service project in support of the Hunter Mill Winter Coat Closet.
"Reston MLK Day of Service, however, would not have happened without our community partners," said Ha Brock, Volunteer Reston Manager who gave thanks to RCC, RA, Southgate Community Center (SCC) staff and Advisory Council, The Closet, Cornerstones and Hunter Mill District Supervisor's Office. "These partners developed ten service projects and staffed the projects on Saturday," said Brock.
Aly Hanuschak, 17 of Reston, painted the walls at SCC on Saturday. She said, "I feel honored to provide my services to Reston on MLK weekend to help remember the service he provided us to keep his dream alive."

David Ransom, 11 of Lorton, came to Reston to volunteer with his dad, Curtis. "My dad told me about volunteering for MLK Day. I'm sorting Pokémon cards for The Closet in Herndon," he said. Vankat Nanduri of Herndon and member of Omega Psi Phi Chapter OKK helped Ransom.
Reston photographer Charlotte Geary spent her morning not behind the lens but cleaning windows at SCC. "This is an important day for our country and our community which was founded on openness," she said.
By late afternoon, Reston Community Orchestra presented the 13th Annual Tribute to Dr. Martin Luther King Jr. The free performance played recognition to the ability of music to create positive change. RCC reported it combined the traditions of African-American culture and Western classical music. Featured performers included students from Al Fatih Academy, an Islamic School that helps students build their American and Muslim identity and Reston's own, song stylist and vocalist Beverly Cosham.
Early Sunday afternoon offered the community a CenterStage performance by singer/songwriter Crys Mathews of Herndon whose songs and music soothed and spoke the voice of her generation. "Beauty can occur when we bridge those divides," wrote Justin Hiltner of Mathews in The Bluegrass Situation when describing Mathews.
The free 4 p.m. performance, "Voices of Inspiration," the 27th Anniversary program honoring Dr. Martin Luther King, Jr. presented by Northern Virginia Hebrew Congregation, followed Mathews performance but at 1441 Wiehle Avenue, Reston.
MONDAY held two events beginning with the Keynote Address by DeRay McKesson, civil rights activist and author of "On the Other Side of Freedom: The Case for Hope," a book named by NPR and Esquire as one of the best books of the year in 2018. According to reviews, it tells how the world can be made better, one act at a time through the eyes of a young activist.

McKesson spoke to a packed house.
"When we are asked by DeRay McKesson to consider where injustice is still an everyday matter, where people are still unsheltered, unfed, uneducated – and the answer continues to be that those are places where poor people, largely people of color – are trying to live, we have to confront what remains to be done. We know that to keep Martin's promise, we must keep afflicting the comfortable and opening the eyes and ears of the privileged to the suffering around them," said Beverly Cosham, Chair of RCC Board of Governors.
While the Community Luncheon, which followed, completed the whirlwind three-day weekend celebration by RCC, an MLK Art Exhibit continues to run through Jan. 31 at RCC Hunters Woods. It features the works of Reston elementary school students centered on the vision of King and the civil rights movement.
"While it's troubling that there remains so much evidence of racism in our country, we rededicate ourselves to the cause of civil rights with new energy and passion because of the work of people like DeRay McKesson; and because of the work we see our friends and neighbors doing all around us," said Leila Gordon, Reston Community Center Executive Director.
"Whether through volunteering, peaceful protest, fellowship or advocacy – people here are as committed as ever to realizing Dr. King's dreams," said Gordon.