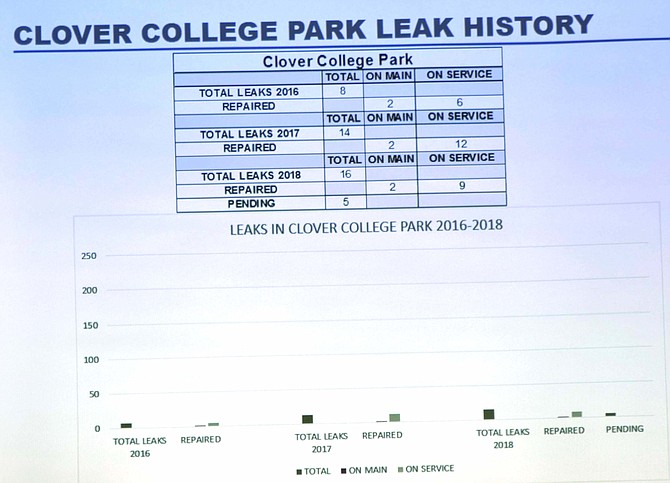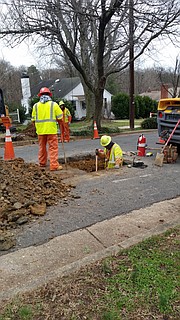 Representatives from the Washington Gas Company held a Natural Gas Safety Briefing for residents of the Clover-College Park neighborhood on Jan. 10 after numerous reports from concerned citizens about gas smells around the area. The reports began in late September and became more frequent in November and December and continued into early January. One resident reported "Washington Gas trucks all around the neighborhood."
Concerned citizens, worried about a pattern of gas leaks, had contacted Washington Gas in November and Washington Gas responded with an email notice to the city on Nov. 19. The email indicated they were investigating the leaks and making repairs as needed. The email explained they conduct a proactive leak survey every three years to ensure reliability, safety, and protection and that they "do not see a pattern." They indicated this year is "relatively consistent with the past three years of similar repair work." The email also outlined a follow up action list including a presentation followed by Q&A for the residents of the Clover-College Park Civic Association (CCPCA).
On Jan. 2 there were more reports of several gas trucks at Dartmouth and Crown View as well as at Vassar Road, W. Taylor Run and at Skyhill Drive. Lisa Porter, CCPCA president, notified the neighborhood email list that Mayor Justin Wilson, City Manager Mark Jinks and Transportation and Environmental Services are aware of these reports along Skyhill Drive where Washington Gas was testing for gas leaks ahead of the Civic Association meeting. They discovered several leaks and sent in additional crews to perform repairs, which "appear to be related to deteriorated rubber couplings on older infrastructure."
On Jan. 10 top Washington Gas officials came to the CCPCA monthly meeting armed with three-year gas leak graphs, procedures and details about the complexity of the system, resources and emergency information. More than 30 residents in the Clover-College Park neighborhood came with their questions and complaints about individual experiences with gas leak reports on their properties.
Melissa Adams, chief corporate social responsibility officer for Washington Gas, explained there are approximately 13,000 miles of gas main and approximately 13,000 miles of service lines in the entire system of Washington Gas across its service territory of Maryland, D.C., and Virginia "so we will have leaks; it's part of the system. But safety is our number one priority, and we do a number of things to inspect and maintain." She said between inspections there may be a leak. "You are our eyes, ears and noses. Call Washington Gas 24/7 and we will be out almost immediately."
She said, "We do periodic surveys of the whole system every three years (more than required by the Federal regulations), special studies as needed. We did one here." She said they know the vintages and ages and schedules for replacement for the system. "So you will see Washington Gas trucks around Alexandria quite a lot doing modernization and replacement. It doesn't mean there is an emergency leak."
Katie Harkless, director, Below Ground Field Operations, pointed out they respond to leaks both proactively by doing leak surveys and reactively where they rely on the general public to call in odor complaints. First they send out a technician who does a preliminary investigation, then a ground crew comes in. "Then we go bar holing into the street to make an assessment on repair or replacement."
Harkless said, "We did a special assessment for you on Jan, 2-3 and found 11 leaks, eight hazardous which were repaired within a day and a half and three non-hazardous that will be rechecked in 6 months. A Clover-College Park leak history chart revealed eight leaks discovered in 2016, 14 in 2017 and 16 in 2018. This compares to 166 in the City of Alexandria in 2016, 224 in 2017 and 184 in 2018.
Jill Edwards Hoffman, a Clover-College Park resident, said, "Our house on Cambridge Street is probably the one that sets all of this off." She expressed concern about the concentration of leaks and how this compares to other areas. Hoffman said she wondered if there is something bigger going on. She said the gas company told her they could only come to one address at a time and not look at the larger issue. Steve Price, assistant VP for Safety, Quality and System Protection at Washington Gas, responded, "We never want to leave something unsafe. They never should have told you they can only do one address at a time." He took out his notebook and made notes for follow up.
Harkless said, "When we started getting all of these calls, we asked them to run it through the complex algorithm in our model. This neighborhood came in with a low-medium risk with no leaks found on your main line."
Roy Byrd who lives at 3008 Dartmouth said he was another lottery number. "I had the last one in December." Byrd said the crew came out and said they could repair or replace the line. I don't know anything about it; I was ill equipped to make a decision."
He says when the crew was finished "they said to call this number to get the gas turned back on. So I did at 5 in the evening and they said, 'yes, we'll send someone tonight.' At 8 p.m. I called again and no one picked up so I called the emergency number and she told me it's not the right number.
"I called back at 11 p.m. The lady was a little short and said she had more important calls going on. She couldn't talk to me because my name wasn't on there. She had to talk to my wife. It turned out to be 3 a.m. when they finally arrived. I stayed up. When the truck arrived, it went to the wrong house." He indicated the work was efficient but the process was flawed.
During Byrd's description, Price shook his head several times. "They have to be courteous. We usually get high compliments on our service." Price asked for Byrd's address so he could look into the "one off" situation and track down what happened. Price explained that the field folks can get hit with emergencies that delay their planned arrival but the customer may never know what happened.
Residents expressed some frustration about not having information on why the repair trucks were present and what they were doing. Harkless said she hopes the residents received door hangers telling them what was performed. "This is new within the year to leave a notice at your door as well as the surrounding area." She says in one instance they discovered a contractor had performed the work who didn't have the door hangers in his vehicle. "We'll retrain if needed."
John Wexler raised a question about the 2900 block of Dartmouth where three out of five houses have had significant repairs in November-December and whether that would be considered a systemic issue. Harkless replied it was a pretty small area to be defined as systemic and that the pipes had probably all been installed the same year and have met the end of life cycle at the same time.
Wexler asked whether the other two houses on the block shouldn't be inspected and Harkless said they would be part of the next six-month survey. Wexler suggested all inspections should be done in January when people are using their gas. Harkless replied, "we can't be everywhere at once."
Price indicated he had a list of follow up for residents and that these meetings were very helpful feedback for Washington Gas. "I'm leaving with a lot of action items tonight."
Further gas leaks have been reported since the meeting on Jan. 10. Two of the neighbors involved reported that the Washington Gas crews were extremely professional and customer related. "They explained what they were doing, were very helpful and answered all questions ... It appears that the efforts of the CCPCA board have really caused Washington Gas to take notice and improve their responsiveness and customer service."