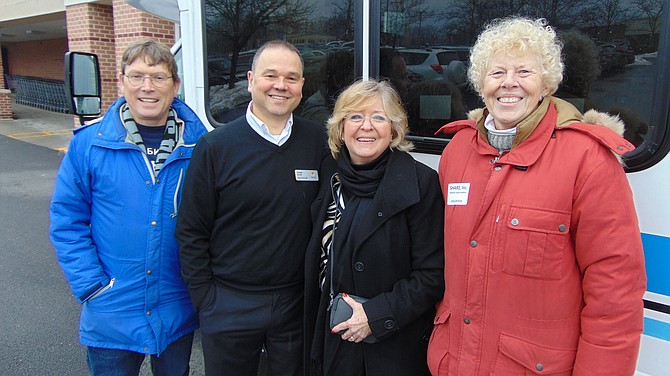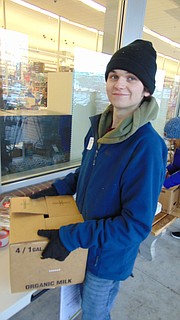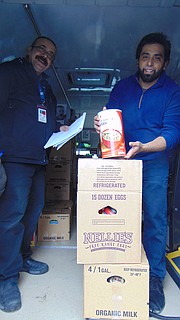 More than 5,000 pounds of food was collected at the "Stuff the Bus" event held at the McLean Giant Food Store at Chain Bridge Corner on Saturday, Jan. 19, 2019. And now with the Federal Government reaching its month-long shutdown, most of the food will be used to help local furloughed government workers in their time of need.
According to Vance Zavela, Partnership Developer for the Fairfax County Office of Public-Private Partnerships: "This particular location in McLean for SHARE, Inc., which helps families in need in this area, collected 5,000 pounds so far today and so it's a public-private partnership between Fairfax County's Neighborhood and Community Services, Office of Public-Private Partnerships. The drivers for FASTRAN are from MV Transportation, Inc. They're setting aside extra time to do this."
In addition to the donated food and groceries, people have also given cash and gift cards. Dranesville District Supervisor John Foust visited the site earlier in the day.
Added Betsy Rice, who runs the food drives at Giant: "SHARE hands out 1,000 grocery bags full of groceries to the Great Falls, McLean and Falls Church area a month. And right now, our services are really overloaded because of the Federal government shutdown. People who have a Federal government I.D. and who have been out of work for the past 27 days can come to any of the locations and can get food help. So, it's in overload night now."
Shoppers at Giant Food received a list of suggested items to donate, which included oatmeal/cereal, ground coffee, juice, toilet paper, school snacks, etc. Some 26 volunteers helped organize and box the groceries, which were then weighed before being loaded into the Stuff the Bus truck.
Now in its ninth year, Zavela said they are doing 11 Stuff the Bus events through Feb. 18 – two others events were held last weekend at the Fox Mill Giant and the Route 1 Mount Vernon Plaza Shoppers. The participating stores were Giant, Shoppers Food Warehouse and Walmart. "So, there will be other opportunities for people to come in and donate around the county to help all the different local food banks," he said.
"We could not do this drive without the support of the Giant. (Giant Manager Joe Donati) has been putting food out for the last week. So, the customers who shop Monday through Saturday could help donate. And the people who support this Giant come in and support SHARE 100 percent," said Rice.
So far, the Stuff the Bus initiative, which runs mid-January to mid-February, collects 250,000 pounds of food; provides 170,000 meals to those in need; receives nearly $50,000 in monetary contributions; and aids more than 32 local food pantries in its winter food collections.
Upcoming Stuff the Bus events
Saturday, Feb. 2
Tysons Walmart - 10 a.m. to 3 p.m.
1500-B Cornerside Blvd, Vienna
Benefits Committee Helping Others
Village Center at Dulles Giant – 9:30 a.m. to 3 p.m.
2425 Centreville Road, Herndon
Benefits LINK
Saturday, Feb. 9
Annandale Giant – 9:30 a.m. to 3:30 p.m.
7137 Columbia Pike, Annandale
Benefits Annandale Christian Community for Action
Clifton Giant – 9 a.m. to 4 p.m.
5740 Union Mill Road, Clifton
Benefits Western Fairfax Christian Ministries
Saturday, Feb. 16
Fairfax Walmart – 11 a.m. to 4 p.m.
11181 Lee Highway, Fairfax
Benefits Britepaths
Falls Church Giant – 9:30 a.m. to 4:30 p.m.
Falls Plaza, 1230 W. Broad Street, Falls Church
Benefits Falls Church Community Service Council
Manchester Lakes Shoppers – 9:30 a.m. to 3:30 p.m.
7005 Manchester Boulevard, Alexandria
Benefits Koinonia Foundation
Monday, Feb. 18
Cardinal Forest Giant – 9:30 a.m. to 4:30 p.m.
8320 Old Keene Mill Road, Springfield
Benefits Ecumenical Community Helping Others