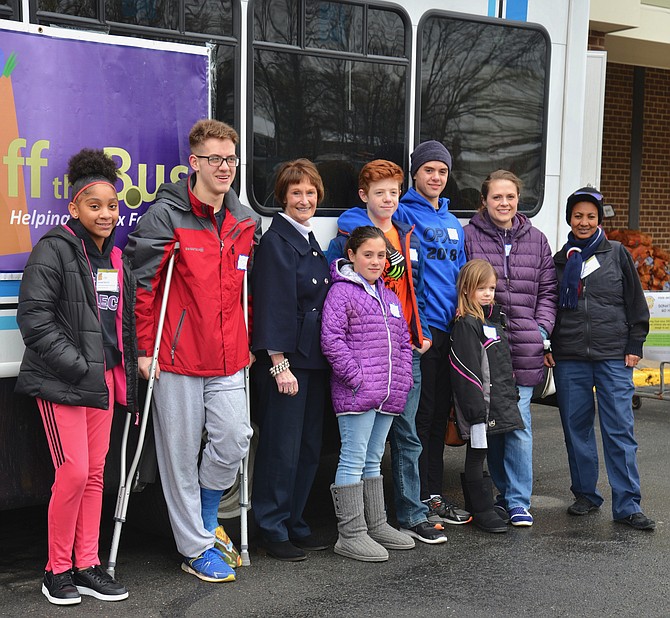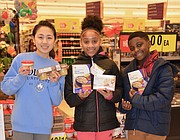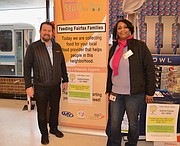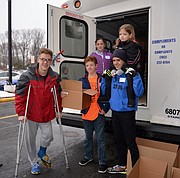 The seasonal warm and fuzzy feelings that help local food pantries and nonprofits collect and distribute food and other staple items for our less fortunate neighbors may also start to fade as the "season of giving" comes to an end, and the day-to-day of life takes hold once more.
"That's exactly why we're out here today," said Fairfax County Board of Supervisors Chairman Sharon Bulova, standing in the entrance of the Giant food store in the Fox Mill shopping plaza in Herndon.
"After Christmas, the cupboards start to get bare, but our neighbors still need our help. The 'Stuff the Bus' initiative is a real boost to replenishing those dwindling supplies at local food pantries and other places where our citizens go for this most basic assistance."
FAIRFAX COUNTY AND PARTNERS have been "stuffing the buses" around the region for nine years, and Bulova has been participating since the beginning.
"It's a priority for me. I always make room on my schedule to personally participate in one or two of the collections."
So do a lot of others. Ben Boxer, the Communications Director for Fairfax County Neighborhood and Community Services (NCS), practically brought his own bus full of volunteers to this collection that will benefit Reston-based Helping Hungry Kids. Ben did a lot of coordinating, while his wife Cara and daughters Penny and Chloe handed out flyers and "wish lists" to shoppers, and sons Leland, Tony and Tyson did a bit of the same, as well as lending some muscle to moving goods from boxes to bus.
"It makes me feel productive," said 12-year-old Leland. "This is important," agreed "almost 15" Tony.
Lakeshia Lewis, also with the county's NCS, didn't have to ask daughter Kendall or son Justin twice if they wanted to get in on the action again this year. The youngsters have been doing just that for the last "four or five years" said Justin, "it's fun and a good thing to to." An impressive length of service given that the siblings are only ten and eleven years of age.
The enthusiasm of the volunteers and their dedication to the cause inspired a lot of the Saturday shoppers.
"Couldn't resist," said Ellen McAvoy of Reston, as she added her donation of applesauce, granola bars and canned ravioli to one of the carts. "I see their bright, healthy faces and what they are doing on a Saturday morning to help others, and I had to help, too."
One gentleman shopper, who preferred to remain anonymous, grabbed a cart when he found out what all the commotion at the store's entrance was about and simply said to the volunteers, "fill it up with whatever you need."
"That cart came to about $300 worth of donations," said Chairman Bulova. "The generosity of the people of Fairfax County doesn't surprise me, but it continues to make me feel so happy to be a part of this caring community."
"Don't forget to mention the folks here at this Giant," reminded Capt. Thomas Johnson of nearby Fire Station 301, who was doing a bit of shopping – and donating - himself along with some of his colleagues.
"They always help out," he said, adding that the Giant provides the firefighters and first responders with pallets of water and Gatorade in the summer months, something that is "much appreciated when we do our work in the heat. They are really great people."
Fox Mill Giant manager Larry Merritt says he's "just happy to support this awesome, great community" any way they can. Merritt and the Giant crew had already been hard at work several days before the event, collecting more than 127 cases of ravioli, ramen soups and other items to "give them a head start."
OVER THE YEARS the "Stuff the Bus" partners have collected more than 250,000 pounds of food, provided more than 170,000 meals, and aided more than 32 local food pantries in their winter collections – all with the assistance of more than 5,000 community volunteers who contributed some 15,000 hours of service.
Their efforts will continue around the county through Feb. 18, so it's not too late to do your part, and keep some of that holiday spirit going.
Next up will be the Tysons Walmart on Saturday, Feb. 2, and the Village Center at the Dulles Giant on Centreville Road in Herndon, where the Fastran buses will be waiting with doors open for your donations.
Check out the county's website at www.fairfaxcounty.gov, search "stuff the bus," for more information and other opportunities to get on board.
Upcoming Stuff the Bus Events
Saturday, Feb. 2
Tysons Walmart - 10 a.m. to 3 p.m.
1500-B Cornerside Blvd, Vienna
Benefits Committee Helping Others


Village Center at Dulles Giant – 9:30 a.m. to 3 p.m.
2425 Centreville Road, Herndon
Benefits LINK


Saturday, Feb. 9
Annandale Giant – 9:30 a.m. to 3:30 p.m.
7137 Columbia Pike, Annandale
Benefits Annandale Christian Community for Action


Clifton Giant – 9 a.m. to 4 p.m.
5740 Union Mill Road, Clifton
Benefits Western Fairfax Christian Ministries


Saturday, Feb. 16
Fairfax Walmart – 11 a.m. to 4 p.m.
11181 Lee Highway, Fairfax
Benefits Britepaths


Falls Church Giant – 9:30 a.m. to 4:30 p.m.
Falls Plaza, 1230 W. Broad Street, Falls Church
Benefits Falls Church Community Service Council


Manchester Lakes Shoppers – 9:30 a.m. to 3:30 p.m.
7005 Manchester Boulevard, Alexandria
Benefits Koinonia Foundation


Monday, Feb. 18
Cardinal Forest Giant – 9:30 a.m. to 4:30 p.m.
8320 Old Keene Mill Road, Springfield
Benefits Ecumenical Community Helping Others