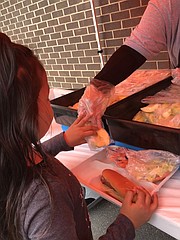 For some households in the community, summer vacation can mean food insecurity, as consistent access to adequate food is limited by a lack of money and other resources. Nutritious meals are available at no cost for children and teens at given locations in Herndon and Reston while school is out of session for the summer, and adult lunches at BBQ sites are available for a low-cost purchase. South Lakes Pyramid students and their families can shop once a week during the summer for no-cost fresh fruits, vegetables, boxed and canned foods and more at the South Lakes High School Parent Teacher Student Association (SLHS PTSA) Food Pantry located inside the school.
According to Fairfax County Public Schools, children 18 years of age and under can receive no-cost lunches at designated BBQ sites during summer vacation, two at local elementary schools, Dogwood at 12300 Glade Drive in Reston and Hutchison at 13209 Parcher Avenue in Herndon. Both schools are part of the 2019 FEEDS (Food for Every Child to Eat During Summer) program that provides free meals meeting federal nutrition guidelines. The BBQ Lunch program runs through Aug. 23, Monday through Friday, 11:30 a.m.-1 p.m., except for no service July 4-5. Everyone is welcome, and there is no registration. Low-cost adult lunches are available for purchase at the BBQ sites as well.
The United States Department of Agriculture Food and Nutrition Service reported its Summer Food Service Program (SFSP), "also known as the Summer Meals Program, provides children and teens in low-income areas free meals when school is out." The federally funded, state-administered program reimburses providers who serve free, healthy meals to children and teens during the summer months when school is not in session.
Under this program, Fairfax County Schools as well as the local nonprofit organization Cornerstones offers meals for children and teens to 18 at given locations. Visit www.fairfaxcounty.gov/neighborhood-community-services/summer-meals for more information about their Super Snack Breakfast and Super Snack Lunch.
Child Care Resources Inc. is the reported sponsoring organization with Cornerstones for meals at its, following Herndon/Reston sites:
Herndon Neighborhood Resource Center, 1086 Elden Street Herndon; Date Opened 6/24/2019-Date Closed 8/8/2019; Days of Operation M, T, W, TH; Noon - 1:15 p.m.

2110 Westglade Court Reston; Date Open 6/25/2019-Date Closed 8/15/2019; Days of Operation T, TH; Noon- 1 p.m.

2244 Stone Wheel Drive Reston; Date Open 7/23/2019-Date Closed 8/14/2019; Days of Operation T, TH; Noon - 1 p.m.

1578 Cameron Crescent Drive (Apartment #1) Reston; Date Open 6/24/2019- Date Closed 8/14/2019; Days/Time of Operation M, W; Noon - 1 p.m.

Cedar Ridge Community Center 1601 Becontree Lane, Apt 1C Reston; Date Open 6/24/2019-Date Closed 8/15/2019; Days of Operation M, T, W, TH; Noon - 1 p.m.

The South Lakes High School PTSA Food Pantry is open for shopping to South Lakes Pyramid students and their families from 2:30-5:30 p.m, on Wednesday, July 3, due to the 4th of July holiday, and after that on Thursday, July 11, 18 and 25 and Thursday Aug. 1, 8,15 and 22. SLHS is located at 11400 South Lakes Drive, Reston.
Additional food programs may be available throughout the community beyond those highlighted, especially through faith-based organizations, schools and government programs. Reach out to Cornerstones for help at www.cornerstonesva.org.