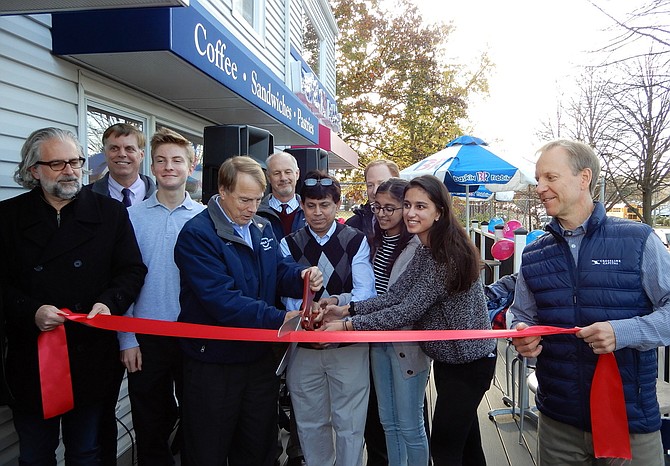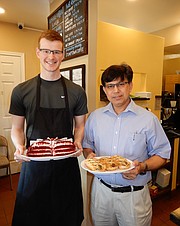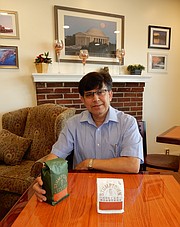 When Corner Coffee House in Fairfax held its grand opening last fall, City Mayor David Meyer said, "Nations have risen and fallen over coffee. It also brings people together – deals are made, and people fall in love over coffee. We're pleased to have you, and we hope this will be here for generations to come."
Since then, more and more people have discovered this cozy and cheerful place at the corner of Fairfax Boulevard and McLean Avenue. It shares a front porch with the Baskin-Robbins ice cream shop relocated from the defunct Fairfax Shopping Center.
Both businesses are owned by Chantilly's Syed Ahmed, who also owned the old Baskin-Robbins for 20 years. "Every time people came to Baskin-Robbins, they asked for coffee," he said. "Now, children can go to the ice-cream store while their parents come next door for coffee. There's seating in both places, plus on the front deck for summer."
He searched two years before finding this 120-year-old, two-story house. "I spent $410,000 to rehabilitate and renovate the building," said Ahmed. "And I knew I couldn't pay the mortgage unless I had more than one business here." So he's glad to have many repeat customers, plus new ones through word-of-mouth.
"People like it because it's homey and not like a crowded, noisy, corporate store," he said. "And they love our Stumptown Coffee; it's all organic, with hand-picked beans and a special, roasting process. We researched coffees for two years and tested a lot of them before deciding on this one. It's a high-quality coffee."
There's also WiFi, and customers come individually or in groups for meetings and small events. The upstairs is decorated with original, Baskin-Robbins signs, and the eating area on the main floor has tables, comfy chairs and photos of Virginia and the Washington Metropolitan area.
THE FOOD runs the gamut from hot panini sandwiches to salads, filled savory croissants, muffins, cakes and pastries. Besides regular and cold-brew coffee, patrons may enjoy cappuccinos, lattes, frappuccinos, teas, juices and soft drinks.
Breakfast items include bacon, egg and cheddar croissants; spinach, tomato, egg and Swiss croissants; bagels; and multigrain toast with avocado spread or cream cheese with plum or mango chutney. Lunch offerings include a ham and Swiss panini with spinach and mustard aioli; a turkey panini with bacon, pepper jack cheese and avocado spread on multigrain bread; chicken or tuna salad over mixed greens; a grilled-chicken salad; and a chicken sandwich made with cranberry chutney from Flint Hill.
"We also sell a lot of lattes, especially with European flavor shots such as vanilla, caramel, raspberry, lavender and hazelnut," said Ahmed. "It tastes better, and the younger generation is always looking for something new. And when they try it, they like it. We offer both soy and almond milk, besides regular milk, as well as spicy chai tea."
People may also pick up grab-and-go salads and yogurt parfaits, and delivery is available via DoorDash.
Corner Coffee House also prides itself on its service. "Our first priority is taking care of the customers and making them happy to be here," said Ahmed, "I tell my employees, 'Always greet people and smile when they come in the door. And later, thank them for coming and wish them a good day.' We do our best to satisfy them so they'll come back."
EVERY DAY, he likes "meeting new people from all walks of life. I like to welcome new customers and encourage them to enjoy their neighborhood coffee shop. Local places are becoming popular again, and we wanted to create a place where people could gather and have some delicious food and coffee. We aim to be a haven where the local community can relax, chat and enjoy themselves."
And that's exactly how Elaine Di Bartolomeo and her college son, Frank, felt during a recent visit there. "My son and daughter have eaten here before and liked it, so I came here, too," said Elaine. "I had the grilled chicken sandwich and thought it was wonderful. The chicken was nicely cooked, and I liked the cheese and red onion on it. It was just a tasty sandwich."
Noting that she'd recommend Corner Coffee House to others, she said, "It's very cute in here – a delightful, little place. It's quaint and has delicious food."
Her son had the same thing and pronounced it "a good-tasting sandwich, made well, with fresh bread and not too much sauce, so it's not soggy. And they offer fruit with the sandwiches, and that's not something you see everywhere."
He, too, encourages others to come here, saying, "If you want a cozy environment, along with tasty, well-made food, it's a good place for lunch."
To Go
Corner Coffee House is at 10655 Fairfax Blvd. Hours are Monday-Friday, 7:30 a.m.-9 p.m.; Saturday, 8 a.m.-9 p.m.; and Sunday, 8 a.m.-7 p.m. Park on the McLean Avenue side or in the back.