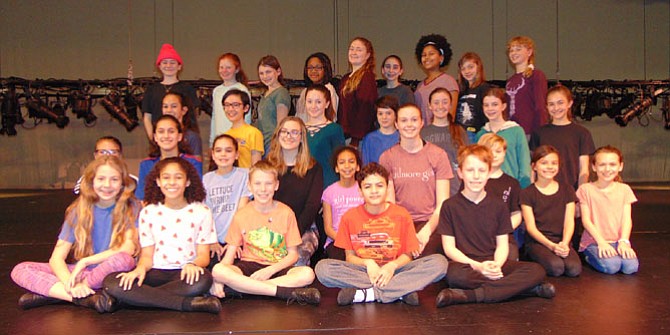 Encore Stage & Studio is presenting its production of Disney's "The Lion King Jr.," running Feb. 16-25, at Kenmore Middle School Theatre. In this adaptation of the Disney animated film, 32 cast members bring the story of Simba and his friends to life with the aid of puppets. The young and carefree lion cub faces serious consequences that force him to flee his kingdom, leaving his cruel uncle Scar to rule in his place. With the help of his new friends Timon and Pumbaa, Simba learns the joys of "Hakuna Matata," or "no worries," until his past catches up with him.
"It's all about the family and the Circle of Life in the first song, so it begins the play and ends the play," said co-director Susan Keady who co-directed with Martha Grace Moore. "It's about growing up, the family, and the responsibilities to the family — learning about responsibility to others. Understanding good and evil." In this "Jr." version, she said the musical keys get adjusted but the time stays the same.
Keady said the show appeals to audiences ranging in age from 4 to 90. "There's a certain appeal to everybody to watch the children develop a piece about good and evil, making responsible choices, learning from mistakes, learning why parents tell them not to do things — because the lion cubs go against the boundaries that are set for them. Like a lot of children, they have to suffer the consequences and they learn from their mistakes," she said.
She said the show is a large-scale Disney production, but they have limited resources, so they had had to be creative with what they present; they started rehearsals in October. "There's 32 cast members and all of them have costume changes, so there's over 100 costume pieces," she said. "Our costume designer is very resourceful and able to pull appropriate pieces from our costume storage and come up with all kinds of creative costumes on a small budget."
The technical director does the same thing — she cruises Craig's List for props, she said. "One parent found a climbing wall that we turned into a piece of scenery. We have a lot of great parents who are resourceful; their contributions are very thoughtful," she said.
She said the music and dancing are some of the most difficult and complex pieces the children have ever approached. "They've had to learn the phonetics of how to sing in Swahili," she said. "The dancing has to have an African style, so the choreographer did develop dance that the students could still do … The other thing is the cast members are animals. We had to teach movement exercises. It's understanding how the music and dance fit together. There's a lot of work that they have to take home and bring back to us."
Jillian Michelson, 14, of Fairfax, is playing the role of Mufasa, the King who rules the Pride Lands or the savannah setting. "He has a strong regal personality and a lot of things don't phase him. He's very fearless," she said.
She said it was difficult to present herself in a fashion where she was intimidating and caring, and to incorporate that kingly manner where she's both strong and passionate. "My dad's in the military, and I looked up to him a lot because he's able to be strong and authoritative as well as kind and caring," she said.

Hannah Knittig, 14, of Arlington plays the role of Scar. "He is the evil nemesis of Mufasa and brother, and Simba is Mufasa's son and Scar's enemy," she said. "Scar basically wants the throne and will do anything to get that throne include killing his enemy, his nephew and his brother."
She said her challenge was getting into the character of an evil animal because she doesn't consider herself that way. "So that was a little difficult to put myself into the villain of the show. This is the first time I'm the main villain and causing all the problems and the whole story," she said.
Amelia Williams, 13, of Arlington is playing the role of Rafiki. "I don't know if Rafiki is a male or female, but she's very mystical and very wise and she always has a sense of playfulness to her," she said. "She kind of looks over all the animals in the Pride Land. She's a helper to the King that he doesn't know that he has."
She's played mystical storytelling characters before but they've been toned down. "She has bigger actions and she's very outgoing and all over the place. Rafiki is much bigger in that she's not afraid to show herself. That's a challenge for me personally," she said.
Keady concluded: "We picked challenging pieces for this season, our 50th season, so we wanted to appeal to all the folks who have supported us. We have original parents in the community who started this who still attend our productions and we wanted them to be happy with how we've come in 50 years because we started our first show with Theater in the Park at Lubber Run Park in Arlington."
Encore Stage & Studio is presenting "The Lion King Jr." from Feb. 16-25. Show times are Fridays, Feb. 16 and 23 at 7:30 p.m.; Saturdays, Feb. 17 and 24 at 11 a.m. and 3 p.m.; and Sundays, Feb 18 and 25 at 3 p.m. Tickets are $15/adults; $10/children, students, military and seniors. The venue is Kenmore Middle School, 200 S. Carlin Springs Road. Visit the website at www.encorestage.org or call the box office at 703-548-1154.