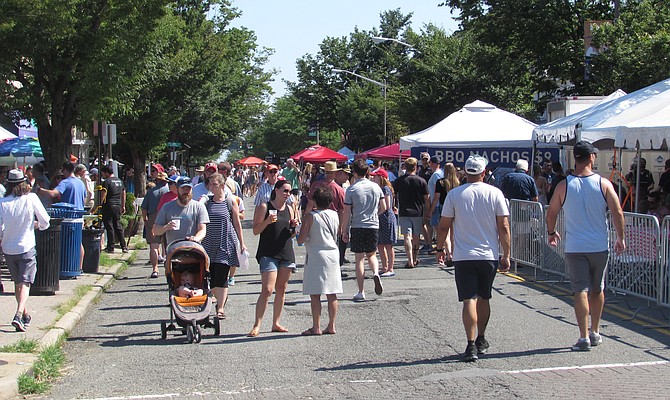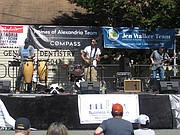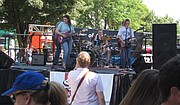 Crowds thronged Mount Vernon Avenue. People gathered around the picnic tables and hay bales set up in front of the stage, shielding their eyes from the light of the setting sun. The ground beneath their feet vibrated with the sound of rock music.
The 12th Annual Del Ray Music Festival was held Saturday, July 13. The festival, a free outdoor concert put on by the Del Ray Business Association, is a showcase of local musicians.
This year's festival featured music from nine local bands, who performed their sets on the two stages set up on the street. "It's a great opportunity for [the bands] to get a lot of exposure that they otherwise would not have had," said John Patrick, owner of Rock of Ages Music and the festival's co-chair.
The festival took place between 3-8 p.m. and, according to estimates, between 5,000 and 6,000 people were in attendance.
The music echoed up the Avenue. It was a humid afternoon, and many people clung to any bit of shade they could find, silently bobbing their heads to the beat. Others openly defied the heat, dancing and cheering in the street. "It was so fun being able to come together with the rest of Alexandria and enjoy all of our local talent, as well as amazing food, in one of my favorite places," said Lily Clausen, a Del Ray resident.
Three blocks of Mount Vernon Avenue were blocked off from traffic and many neighborhood restaurants operated temporary beer gardens from tents that lined the street
The festival had been held for years in the field behind Mount Vernon Community School, but, "the restaurants couldn't get as involved down there as they wanted to," said Patrick, and the festival was moved to a stretch of Mount Vernon Avenue in 2016.
This year also marked a change in policy towards alcohol. In previous years, alcoholic beverages were confined to individual beer gardens; attendees to this year's festival were able to carry alcohol in open containers anywhere within the festival limits. This was a result of recent state legislation that created a new communal permit, which went into effect July 1, and allows open containers within a confined area.
"The first of those permits was issued to Del Ray, so we were able to have drinking on Mount Vernon Avenue," said Bill Blackburn, owner of Pork Barrel BBQ.
The Del Ray Music Festival was the first event to use such a permit, which brought a degree of scrutiny from the state. According to Patrick, "The state of Virginia wanted to use this festival as its pilot to see how it goes." Officials from the Alexandria Police Department and the Virginia Alcoholic Beverage Control Authority were present at the event to monitor alcohol consumption and crowd behavior. "To my knowledge there were zero complaints, no incidents of overserving or rowdy behavior. Everyone had a great time," said Blackburn.