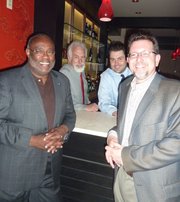 Alexandria — The Sushi Bar, featuring cuisine by award-winning Master Chef Saran "Peter" Kannasute, officially opened its doors June 4 on Mount Vernon Avenue in Del Ray.
With a lounge-like atmosphere and intimate decor, owners Mike Anderson and Bill Blackburn decided to make the restaurant adults-only, a concept that has drawn some criticism.
"We didn't think the adults-only concept was a big deal," Anderson said prior to the soft opening June 1. "But people here are proud of their support for local businesses and some felt offended and shunned. That was not our intent."
The official name of the Sushi Bar is actually the Japanese kanji symbol for "dream" and the restaurant itself is the final installment of three restaurants opened by Anderson and Blackburn in Del Ray. It features 30 varieties of sake and is wedged between Pork Barrel BBQ and the gourmet burger restaurant Holy Cow.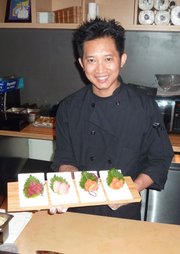 "The sushi is outstanding," said customer John Bordner, who dined at the restaurant during the soft opening. "I'm impressed by the creative dishes such as the Del Ray Roll as well as the more traditional sushi offerings. And the sake menu is truly remarkable."
A small sign in the window announces that the restaurant is a child-free zone for 18-and-older adults.
"We didn't make this decision in a vacuum," Anderson said. "We talked to a lot of people with kids under 18 and 80-90 percent thought it was a great idea to carve out a place for adults. People want to reconnect with their partners and need some alone time to make that happen."
The restaurant will be open six days a week for dinner and will feature a variety of specials by Kannasute, who trained with Japanese Iron Chef Hiroyuki Sakai.
"I love to cook and am passionate about food," said the Thai-born Kannasute, most recently of Sushi Rock in Arlington. "I was drawn to Japanese food for its flavor and artistry. It's much more creative than Thai food."
According to Anderson, who hopes to hold sushi-rolling workshops and chopstick classes for kids, feedback following the soft opening has been overwhelmingly positive.
"Couples have been loving it," Anderson said. "We were surprised at the controversy but believe we're on the right track."