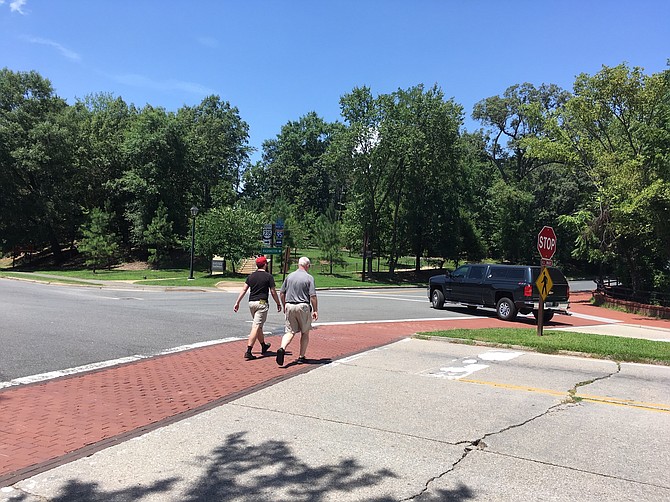 Mount Vernon resident Mike Fouladi accesses the Mount Vernon Trail to bike or walk whenever he can and "never had any problem," he said. He
usually crosses at the busy crosswalk at George Washington Estate on the south end of the trail, and most times, the cars stop like their supposed to.
But drivers don't always do what they're supposed to and it's attracting the attention of local officials.
A study was done showing a correlation between speed, parkway access and wrecks. The National Park Service is receiving suggestions on what to do about the traffic situation; anything the park service does will cost money. Some suggestions are more expensive than others.
Speeding seems to be the number one problem, and state Sen. Scott Surovell (D-36) has been promoting some sort of changes to combat this problem for years, he says. In a recent article, Surovell has put some of the blame on the increased number of employees now heading to Fort Belvoir as a result of the Base Realignment Act (BRAC) years ago, which he referred to as "a real tipping point." The parkway "was never intended to be a commuter thoroughfare of to accommodate high speeds," he wrote.
The Fairfax Alliance for Better Bicycling (FABB) is also looking for something to be done as well, and refer to the crash data map to back up their argument. At the Belle Haven intersection for example, where there are lots of pedestrians and cyclists crossing to get to the trail or park, many wrecks have occurred. There's a road connection there, no traffic light, the sight distance is limited, and there have been 68 crashes there, the study states.
Alexis Glenn at FABB said the study supports why it feels unsafe to cross the parkway on foot, bike or even a car. "The roadway design encourages high-speed driving and provides little, if any, refuge for safe crossing or turning maneuvers," Glenn said.
Although Fouladi's crossing near the estate works well, he did call the intersection at Morningside Lane "a bad intersection," and then pointed out the buckling of the pavement at Waynewood Boulevard. "Part of it is buckled, when I'm on my motorcycle, I just change lanes," he said.
Desi Brown is a Maryland resident that bikes on the trail from National Harbor. He likes all the trail connectivity, and has experienced electronically operated crossings with success. "That might be something to look at," he said. But in the end, "some drivers don't respect riders, riders don't respect drivers," he said. "You can't blame the drivers all the time."
Surovell has suggested a "road diet," as a solution for the speeding, while FABB is looking more for speed cameras and round-a-bouts, and a road diet as a third solution. Road diets usually take away a driving lane and have more bike and pedestrian spaces. Either way, these will impede the government employee driving to the office at Fort Belvoir. Any project on the parkway will be funded by the National Park Service, according to Surovell.
The National Park Service is taking suggestions through Aug. 21, and these can be made at Surovell's blog, scottsurovell.blogspot.com.
More like this story