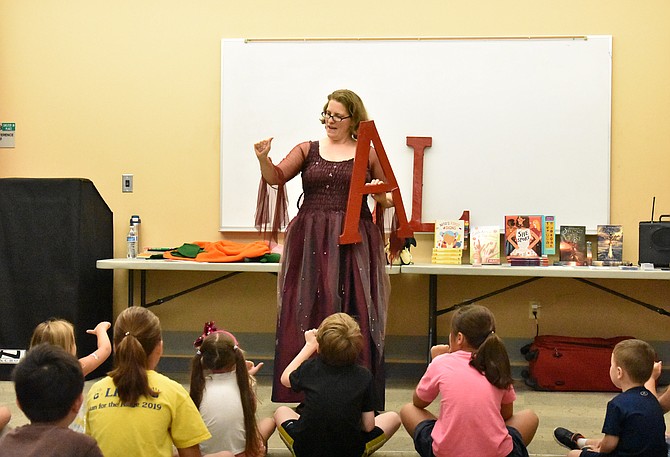 As part of the Fairfax County Public Library summer events, the Burke Centre Library hosted "Once Upon a Sign," a storytime program for preschool and early elementary-aged children led by certified American Sign Language interpreter Kathy MacMillan.
Before beginning the fairy tale, MacMillan taught the kids what American Sign Language is and how different countries have different sign languages, just as with spoken ones. She also spoke about deaf people and deaf culture, explaining that deaf people can speak with their hands and listen with their eyes.
Throughout her performance, MacMillan incorporated and taught the signs of some of the important aspects of the story, including the signs for princess, prince, queen, king, magic and dragon. She encouraged the children to sign along with her when she used a word she had already taught them. "It doesn't matter if you're deaf or hearing," she said. "Anyone can learn American Sign Language."

After finishing the story, MacMillan switched her focus to deaf culture. She talked about how deaf people can adjust everyday objects and occurrences that typically need sound to meet their needs. She mentioned using video calls instead of phone calls to keep in contact with people and connecting doorbells to lights to alert a homeowner when someone is at the door.
Programs like this with performers and traditional sit-down shows are readily available at Burke Centre. But, the branch also offers less structured activities for preschoolers and young children. There are interactive and tactile programs like "Read! Build! Play!" and "Play-Doh Fun" led by retired teachers that allow the kids to be more active while they learn. Nancy Klein, the youth services manager at Burke Centre, likes these events because "kids learn with play," she said. She believed her branch is taking "a different approach to early literacy."
In addition to scheduled events, the branch has permanent play areas stationed around the building. There are boxes of toys aimed at one- and two-year-olds and maker spaces by the front desk with different crafts and activities each day. Klein says that the library is now a "place where [children] can play as well as read."
The library also has events for middle and high schoolers. Burke Centre has an active Teen Advisory Board, which is made up of local students who organize and sponsor programs and clubs for their peers. Contests are the most popular library events among teens, including the upcoming Lego building contest. Nandhana Nair, sitting member of the Teen Advisory Board, thinks contests are successful events because "a little competition always incentives people," she said. "I think that the opportunity to make something that is entirely of their own inspiration and creation really attracts teens to participate."
Klein enjoys seeing community members of all ages gather at the library for a common interest. At the events, "people have a lot of fun," she said. Besides entertainment and education, she thinks these programs also offer people opportunities to be "talking to their neighbors" and "meeting new people."