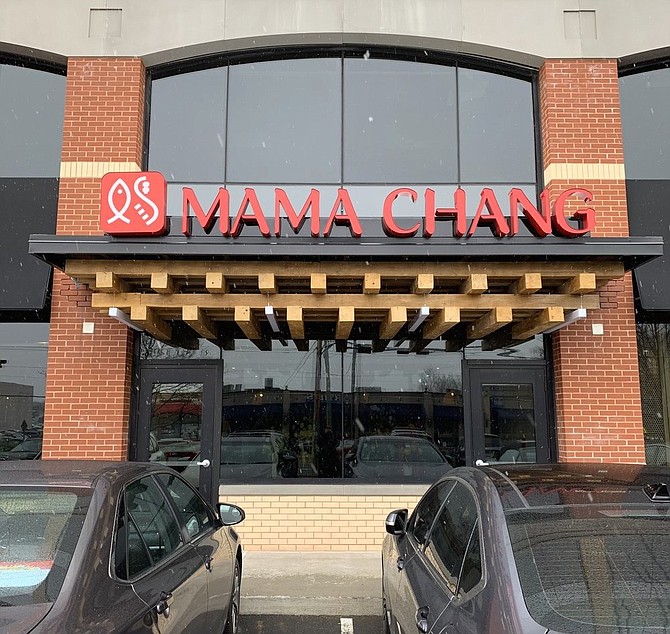 Recently opened in Fairfax, the immense and glittery Mama Chang restaurant is part of the metro area Peter Chang restaurant empire. Immense, yes, as it apparently can seat up to 200, which will not surprise any patron coming in at mealtime. There could be a wait, and when a table clears, folks may walk through a crowded area with waitstaff dashing around carrying meals.
And apparently the "mama" does not really pertain to Peter Chang's mom, but is more or less a general, catchall name to reflect assorted female family connections.
Stopping by for dinner, patrons may be mystified by the lengthy dinner menu with so many offerings—from small bites, to "family style" to small plates, that making some final choices could be challenging, particularly because some offerings may not be at all familiar to Chinese foodies. (Note: According to the restaurant's web page, the dishes reflect Hunan, Szechuan, and Hubei flavors and recipes.)
Take, for example, the dry chili pork intestines or the home-made fish ball in pickled chili soup. The Chang family must be on a crusade to educate the average Western consumer's palate; though obviously their Chinese compatriots know what the offerings are.
But for those patrons looking out for more familiar dishes, good news—crispy duck spring rolls, roast pork belly bun, pan-fried noodles with vegetables, and Chang's roast duck all provide familiar tastes and textures.
One of the must-have offerings, and one that is relatively familiar sounding, is the scallion bubble pancake that looks as large as a blown-up balloon, and apparently is a number 1 seller here. Delicious and tender, and probably one order can feed two to three people, it comes with a dipping sauce and chopsticks so patrons can dunk their pieces into the sauce before eating it.
And as for a main course, the best bet is to scan the "family style" section of the menu, where entrées to feed a party of three or more are listed. There's bean curd, and braised beef stew, and smoked pork belly. But one of the most robust dishes is the lamb and fish ball stew—the broth is mild, the fish balls are doughy tender, and the lamb comes in long, tender strips.
The interior is airy and bright with many windows brightening the room and pale, bamboo-colored tables and booths. That, too, is underscored by the artfully presented dishes—on bamboo platters, steaming hot pots, and pretty ceramic ware. The staff is super friendly and eager to answer questions from baffled patrons who may not understand what are some of the offerings.
Mama Chang, 3251 Old Lee Highway, Fairfax. 703-268-5556. Hours: Mon.-Thurs., 11 a.m. to 3 p.m., 5 p.m. to 10 p.m.; Fri.-Sat., 11 a.m. to 11 p.m.; Sun. 11 a.m. to 9 p.m.