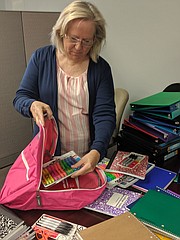 As summer nears the end, we are getting ready to say goodbye to 21 teens that are headed off to college. These young people have been involved in our summer youth programs for many years. They have experienced — like the other children in our programs and all kids — the excitement and anxiety around back to school preparation. These rituals include buying clothes and school supplies, getting a haircut, and finding out what teachers you have.
For the nearly 23,000 kids that live in poverty in Fairfax County, back to school rituals can cause stress. In a region of so much wealth, it's hard to remember that many children do not share the same levels of preparation. They want to but simply cannot.
FACETS serves many impoverished youth through our Education and Community Development Program. The program operates year-round in four low-income, subsidized communities offering a continuum of supportive services to break the cycle of poverty. People living in these affordable housing communities have limited financial resources, with the average annual income for a family of four less than $24,000.
At Robinson Square, Ragan Oaks, Barros Circle and Wedgewood, staff and volunteers offer an array of educational, preventative and enrichment programs to help youth, including mentoring and tutoring, and a variety of classes such as literacy, art, and computers. Participation provides many benefits, including ensuring a safe after-school and weekend environment, interaction with caring adults, award winning programs, and access to resources and case management.
We also work with these youth to help them get ready to go back to school. Like many nonprofits, we conduct supply drives that help make sure they have backpacks, pencils, and a myriad of other supplies that come on the lengthy lists provided by the schools. In many of the 400 backpacks, we also supply kids with a voucher for a haircut from the Hair Cuttery.
These school supply drives really do make a difference, and we hope you will consider contributing to ours or other organizations. If your means permit, perhaps consider donating a gift card to a clothing store or a hair salon. Helping a child feel confident and fit in during those first weeks of school goes a long way in making the school year productive. And if the youth we are helping prepare for college are an indicator, then we know it works.
Learn more about how you can help at www.FACETSCares.org.