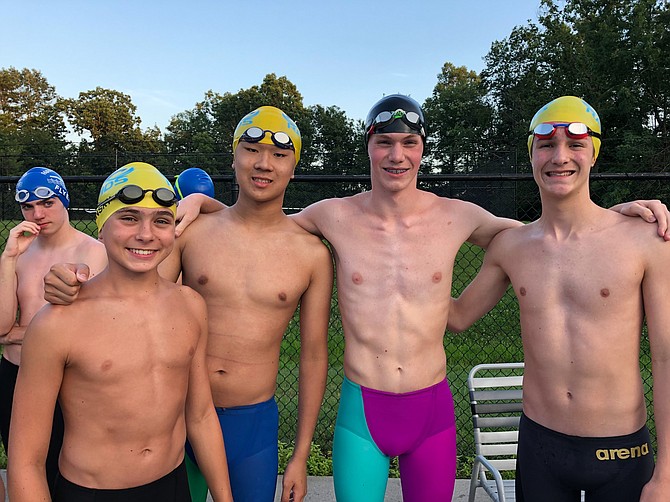 The Great Falls Rapids swim team was formed in 1973 and has produced great swimmers during the past 45 years, including several Olympians. The team's record board is replete with names from the past five decades.
It's not very often, if ever, that a new swimmer joins the team and completely rewrites the record board for his or her age group. That's what happened this summer.
The Bermudez family have been members of the Great Falls Swim & Tennis Club since 2009, but had been living outside the United States for the past six years.

Upon moving back to Great Falls, Alejandro Bermudez contacted the team to see whether his 11 and 13-year old sons, Lucas and Simon, could join the team.

Alejandro said that his boys were "eager to represent Great Falls," which is a unique way to express interest but makes sense when you consider that he was a 3-time Olympian (Atlanta, Barcelona & Sydney) who represented his home country of Colombia. His wife, Carolina Santa Maria, was Colombia's national water ski champion in Slalom, Jump & Tricks.
It's no wonder that their boys would be talented as well, with both Lucas and Simon contributing substantially to the team's success this summer. Both boys participated in breaking the 200 M Freestyle mixed age relay, which stood since 2010.
Simon took the balance of the 13-14 records to task breaking the Club's 50 M Breaststroke record which stood since 1977, as well as the Club's 50 M Butterfly record which stood since 2001.

Simon participated in the Carnival Relays with Adam Manley, Leo Song and Sasha Minsky, who smashed the Club's 13-14 boys 200 M Freestyle relay record by nearly 8 seconds, and the 200 M Medley relay record by more than 13 seconds; both records stood since 2012.
Simon has another year to challenge the Northern Virginia Swimming League (NVSL) records for the 13-14 year old age group, which are within striking range.