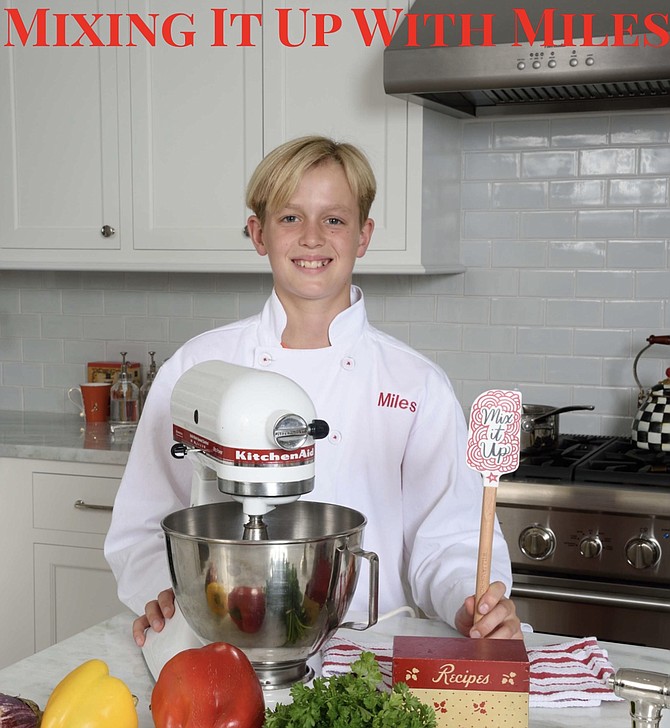 Thirteen-year-old Miles Fazackerley has adored animals for as long as he can remember, and he's loved cooking for as long as he's been tall enough to see his kitchen countertop. Buoyed by these two passions, the young Alexandria native put together his own cookbook to raise money for two animal rescue non-profit organizations. Published in December of 2017, "Mixing it up with Miles" has raised more than $4,000 (and counting) collectively for the Humane Society of the United States (HSUS) and the Animal Welfare League of Alexandria (AWLA).
"It started out as a Christmas gift for my parents, and it turned out so great that it became a way for me to help animals," said Miles, a seventh grader at Carl Sandburg Middle School. "All the money we raise from selling the books go toward animals."
Miles enlisted the help of his grandmother, Debbie Sheridan, who he calls "Dee," to create the 48-recipe cookbook. And whether you're enjoying "To Die for French Toast Casserole," "Kid Friendly Mexican Casserole," or any of the other sweet or savory dishes within "Mixing it up with Miles," you know you've contributed to a cause near and dear to Miles's heart.
"Miles has always loved cooking – since he started grilling with his dad and then watching the Food Channel," said Sheridan, who insisted that she had nothing to do with Miles's culinary interests, said. "Two Christmases ago, we wanted to give this to his parents and other family members. Miles was so proud because it was a gift from the heart and he put so much love into it. Since it turned out so well, and because of Miles's love for animals, we started promoting and selling it. Our first check to the Humane Society was May of 2018."
Miles didn't have to think too hard when it came to choosing which recipes to mix into his debut cookbook.
"I picked tried and true recipes that I knew I loved, and ones I really thought everyone else would love, too," Miles said. "There were some of my favorite recipes, and then Dee and Lee [a family friend and cookbook collaborator,] threw in some they liked. The book starts with my favorite chicken recipe, and then it goes on to have more great entrees, and then sides, breads, accents, and desserts."
With "Mixing it up," Miles hopes to make cooking, which can be overwhelming to so many, into something fun — and relatively simple.
"The way we did this cookbook, if you need an easy recipe, or a book that's easy to open and go off of for a recipe, you can use this one," Miles said. "While you can get recipes online, it's always there for you to look at when it's in a cookbook. It's always there for you to have when you really like cooking something."
"Mixing it up with Miles" also includes tips for helpful food substitutions, as well as measurement conversions, for the novice chefs out there.
"We had the opportunity through Lee Corey [the aforementioned family friend] to produce some kind of story about Miles," Sheridan said. "Then it turned into a wonderful cookbook. It's bigger than we anticipated. We've done book signings, and it's in the Library of Congress."
As proud as Miles is to have his own cookbook in print, and even in the Library of Congress, what is most important to him is that it continues to help so many animals.
"I just love dogs, and every animal, so I always wanted to give it to the Humane Society," said Miles, who has a pet rescue dog named Belle. "My family just loves animals. At first, we set out to raise $1,700 for the Humane Society, but then we went on to raise much more. I got to meet the CEO of the Humane Society in Washington D.C. It was awesome, and now our goal is to raise as much money as we possibly can for animals."
After their initial success raising money for the Humane Society, Miles and his grandmother expanded their charitable contributions to the Animal Welfare League of Alexandria, a non-profit organization providing shelter, finding permanent homes, performing certain medical treatments, and more.
"The contributions made by Ms. Sheridan and Mr. Fazackerley will make a huge difference in the lives of so many animals in need," said Gina Hardter, AWLA senior manager of communications, said, "We are so grateful that they have found a way to support their love of animals with their love of cooking."
Miles hopes the donations continue to pour in. However, as an aspiring Eagle Scout, he's not standing idly by as money pours in for the HSUS and AWLA.
"I'm still cooking and I'm really hoping it gets pretty far," he said. "One day I'll do a vegan cookbook. I tend to like vegan food and it would go hand in hand with organizations like AWLA and the Humane Society."
To purchase a copy of "Mixing it Up with Miles," call 703-888-3373.